Coronavirus hasn't stopped famed Bay Area music education community center Los Cenzontles. To the contrary, as executive director Eugene Rodríguez sees it now is an excellent time for kids to be maintaining their sanity by learning traditional Mexican sounds.
"We're absolutely continuing," Rodríguez told 48 Hills in a phone interview. "People have been very kind and understanding about the need for what we do. The kids are all cooped up, so having music is really great for them."
The center has even removed the fees for classes, so that there's no boundaries between the young people and their studies. (Any donation you're able to make will go to keep making this arrangement possible!)
Los Cenzontles' production of traditional Mexican music hasn't halted either. Earlier this month Rodríguez even joined Cenzontles singers Lucina Rodríguez and Fabiola Trujillo in recording a video for the center's ranchera version of "Hay Unos Ojos." The shoot was a thoroughly socially distanced affair, with the artists standing "in a field of wild flowers, about 20 feet from each other," by the executive director's estimation. Another video in the works will focus around an educator and Los Cenzontles student's recent trip to learn more about Mayan embroidery in the Yucatán.
Los Cenzontles is also debuting a project that aims to help its community members understand the past, and appreciate the natural spaces that they might not be able to access right now due to COVID concerns.
"El Corrido de Anza" is a 10-minute journey-song that explores the mission on which Juan Bautista de Anza took the 300 New Spain colonialists who would eventually found San Francisco in the Presidio in 1776. Los Cenzontles teamed with the National Parks Service which, led by superintendent Naomi Torres, was looking for innovative ways to engage Latinos in park history. Los Cenzontles board member and UC Davis history professor Lorena Oropeza, along with her graduate student (and now professor herself) Jessica Ordaz, helped with the necessary historical research to bring the project to life.
To interpret the journey, Los Cenzontles tapped songwriter Gilberto Gutiérrez Silva in addition to Lucina Rodríguez and Trujillo to sing the 45 four line stanzas that follow the expedition. An accompanying music video shows the vocalists progressing down the same paths as Anza and his crew, from the snow fields of the San Sebastián mountains to the wild flowers of the San José Valley via the 1200-mile Juan Bautista de Anza National Historic Trail.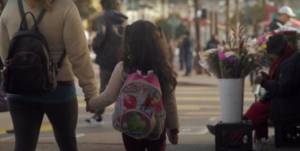 The clip gives viewers the chance to take in the varying landscapes of national parks that hosted the historic moments. That may not be of too much help to those of us now sheltering in place — but surely "El Corrido de Anza" can serve as vacation planning inspiration for when pandemic-related travel restrictions end.
As wonderful as our national park system is, the exultation of San Francisco's original colonizer might seem like a surprising choice for a Los Cenzontles educational campaign. In "El Corrido de Anza," the protagonist is described in Spanish as "kind and strong, of nobility and loyalty," and New Spain's mission to take indigenous people's land is addressed in a rather flip manner. "They said, 'Let's populate the North before someone else does,'" go the corrido's translated lyrics.
"The politics of it are not unimportant," says Rodríguez. "It's just you can't do everything in one song."
(For something like a reverse treatment of the subject, one could do worse than check out SF artist La Doña's recent prayer for gentrification's dismantling "Cuando Se Van".)
For the Cenzontles founder, the story of Anza's expedition was more about the diverse group of Mexicans with indigenous, European, and African ancestry who opted to make the trip to start a new life in San Francisco. He says Gutiérrez's decision to cast Anza as the corrido's hero make sense when one takes into account the history of the ballad type, which since the days of the Mexican Revolution has largely served to honor larger than life figures.
Rodríguez says that the story goes far beyond New Spain's ambition.
"What I really was taken by was the racial and the economic makeup of the people who went," he continues. "The rank and file, the families. That was the part of the story that really resonated with me."
Focusing on historical episodes represents a new twist for Los Cenzontles, whose work largely revolves around appreciating traditional music genres by collaborating with the genres' current artists. Rodríguez does note that in 1994, Gutiérrez and teens from the center's educational program composed "El Corrido de Cecilia Ríos," which told the tragic story of a young girl from the same Richmond neighborhood who was murdered.   
Both projects, however, are geared towards using music to understand ourselves as a society — whether the rhythms focus on the way we are, or how we came to be.
"We're always looking for connections," says Rodríguez. In social isolating times like ours, that's an admirable mission indeed.