ALL EARS There are certain well-worn channels through which culture tends to move. Socioeconomically dominant countries export cultural products, regional art forms are picked up by the global mainstream to be re-appropriated. From center to periphery and back again, the cultural commodification process rarely works to benefit creators of regional art.
But the Bay Area is known for institutions that look to buck these trends. From Oakland's La Peña Cultural Center to the Mission Cultural Center for Latino Arts, Brava Theater to the annual Son Jarocho Festival, the region is blessed with many places where cultural bridges between the US and Latin America are built, community-to-community connections that sidestep the commercialization or fetishism of regional art and center that art's creators.
San Pablo's Los Cenzontles Cultural Arts Academy, with its youth group founded back in 1987, certainly figures on this list of key cultural hubs. But when asked if he thinks of the Bay Area as a center for Chicano and Latino art, its founder Eugene Rodriguez has cause to bridle at the word.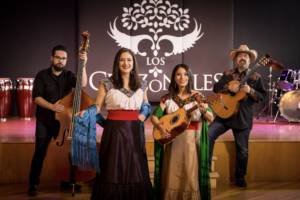 "I don't think in terms of centers," he explains. "There is so much variety and diversity within the Latino community." Eugene sees the work that Los Cenzontles does as tending to "represent the working class immigrant cultures, which are all over the county in often isolated pockets. The idea of a center is more of an urban concept."
Los Cenzontles is an important entry point for people of all ages looking to learn about Mexican arts and culture. For over three decades, it's been a place where young people can come to learn traditional music, dance, and song.
Some graduates of the youth program are now members of Los Cenzontles' official band, which has worked with other world-class musicians—Los Lobos' David Hidalgo, Ry Cooder, The Chieftains, and Jackson Browne among them—in creating work that not only reflects Mexican regional genres like son jarocho and huapango, but also resonates as a distinctly Californian evolution of those sounds.
"Our approach is also to dig deeply into our roots, but to also explore our connections to other roots and genres," says Rodriguez. "This may be disorienting from a marketing point of view. But it is our journey."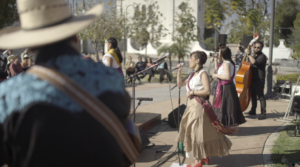 Recently, Los Cenzontles got an upgrade. After 20 years in the same location, the school and practice-jam space got a new paint job, flooring, furnishings, and heating-ventilation system. A donation from Meyer Sound resulted in a new sound system—perfect for the "Music & Tacos" event series (next one happen Fri/22) that invites in the public for an evening of comestibles and live sounds from across the organization's repertoire, like corridos, pirekuas, and boleros.
Lucina Rodriguez also makes for a good guide to Los Cenzontles' work. She first came to its youth program when she was 15 years old and immersed herself in the study of zapateado, the stomping, folkloric Mexican dance. Now she not only sings and dances with its band, she is teaches movement to young students and serves as Los Cenzontles' external education programming coordinator.
"Children in our community need a place where they feel comfortable and safe," Lucina told 48 Hills in an email. "It's important for children to connect and stay connected to their roots … This gives them more confidence to face the world outside the center."
Much of Los Cenzontles' work is based on the personal importance of cultural heritage. San Pablo's median household income is just over half that of Oakland. If few of the community's kids are financially privileged, at Los Cenzontles they are able to explore the richness of Chicano and Mexican past and present.
This year, members of the group and students from the Cenzontles' youth program took a trip documented by the LA Times with singer Linda Rondstadt to visit Grupo de Danza Xunutzi in Banámichi, Sonora. That's far from the first time Los Cenzontles have made a trip south — check 2015's excellent Fandango: Searching for the White Monkey documentary that was made about similar cross-cultural voyages taken throughout the organization's history. (Not to mention, a fascinating look at how young US artists come to terms with the rural realities of their beloved music genres.)
The work of Los Cenzontles has also opened paths for artists from Mexico to come to the United States, another embodiment of the group's commitment to making sure that regional forms of Mexican art receive the support that they need to thrive in the 21st century.
Center or not, these sounds play an important role in the Cenzontles' community and beyond, and they aim to keep it that way. As Lucina puts it; "Music doesn't die unless we let it die."
LOS CENZONTLES: MUSIC & TACOS
Fri/22, 7:30-9:30pm, $15
Los Cenzontles Cultural Arts Academy, San Pablo
More info here.