On Saturday, before the incidents of looting that have made the biggest headlines, several hundred protestors peacefully marched in San Francisco to protest the death of George Floyd. The march was independently organized by activist Raiah Sinn.
The protest began at the UN Plaza at noon, before moving to City Hall, down Market Street to Embarcadero Plaza, and then down Harrison St. through Soma. The marchers then proceeded towards the Mission and went down 16th St, passing the 16th and Mission BART station. Police presence increased as the protestors marched through SOMA, with roughly four dozen officers and their vehicles blocking off 4th Street and the freeway exit at Harrison and 4th.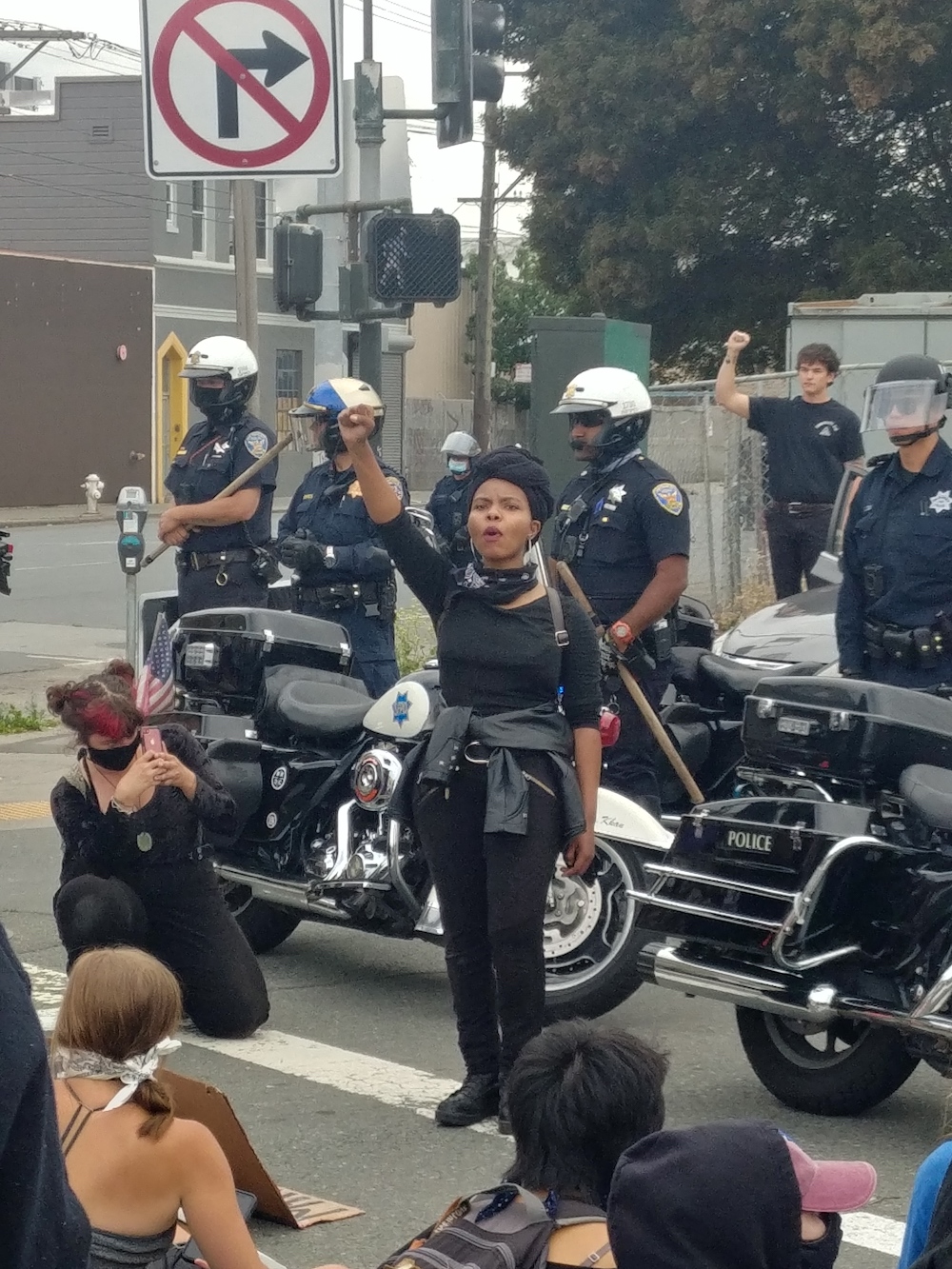 Although violence later broke out later, after dark, Sinn confirmed that the violence was not related to the protest that she organized.
Sinn told me in a statement through Facebook Messenger that she disbanded her march at around 6pm in the Mission and told those present to go home and check the March Against Police Brutality- Bay Area Facebook page for further actions.
She said that half of the caravan she was leading was "hijacked" by a separate, unaffiliated group of protesters who led them to the Valencia St. police station. She then followed "as quickly as [she] could to de-escalate the situation." According to Sinn, she spoke to the crowd and disbanded them, although some decided to remain with the group present at the Valencia St police station.
"Anything that happened after 6pm at the Valencia [police] station is not associated with what I was leading. My protest was intended to be entirely peaceful and without incident, as it stated several times on the event page," said Sinn.
Indeed, I saw no violence break out during Sinn's protest from its beginning until I left around 5:30pm.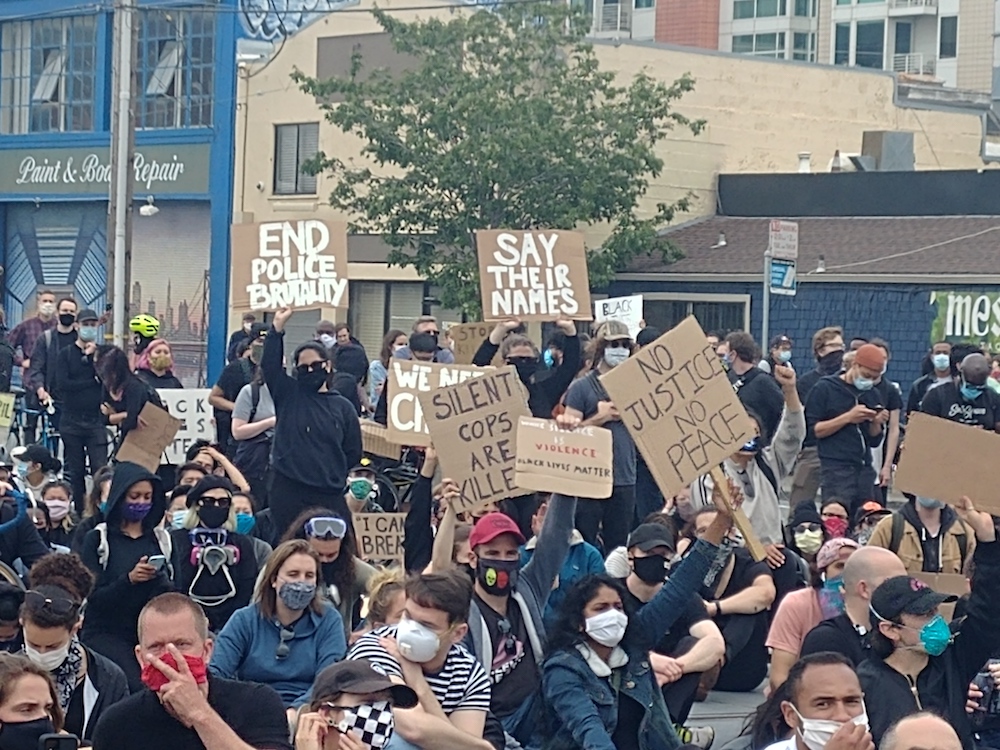 Daniel Hastings, one of the protesters present, told me that the march was held as a show of solidarity, love, and to grieve the loss of Floyd.
"I think this was a time for everyone to experience love, to see the truth that someone has died in cold blood. We're trying to get America's soul back," said Hastings.
Pat Robinson, another marcher, said that although Floyd's death may seem to have sparked more tension and anger than other killings of Black Americans by police, the escalation has been years in the making.
"This has been going on since Trayvon Martin. This escalation has been going on for a while, and people have known, and it keeps happening." she said. "But this time, it's like, were not just going to protest, were not just going to say a name, were going to become a people that says 'no more unjustified killing of our people.'''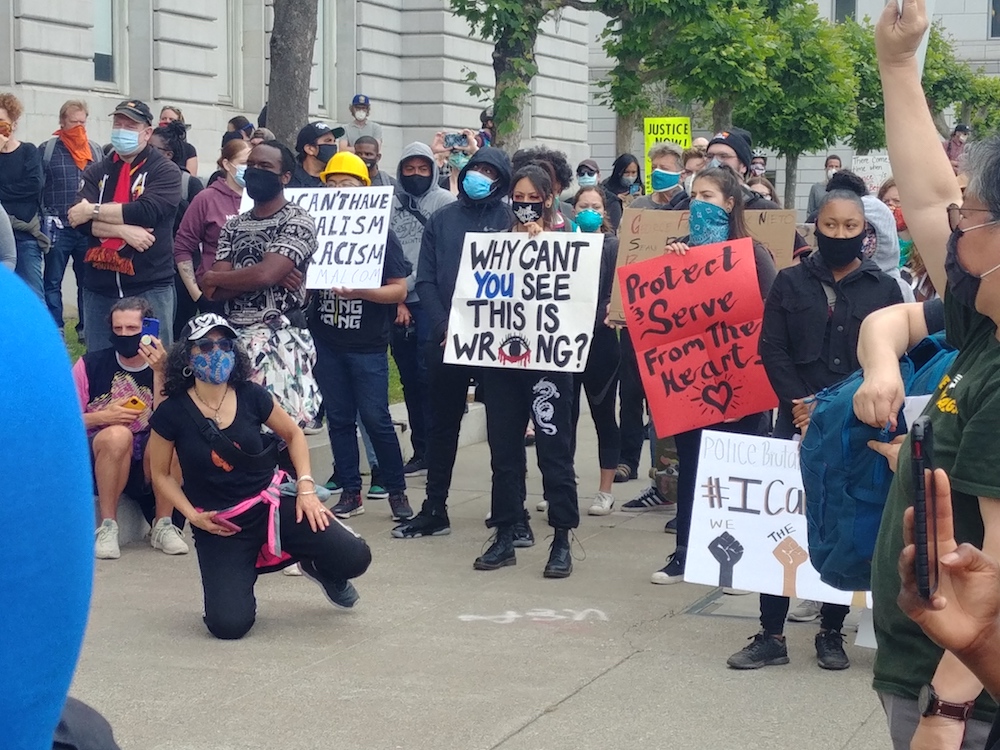 Robinson, who moved to San Francisco in 2014, was homeless and living on Castro Street when a police officer pointed his gun on her, an experience that made her feel less than human.
"He didn't look me in the eye before he pulled that gun on me, he just heard the word, Black!" screamed Robinson as tears streamed down her face.
Hastings addressed protesters in front of City Hall and expressed how Floyd's death at the hands of police made him afraid due to the increased threat of police violence he faces as a black man.
"For the past few weeks, I've been afraid. I'm so tired of being afraid!" screamed Hastings.
Among some of the protesters, not only was there amplified fear, but also relived grief for past losses of loved ones at the hands of police.
As the march proceeded down Mission St, Hastings told me that he believes that the anxiety and tension caused by the COVID-19 pandemic and subsequent economic downturn has put people on edge, possibly contributing to the violence seen in recent protests in Oakland and Los Angeles.
"The fact that everyone has more time to be in their communities, [racial tension] touches more communities. In the past three days, racial tension has been exponential. I live in a predominantly white, wealthy neighborhood, when I go out for a run, I'm scared now," said Hastings.
As we parted ways, Hastings emphasized to me the importance that demands for an end to police violence against minorities must continue beyond the protest that day, and that organization and mobilization is key to enacting reform and bolstering police accountability.
"We have to be better, we have to be smarter, and we have to be organized. This momentum, this protest, doesn't stop here," he said.