When Jacki Weaver was asked to star in director Thom Fitzgerald's latest film, Stage Mother, the Academy Award-nominated Animal Kingdom and Silver Linings Playbook actress didn't hesitate for a second.
Weaver, 73, told 48 Hills she instantly loved the script about a Texas church-choir director named Maybelline, who moves to San Francisco to take over her recently deceased gay son's drag club. Getting to star in a queer film was an added bonus for the Australian actress, who's moved in gay circles for 50 years and had a husband who identified as bisexual.
She says she feels so connected to the LGBTQ community to this day that when she moved from Australia to the US, a decade ago, she settled in an apartment in West Hollywood, just a hop, skip, and a jump from Los Angeles's "Boystown" district.
"The LGBTQ community has always been very close to my heart," says Weaver. "Back in Australia, I've been called a 'gay icon' in the newspapers several times. I don't know about an icon, but I'm certainly an old fag hag—that's for sure."
I spoke to Weaver, whose Stage Mother movie closes Frameline44's abbreviated and all-virtual film fest on Sunday, about playing Maybelline, how this powerful coming-of-age story can help broaden minds, and why it took the actress so many decades to finally break through in the US.
48 HILLS What was it about the Stage Mother script that appealed to you?
JACKI WEAVER The story just spoke to me, because I found it beautiful and moving and I know, not so much now, but when I was a young woman in the '60s, so many people's parents disowned them when they came out and it caused so much unnecessary heartbreak that could have been avoided if only the parents had been a bit more educated, knowledgeable, and tolerant.
There's still too much prejudice, especially in backward places, but I think we have come a very long way. The story about this woman who's had a sheltered life and whose husband's a bigot that disowned their boy who's not only gay but a drag queen, really moved me.
48 HILLS The film includes beautiful aerial shots of San Francisco, but it was not shot here. 
JACKI WEAVER No, we couldn't afford San Francisco. Are you kidding? It was shot in Halifax, Nova Scotia. So I think we'd all have loved to go to San Francisco, except it's so cold, even in summer. It's a fabulous town and thinks it's the gayest town in the world, but I'm from Sydney and I've got to tell you that Sydney's the gayest.
48 HILLS What makes Sydney gayer than San Francisco?
JACKI WEAVER Well, first of all, we speak real English. No, I think there's a lovely, joyful camaraderie in both towns, but I think maybe San Francisco is a bit more cynical because it went through the real battles back in the '60s and '70s. It was a pioneering town when it comes to gay rights, but in Sydney, they were brave, too. We had our own version of New York's Stonewall riots, back in the '70s, when people were thrown in jail when it was still illegal to be gay. There's a bar in Sydney called Stonewall, actually.
48 HILLS One of the central issues in the film is homophobia, but your character certainly grapples with a lot of ageism and sexism. Can you talk to me about tackling these other "isms" on film?
JACKI WEAVER I've never understood any "isms." I honestly think we're brothers and sisters right across the board and I don't go for patriotism because I think we should all think of ourselves as citizens of the world. We belong on this planet. We're not going to solve the climate change issue until we become citizens of the world and not just one country.
I've lived in America for 10 years now and I just love the idea of America. It's a brilliant idea and it's in the constitution that all men are created equal, but how many people actually follow that?
All men and women, so I get a bit cross with ageism because I'm 73 and I honestly don't feel any different from when I was 43. There's one difference: I do know now that I don't know everything. I didn't know that at 43. The older you get, the more you realize how little you know. But experience teaches you that. I'm one of the dreaded baby boomers. I think a lot of people… what do they say? "OK, boomer."
48 HILLS One of the main themes in the film is how much your character learns about the LGBTQ community. Was there anything in the making of this film that you, yourself, learned?
JACKI WEAVER I honestly don't think so. I found out decades ago what felching was. If anything, all my feelings and love and heart were reinforced by being surrounded by a crew that was mostly gay or trans or queer.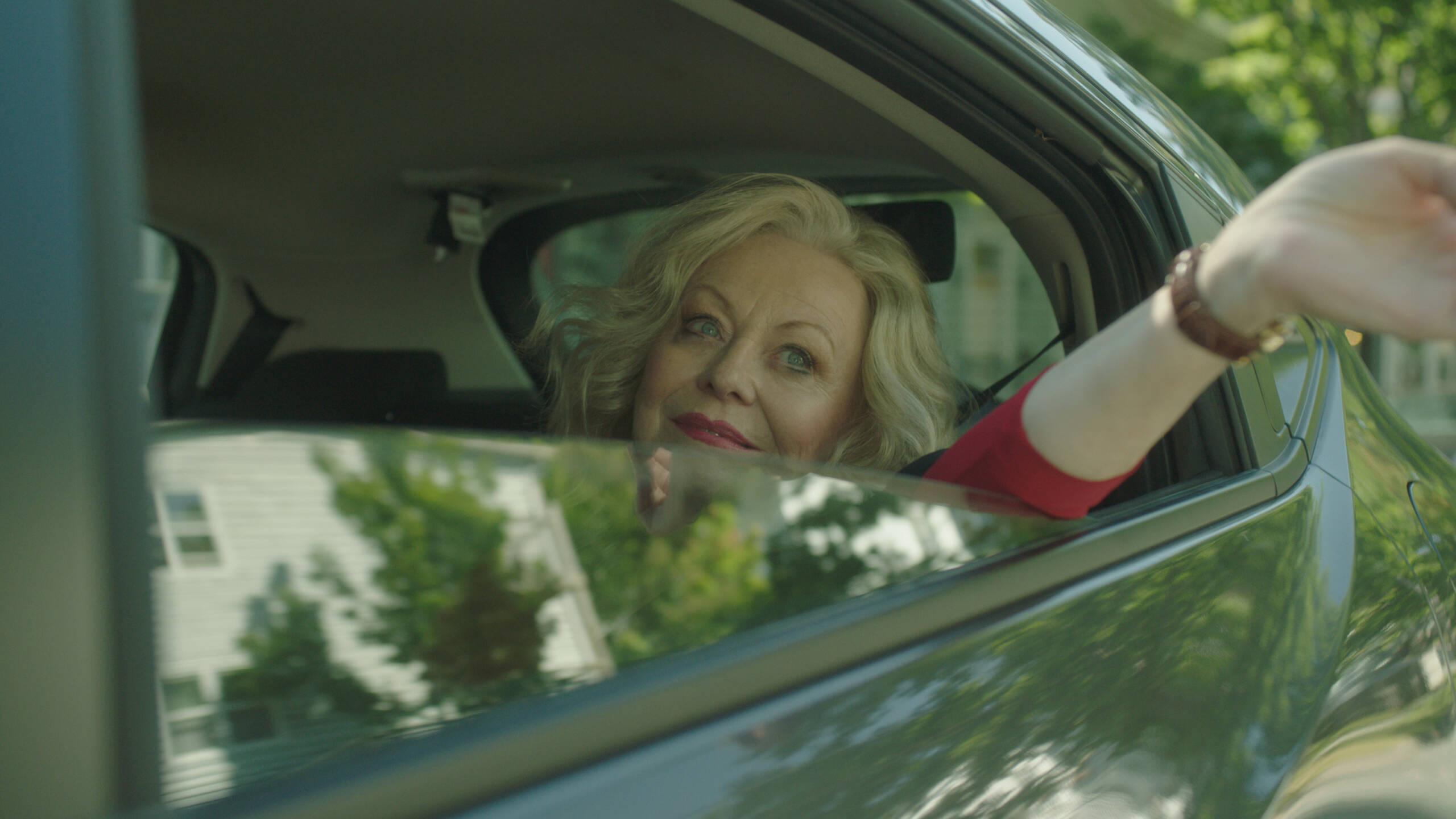 48 HILLS  What do you hope people take away from this film?
JACKI WEAVER I hope it broadens minds. I hope it gives joy to people who might be in a similar position. I hope people who are a bit prejudiced might come around a bit. I love that scene in the cafe where Maybelline tells the mother of one of the other characters, "You know, I don't want what happened to me to happen to you, where something happens and you never see him again, and in the next scene the mother is in the club watching him perform. I love that.
48 HILLS I first became aware of you in 2010 with Animal Kingdom. Why did it take so long for you to become this beloved actress in America?
JACKI WEAVER It wasn't something that I ever chased after because I was mainly a theatre actor. I'd made about 20 films in Australia from when my career started in 1962, but I'd been in 73 plays because I'd worked mostly in the theatre. And America, though I adore American films and used to come to New York, every year from 1972 to see at least a dozen plays, I'd never dreamed I had a place here.
But it's also not something my generation did. It was not like now, when all these Australian stars, straight out of drama school, come over for pilot season. I was very content with my working life in Australia. I was never out of work, and I got to play some brilliant leading roles in plays. So I couldn't believe it when I was suddenly embraced by Hollywood. I still can't believe it. I've now made 26 films and 54 hours of television.
48 HILLS And now you have two Academy Award nominations under your belt.
JACKI WEAVER Yes, I can't believe that either. It is extraordinary. I've watched the Oscars my whole life, and unlike a lot of actors who say they practice their acceptance speech, I never thought it was at all possible. I never thought that it would happen. It was amazing and still does amaze me.
48 HILLS Was getting regular work in Hollywood what inspired your decision to move to the US?
JACKI WEAVER Yeah, once Animal Kingdom came out and I got a manager and agent, then I kept getting offered work. I would go home every few months for a little while, but I got so much work here that I finally settled here and my husband and I got a little flat in West Hollywood. Where else?
He's African, so he goes back to Swaziland, where he's from, a couple of times a year, and I go back to see my family for a few weeks. Mostly we're here in lovely California weather and I just go from job to job, but not over the past three months, of course. If you ever see me on Santa Monica Blvd, when things open back up, please say 'hello.'
STAGE MOTHER (followed by a Live Q&A with director Thom Fitzgerald, screenwriter Brad Hennig, and actors Jacki Weaver, Mya Taylor, and Jackie Beat)
Sun/28, 7pm, $10
Tickets and more info here.
FRAMELINE44 PRIDE SHOWCASE
Thu/25 through Sun/28, $10
Tickets and more info here.