One night only! (But surely also streaming near you sometime soon.) A whirlwind dragsploitation flick that will grab you by the seat of your booty shorts and pull you deep into the bowels of a seedy underworld, all topped off with feathered wigs and fake bazooms to die for.
It's Shit & Champagne, drag auteur D'Arcy Drollinger's side- (and seam-) splitting romp that opens this year's delayed Frameline Film Fest. Drollinger wrote, directed, and stars in the film, based on her long-running stage show, which started out at NYC's Slipper Room more than a decade ago, and most recently played her club Oasis.
But here's the biggest gag—this tribute to '70s action shows and strong female leads is debuting on an appropriately retro big screen: the West Wind Solano Drive-In (Thu/17, 7:30pm).
The gist of the flick is this: "Champagne Horowitz Jones Dickerson White is a charismatic stripper who finds herself in danger after her fiancé and half-sister are both murdered. When the cops refuse to investigate, Champagne takes matters into her own perfectly manicured hands to find answers." The movie is full of sky-high hair, hilarious disguises, somewhat accurate karate kicks… oh, a poop jokes. Lots of poop jokes.
"I grew up as a hardcore fan of Charlie's Angels, Wonder Woman, the Bionic Woman, all of those great '70s ladies," Drollinger tells me of Champagne's genesis. "I had watched Foxy Brown and had an idea about a character—who she is, what she is. There's an episode of 'Police Woman' where Angie Dickinson goes undercover as a stripper which also gave me ideas.
"So many of those shows follow plots of sexloitation and vigilante justice. If they kill or maim your brother and sister, you have to take into your own hands. Champagne starts off as exploitation, then adds sitcom wacky hijinks, undercover disguises, all the elements. It's more of an homage to those shows, it's super-slapstick-y and hyper-violent and gory, over the top in a Taratino-meets-John-Waters type of way.
"In coming up with a plot, in movies like Foxy Brown and Koffee there's usually a drug ring that gets women addicted to heroin then forces them into prostitution. But the heroine of these stories was always serious, she was never funny! I wanted to create something where the star could really shine in a comic way."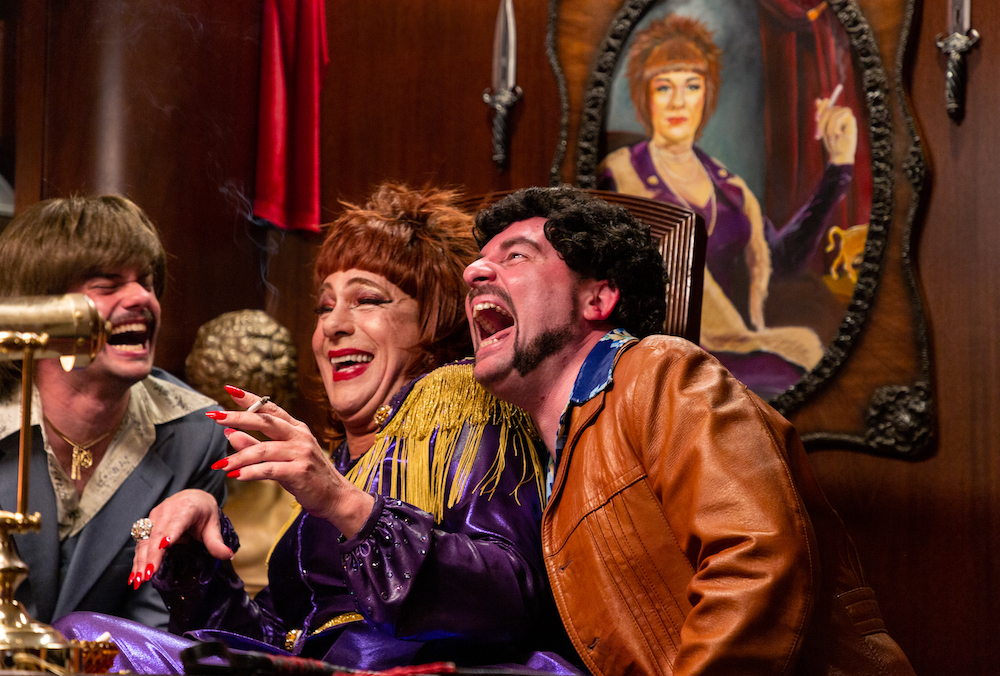 Drollinger tells me how one clubland incident in particular was flush with inspiration for her project, whose plot hinges around a devastatingly addictive and deadly backdoor means of administering drugs: booty bumps.
"I was reading the Village Voice in the 1990s, and Michael Musto mentioned in his nightlife column that the downtown clubs were having plumbing problems—because people were doing booty bumps, shitting their pants, and flushing their underwear down the toilet. That really snapped things into place for me. I should write Michael a little thank you note."
The movie is full of familiar faces from the local scene, most of which came directly from the stage show. Matthew Martin plays the scheming villain, Steven LeMay the ditzy-genius half-sister/roommate, Nancy French the blowsy showgirl. All are absolutely perfect for their roles, as is Drollinger. But what was it like directing his first movie?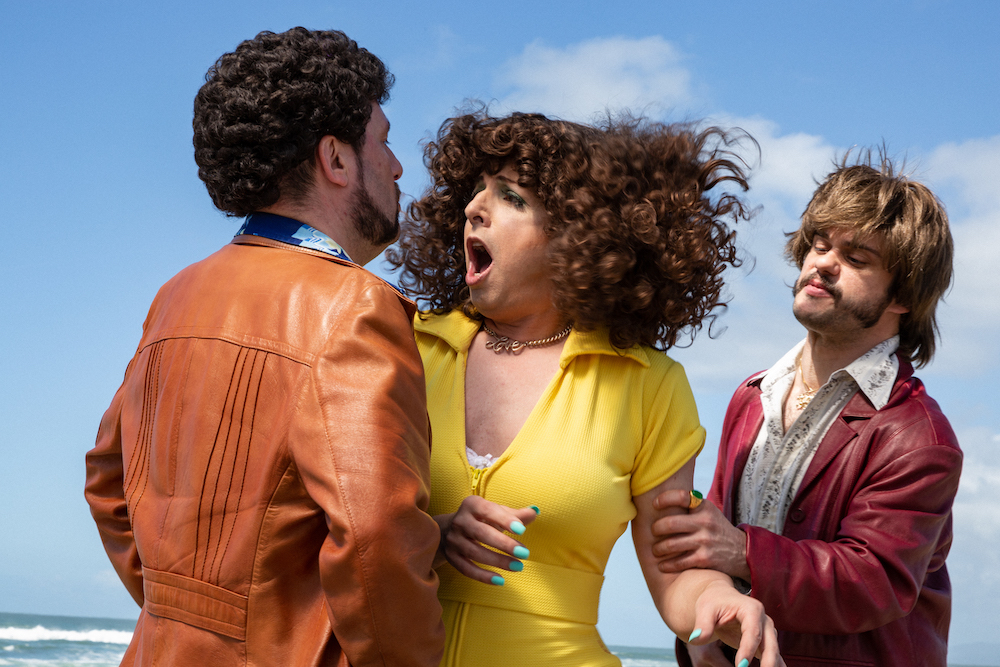 "Many things in a stage show don't work the same way in a movie, but I felt in certain ways like I did my homework, and had a very succinct script," Drollinger told me. "Of course it was a tremendous learning experience. I was so fortunate to have an expert assistant director who really knows the ropes, a cinematographer who knew how to frame every shot, and an incredible technical staff. Our sets and lighting are terrific. And of course, the wonderful actors. We filmed almost everything in the city, except for a few bits in Livermore. The San Francisco Film Commission was incredibly generous to us.
"We tried to get as close as we could. And luckily, I am dedicated to filming sequels. So if something didn't work right, I could just say 'save it for the sequel,'" Drollinger laughed.
But although it may seem like a whirlwind transfer from stage to screen, Shit & Champagne didn't just land on its fishbowl platforms from nowhere. "This has been such a long time coming!" Drollinger laughed. "From a nine-month, sold-out run in a tiny, ragtag theater in New York after everyone had rejected it—through to multiple sequels on the Oasis stage.
"At one point we were performing at the old Rebel on Market Street and sharing a dressing room with smoked meats! We staged the show at Oasis when it was a freezing construction site. Making this film itself has been a four-year journey," Drollinger said. "I felt like I had to do it now—at 51, I better get moving!"
"I'm stoked that will happen at a drive-in. It's really perfect in a way, and we are going to have fun. We're planning a pre-show and all kinds of live surprises. I always intended this movie to be a 'live' kind of event, a cult movie experience like Rocky Horror. Come out and join us."
Shit & Champagne plays Thu/17, 7:30pm at the West Wind Solano Drive-In. More info here.