Keith Malik Washington may pursue legal action against the Geo Group and the Federal Bureau of prisons after he apparently faced retaliation for communicating with a reporter about a COVID outbreak in the private halfway house where he is staying.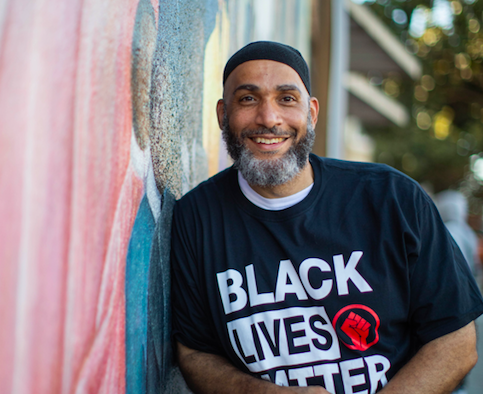 Washington's lawyer, Richard Tan, told me that he hopes to resolve the situation – which resulted in the confiscation of a cell phone Washington needs for work – without litigation.
"But we are prepared to take further action," he said.
Washington, the editor of the San Francisco Bay View, was in contact with me last week about the outbreak, which the Geo Group, the international private prison corporation, never publicly announced.
After we talked, and after I contacted the Geo Group for comment, an employee of the corporation entered Washington's room and confiscated his cell phone.
A search of his phone showed text messages to me, which the Geo Group cited in a disciplinary report saying he had "unauthorized contact" with the news media.
Here's the chronology of what happened:
On Friday evening, Jan 8, at 9:45 pm, Washington sent me a text saying "COVID outbreak here, Tim." My response: "Whoa, can I call you in am?"
We talked late the next morning, January 9. By early afternoon, a press release accusing the Geo Group of covering up the outbreak was posted online.
A letter apparently from the Geo Group telling residents about the problem turned up on Twitter shortly after noon.
At 3:58pm, I sent an email to Maria Richard, who runs the Taylor Center, the private halfway house that has a contract with the Federal Bureau of Prison to house inmates who are completing their sentences and transitioning into the community.
My email stated:
Hi, I'm a reporter with 48hills.org, and I just got a press release about COVID at the Taylor Center. Can you tell me if there are currently active cases, and what's being done? Do the people who live there know who has tested positive?

Are there any plans to move out of the center people who are close to the end of their probation and have jobs and a place to go?
Richard never responded. But at 6:47pm that day, Monica Hook, vice president for communications at the Geo Group, emailed me to say:
Thank you for your inquiry. From whom did you receive the release and would you please forward that to me? I need some time to get you the information you've requested.
I forwarded the press release and the Twitter link.
On Jan. 10 at 2:05 pm Hook sent the following:
Your bio states that you're a 30-year journalist and the founder of 48hills.org – just a reporter? You're also using a Gmail address. With all due respect, you could be anyone. You have received incorrect information, so I'm interested in correcting your misinformation before I provide anything to you. Thank you.
I resent the link to the press release and the Twitter post. I also told her she could contact me at my 48hills.org email account.
At 2:56pm on January 10, she sent this to my 48hills email:
There are currently zero staff or resident COVID cases at Taylor Street. The California Department of Corrections and Rehabilitation (CDCR) determines who is eligible/referred, length of stay, conditions of community release, etc. We are working closely with the Health Department and CDCR and following recommended Centers for Disease Control guidelines, so I would refer you to CDCR or the Health Department for additional COVID-related information.
I downloaded the letter from Twitter and sent it to her at 3:02, asking if she believed it was fraudulent.
At 6:44pm she called me on the phone to say that the letter was indeed accurate, and that there were at least three cases of COVID on the site, and that people who had tested positive had been moved offsite. She also asked where I got my information, and told me that they Geo Group was trying to figure out who had released it.
But she also said that people living at the Taylor Center had cell phones, were allowed to use them, and had every right to be in touch with the community. In other words, she acknowledged that nobody did anything wrong in telling the press about this situation.
The next morning, I learned that after my contact with Hook, a Geo Group employee confiscated Washington's cell phone, searched it, and found his texts to me, which led to a disciplinary write-up. He will not have access to his phone for a month – which is a problem since he uses it to read and respond to email at the Bay View, which is his job.
On Jan 11 at 9:07am I sent the following to Hook:
Hi, I was just informed that Keith Malik Washington received a disciplinary report after his phone was confiscated and the report specifically mentions "unauthorized contact" with me. This is obviously very disturbing — if residents as you told me have the right to have phones and talk to the community, that would include a journalist. If this is inaccurate I need to know right away, and I would like a comment on whether this is, as it appears, retaliatory. I am going to publish the story shortly.
On Jan 11 at 3:50pm she sent me this response:
I cannot speak to resident-specific information, however to follow is our statement. Thank you for the opportunity to respond.

"At the Taylor Street Center, the Federal Bureau of Prisons (BOP) and the California Department of Corrections and Rehabilitation (CDCR) determines length of stay and which individuals are eligible for community-based residential housing. BOP determines eligibility for home confinement, not GEO Reentry. Residents have access to the community while at Taylor Street, and may use the public access phones on-site or their own personal cell phones for employment purposes, family contact, and contact with the community. GEO residential facilities are congregate settings and the cell phone policy includes restrictions regarding taking photos in the facility.
Regarding whether individuals are permitted to leave the facility, Taylor Street staff continue to work in collaboration with the BOP, CDCR, and Public Health officials and will adhere to their guidance and facility recommendations for limiting the further spread of COVID-19. At this time, resident movement is restricted to essential workers only. Four residents have tested positive for COVID-19 at Taylor Street since January 1, 2021, however there are currently no positive COVID-19 cases housed at the facility. Those that test positive are either housed off-site or in quarantine, depending on agency contract requirements.
Staff have implemented and are following Centers for Disease Control and Prevention guidance for Management of Coronavirus in Correctional and Detention Facilities. We take our responsibility to ensure the health and safety of all those in our care, and our employees, with the utmost seriousness."
I can't tell you, because I don't know, what Hook or her corporate bosses said to Richard, or whether anyone at Geo Group headquarters ordered the Taylor Center staff to retaliate, or whether Richard and her staff were just upset about the bad publicity and did it on their own.
Of course, if Tan files a lawsuit, this will all come out in discovery. In the meantime: This is crazy. We're in a huge public-health crisis, a person who has a safe place to go outside of a congregate prison setting is being denied release, and the Geo Group has punished him for talking to the press.
Meanwhile, I am told that everyone at the center has been tested for COVID, but the residents don't know who if anyone has tested positive or how many positive tests there have been.