I was living in an apartment at Fillmore and Hayes in 1985 when my landlord sold the seven-unit building for $280,000. A group of speculators bought it, did some minor renovations, and resold it a year later for $400,000.
That was the cusp of a major period of gentrification in the neighborhood, and I often think back on it and wonder: What if the city had bought that building – or put up the money for a land trust or nonprofit to buy that building — and turned it into permanent affordable housing?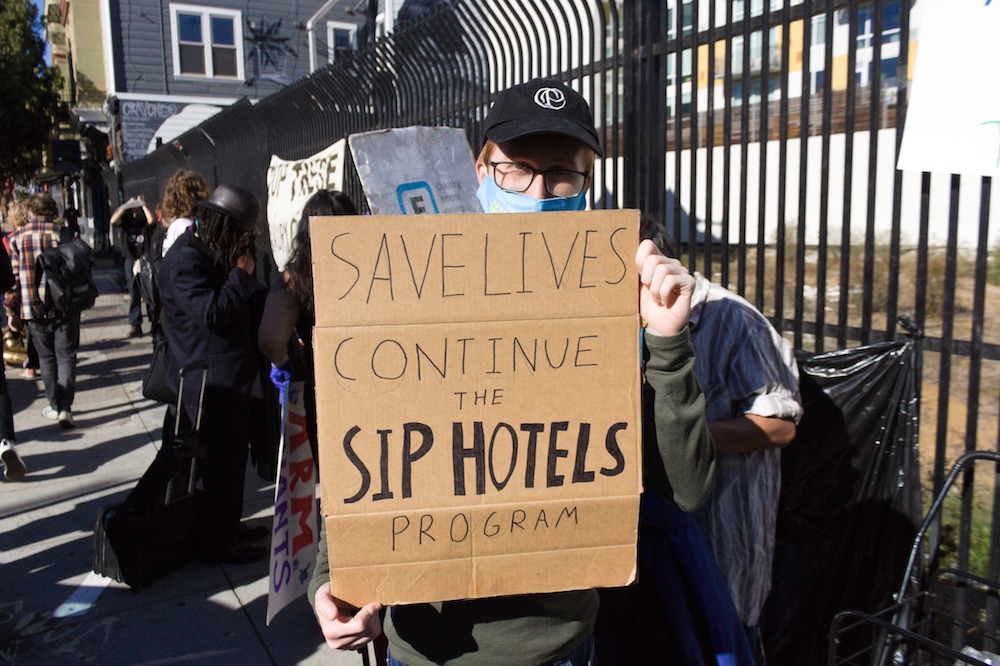 Seven apartments for $280,000. Really only minor renovations needed. That's $40,000 a unit. (Even in inflation-adjusted dollars, it's less than $100,000 a unit.)
Today it costs more than $600,000 a unit to build affordable housing. It drives me crazy: Back then – when homelessness was well into the first decade of becoming a serious urban crisis – lots of places like mine were on the market, and the city could have bought thousands and thousands of apartments for what's now basically budget pocket change. We could have taken a huge amount of housing off the market forever at a very modest cost.
Of course, Dianne Feinstein was mayor and had no interest in this – but really, neither did anyone else at City Hall. We missed a huge opportunity – ten years later, it was too late.
Now we're in a 1985 situation again, and if we don't take advantage of it, we will all look back in a decade and say: What were we thinking?
I'm talking about probably 100 hotels in the city that have together maybe 5,000 rooms that can be converted for cheap into permanent housing for low-income and homeless people – and many of them are for sale.
COVID has devastated the tourist industry. The big hotels will come back; they're owned by real-estate investment trusts and have plenty of cash and a year from now, visitors will be coming back.
But the smaller, less fancy places? It might be five years before they see any real occupancy, and the owners (many of whom are small business people) know it.
That's why they have made such a positive response to the city's efforts to lease their property as Shelter-in-Place units for people on the streets. Jennifer Friedenbach, director of the Coalition on Homelessness, noted in a press conference Tuesday that "we have 70 hotels that have responded to the city to sell or lease, and there are many more."
And, she noted, buying hotels is "less than half the cost of new construction" of affordable housing.
Most of these hotel rooms come with private baths. Many have kitchenettes. It will cost very little to make them into long-term housing.
Oh, and renovating hotel rooms for housing might take a couple of months. Building new affordable housing takes as much as four years.
Check it out: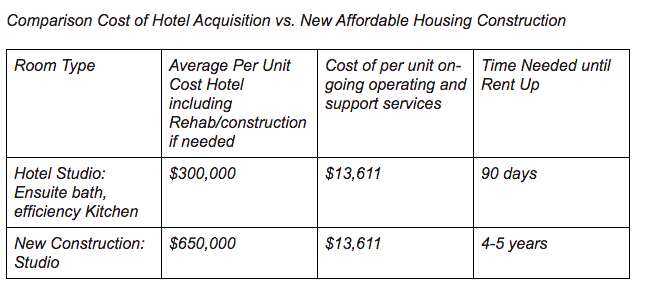 This is, as COH Staffer Keegan Medrano noted, a once-in-a-lifetime opportunity: "This is a moment when we can save time, save money, and save lives."
Right now, the Biden Administration is giving out money. The city's going to get about $80 million in reimbursements for housing homeless people in hotels over the past few months. And there will almost certainly be more money in the next year.
Plus, San Francisco is bringing in close to $300 million a year in Prop. C money, which is earmarked for addressing homelessness.
This is, Christin Evans, a small business owner in the Haight said, "a unique moment when we can accomplish real solutions." Sarah Shortt, who works at the Housing Rights Committee, said that "this is an incredible opportunity, and we don't want the city to blow it … this chance is not likely to come again."
Some 50 organizations have called on Mayor London Breed to take action and start buying property and taking it off the private market.
I promise: If we don't do this now, in ten years we will all be shaking our heads and wondering what was wrong with the city.