On Sunday, 200 insurance agents, union members from Teamsters Local 665, and public officials gathered outside City Hall to support the ongoing unionization effort of roughly 480 AAA insurance agents across 77 Northern California branches.
There have been previous efforts among AAA insurance agents to unionize, most recently in 2016, which ended after AAA made a commitment to increase worker pay by 7.5 percent, although both agents and leadership from Teamsters Local 665, who seeks to represent the agents, said that AAA has since cut pay back to below 2016 levels.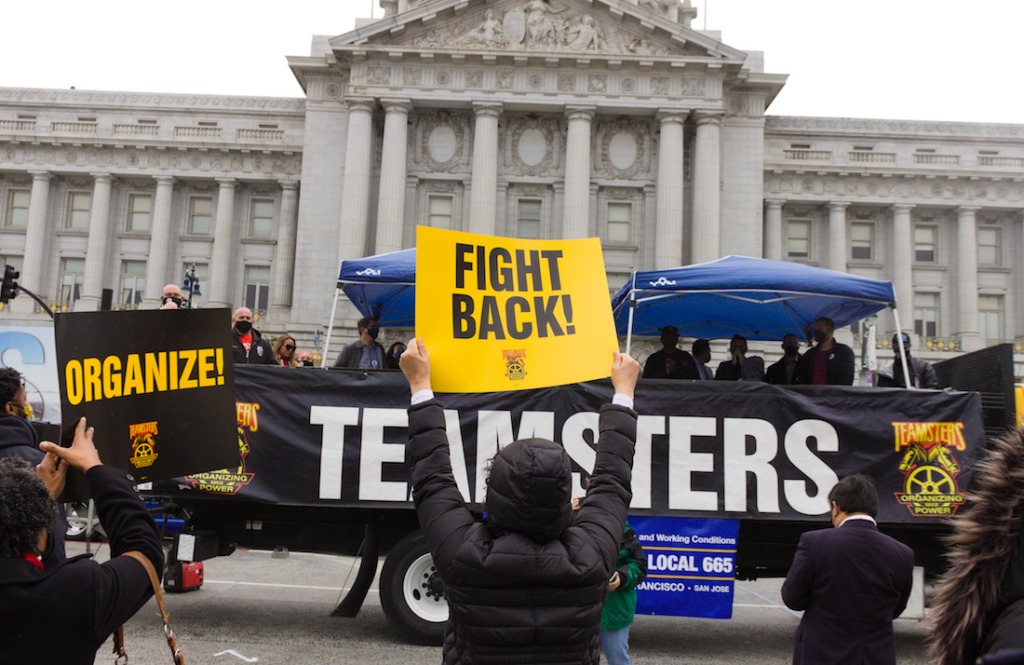 The latest unionization effort began in February 2020, after Teamsters Local 665 was contacted by a AAA insurance agent based in San Francisco. Shortly after, the COVID pandemic caused delays as in-person organizing was suspended, but as of now ballots are finally set to be mailed to workers on May 14.
Unlike some other unions, which often represent low-wage, blue-collar workers, the AAA union will be comprised of white-collar, typically higher-paid workers. Tom Woods, a business agent for Teamsters Local 665, said all workers are entitled to reasonable working conditions and treatment by management, saying that achieving those is often the end goal of unionizing in the first place.
"All work has dignity, doesn't matter if you are a maintenance worker or a banker, you still deserve to be respected at work, you shouldn't in fear of your boss, that he's just going to terminate you because it's convenient," said Woods. "At the end of the day, economics is not why people unionize, job security is why people unionize."
According to an insurance agent based in the Sacramento region who has worked for AAA for more than 10 years and who spoke on the condition of anonymity—the AAA employee handbook explicitly forbids speaking with the press—AAA has enacted policies that have effectively reduced agents' pay and have made agents' work environment highly stressful.
One such policy, this agent said, is AAA's practice of outsourcing the work of contacting people who request insurance quotes from AAA, who are typically more likely to buy AAA insurance, towards out-of-state call centers rather than towards insurance agents as they have done in the past, while also not adjusting quotas, reducing the earnings of agents and forcing them invest more time into selling policies to a less-receptive customer base in order to meet their targets.
"They're piling on huge amounts of work that are impossible to do in a 40-hour period and going over that period and not getting compensated, it creates an extreme level of stress and pressure, not just from management and staff but from members. Our workloads are equal to four or five people," said the agent.
Also, starting in 2013, the union said, AAA stopped offering renewal commissions for newly-hired agents, called insurance retail associates, who earn $16.35 an hour—significantly less than tenured agents who command higher salaries. That means agents only receive commissions for policies initially sold but not when customers renew their policies with AAA, meaning that as the number of accounts managed by agents grows year over year, they are not paid proportionally for the amount of work involved in keeping those customers loyal to AAA, called "servicing the book" by agents.
The agent we talked to added that AAA has laid off most of the service staff that help senior agents at their branch manage large "books," leaving those agents with the responsibility of manage all their clients by themselves while also selling new policies. A said that their book is roughly 4000 people.
"That's for one person. Imagine the call volume, plus I'm supposed to bring in new business," the agent said. "My work life is chaotic, I don't know when I'm going to get a day off…our phones from the branch are forwarded to our cell phones."
All of this, according to Woods, is a means for AAA to get rid of expensive veteran agents and replace them with less-experienced agents who can be paid less.
AAA refused to comment on any information related to agents' pay or whether the company was seeking to reduce payroll costs by replacing senior agents with junior ones. AAA added that it recognizes that employees have the right to unionize, but do not support the agents' efforts to do so.
"We also respect our employees' right to join a union if they choose, and we strictly abide by a company policy that explicitly prohibits retaliation against employees. We value all of our employees and are constantly seeking ways to improve as an organization, which is just one reason we do not believe a representative organization is necessary to realize what's in our employees' best interest. We look forward to working together with our Northern California insurance agents in the service of our Members," said Michelle Donati, public relations manager for AAA of Northern California, Nevada, and Utah.
AAA is a strange corporate hybrid. It's technically a nonprofit, although the organization says it pays taxes. Most people know AAA as a member-based group that offers, for example, free tows to stranded motorists.
But it's also an insurance agency.
One common concern management likes to raise about unionizing is whether the unionization battle will tarnish a business' reputation, which can be especially disastrous to an insurance company, which relies on its reputation to sell policies. The agent we spoke to said that they are not worried in the slightest about the potential negative PR of unionizing.
"I am embracing it fully, what's ruining our sales is the amount we are overworked and scrutinized over everything we do," the agent said. "We love our brand, our members, but we can't provide the service they are entitled to under these conditions. We want to rebuild our brand and give ourselves a voice."