Governor Gavin Newsom is talking about spending $12 billion on housing for homeless people and rent relief for tenants. It's a great picture.
But in reality, the existing state program to help tenants who can't pay rent because of the pandemic has not sent a single check for a single dollar to a single tenant or landlord in San Francisco, public records show.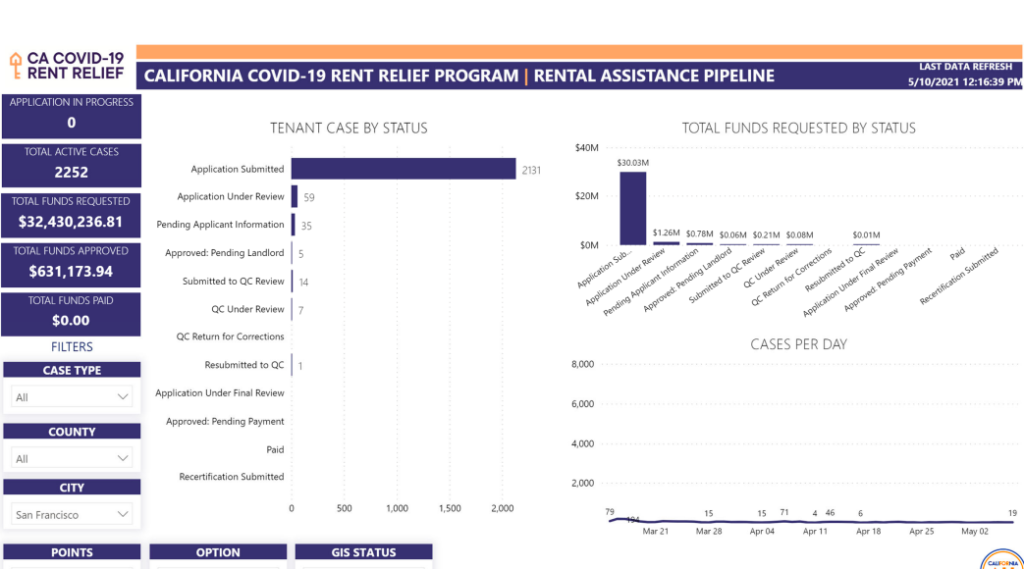 It's not much better on a statewide basis: Of the $403 million requested by landlords and tenants, only $4 million – that's one percent – has actually been paid out.
"It's just unacceptable," Molly Goldberg, staff director for the San Francisco Anti-Displacement Coalition, told me. "The state of the need is huge."
The story is a complex issue of federal, state, and local agencies, but the bottom line is simple:
California is leaving vast sums of federal money on the table because Newsom's administration can't seem to get it together to send the money where it's needed.
And time is tight: The state's moratorium on evictions linked to past-due rent ends June 30.
"This money should have gone already to struggling San Franciscans," Sup. Dean Preston told me. "With an eviction cliff around the corner, we cannot delay getting these funds out the door."
The state's COVID rent-relief program was created in behind-the-scenes negotiations between the governor, a few legislative leaders, and the Apartment Association, and that sidelined tenants advocates. Under the state program, landlords get to choose whether to discount rent in exchange for federal rent relief dollars. If landlords refuse to discount back rent, they can turn down the federal money. Landlords can then take tenants to court to collect all the outstanding rent due.
Adding to this confusing process is a lengthy on-line tenant application. Tenants have to produce lots of documents and if you don't have access to the internet or speak English, the application is almost impossible to complete.
A few cities including San Francisco, Oakland, and San Jose refused to adopt the state's rules and redirected their share of federal rent relief funds to create their own programs. But then the state held up essential agreements that delayed local programs.
The state launched their program on March 15 with about $26 million in federal funds set aside for SF. The San Francisco's local program with about $24 million in federal funds is expected to launch at the end of this month. Both state and local programs are about to receive a second round of federal funding.
The communication from the state, advocates say, has been terrible – tenants and landlords don't know that the program is available and how to access it.
"It's not oriented toward tenants," Goldberg said.
We are told that tens of thousands of tenants tried to start the online application and then gave up on it before completing it.
In total, 2131 San Franciscans have applied to the state program, and only 59 applications are even under review.
"We keep hearing that the money is coming, but we haven't seen it," Goldberg said. "I keep getting calls from tenant advocates who say their clients are in desperate situations and need that money, and all I can say is, I don't know when it's coming."
The state program is managed by the Business, Consumer Services, and Housing Agency. I sent emails to their communications people and have heard nothing back.
But there still may be some hope. San Francisco's local program with about $24 million in federal funds is expected to launch at the end of this month. While the city cannot excuse rent debt (that is something only the feds and state can do) the local application is said to be simpler and aimed to help tenants with both back rent and forward rent.
Whether the governor's proposed new rent relief program is going to do any better than the existing effort is yet to be seen.