The exhilarating exhibition "Nam June Paik" at SFMOMA (through October 3) presents the artist's pioneering video art work. Featuring Paik's signature cathode ray tube (CRT) sculptures and installations, satellite broadcasts, and documentation of performances, the retrospective demonstrates the many ways that media has changed over the years. Moreover, the exhibition showcases how Paik's "Electronic Superhighway" strongly resonates with today's networked screen existence. While not explicitly political, Paik's work speaks to globalized identities and media as a vehicle for a utopian multi-place, abound with opportunities for chance, play, and collaboration.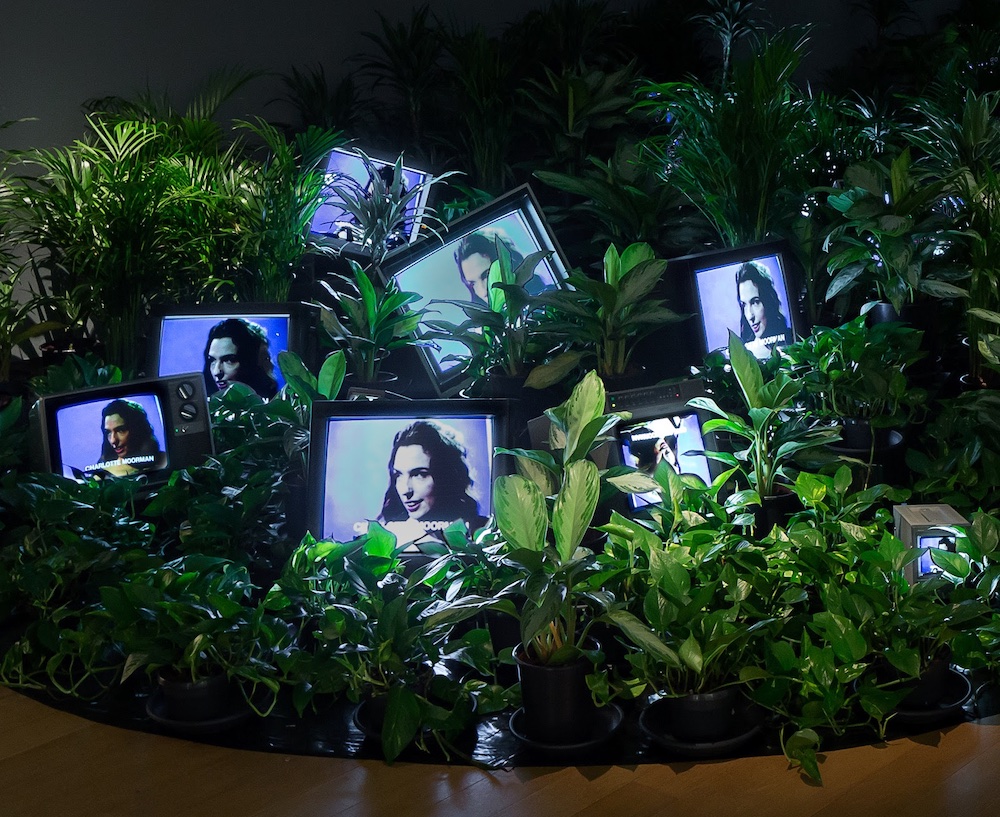 Born in Korea in 1932 during the Japanese occupation and then fleeing to Japan during the Korean War, in Paik's lifetime Fascist, Communist, and Capitalist interests divided the world, specifically with two international wars that divided Korea into North and South and Germany into East and West. A lifelong nomad, Paik called all of these places home at various points in his life. Coining the term the "electronic superhighway" in 1974, Paik envisioned an autonomous conduit that connected people and cultures. In the historical context, the electronic superhighway was a utopian multi-place, free from the nationalist fervor and tensions of Cold War politics and national divisions.
In perhaps one of Paik's most epic works, on New Year's Day of 1984, the artist created the global live satellite broadcast "Good Morning Mr. Orwell" (1984). In contrast to George Orwell's dystopian novel 1984 (1949) which cautioned that technology would be an instrument of authoritarian control, Paik's 38-minute event was an international celebration of media, featuring the pop music of the Thompson Twins, the cross-over artist-musician Laurie Anderson, and avant-garde collaborators Charlotte Moorman, Joseph Beuys, Merce Cunningham, Philip Glass, and more.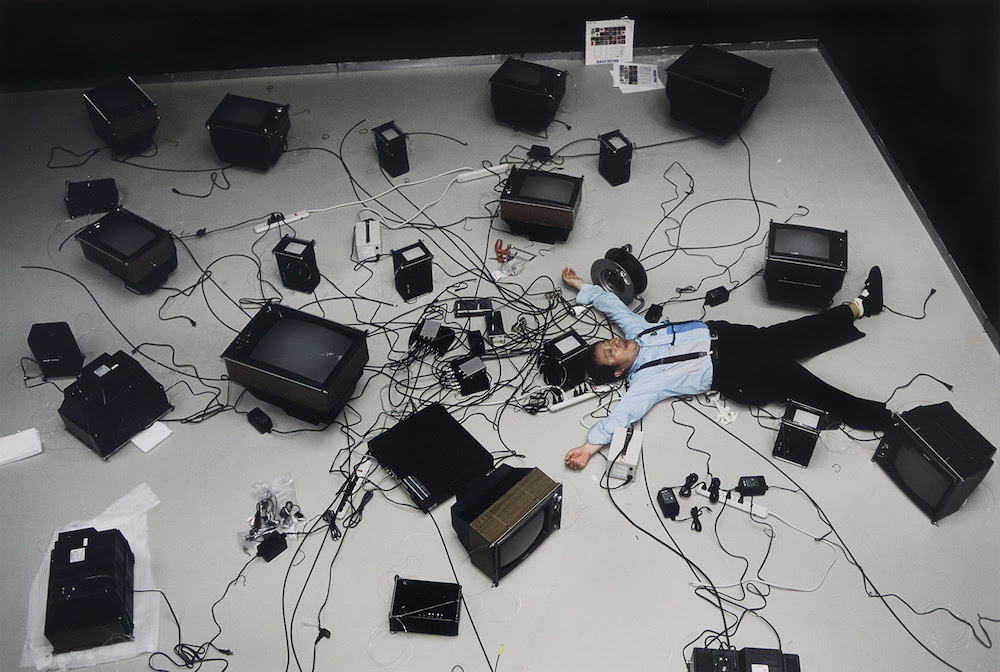 With his signature video manipulation, footage of Cunningham is repeated almost psychedelically, making it appear as if he is dancing with himself, and Anderson is chroma-keyed over the background of Niki de Saint Phalle's feminist sculptures and Jean Tinguely's self-destructing contraptions. While today, Paik's telecast may feel like a technical and cultural time capsule, it anticipated our current screen-based global communications, when more than ever we live in the "electronic superhighway."
Throughout the exhibition Paik's collaboration and multi-disciplinary approaches are featured prominently. In particular, Paik's projects with Merce Cunningham and John Cage are featured in one gallery, where the works' proximity mirrors the dancer's and musician's relationship as life-partners and frequent collaborators. In "Merce/Digital" (1988) and "John Cage Robot II" (1995), Cunningham and Cage appear as robots constructed from stacked CRTs.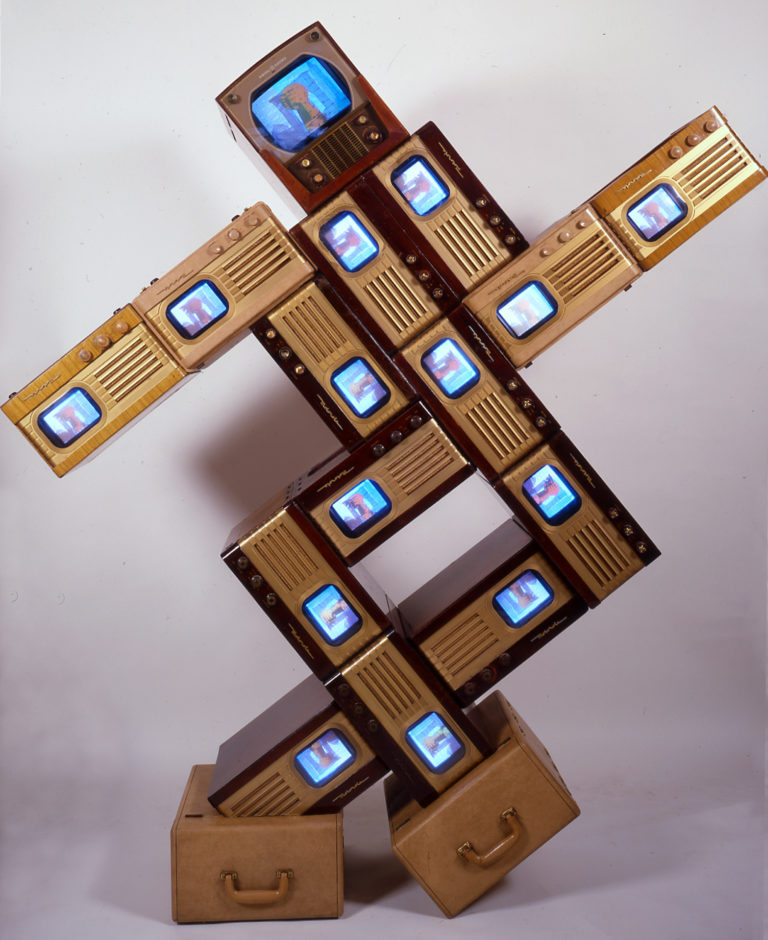 Representing their individual artistic practices, Cunningham's robot is posed in a plié with suit bags for feet; Paik humorously suggests that a dancer might have such blocky, inelegant feet, but also alludes to a sense of travel and mobility. In contrast, Cage's robot appears squarely erect with his arms extended, as musicians use their hands to create sound. Known for his unorthodox instruments, disassembled piano keys emerge out of the robot's right arm. Hanging from Robo-Cage's left arm is a basket of cds and books, including the I Ching and a manual on Zen Buddhism. As Paik and Cage integrated Buddhism in their works, they balanced piety with levity and chance.
In addition to being sculptural portraits of Cunningham and Cage, the 11-15 CRTs that construct each sculpture pull viewers into the details of the screens, where a buzz of manipulated video endlessly loops. Represented as sculpture and video, Cunningham and Cage become a synthesis of object and image, as well as human and machine.
"Nam June Paik" functions as a series of portraits of collaborations and a picture of the cultural and technological time. In the spirit of the avant-garde Fluxus movement, Paik was a trickster, mixing high and low culture, collaboration, and chance as a democratic enterprise. In response to his telecasts, the catalogue quotes Paik explaining that, "High Tech is not a panacea. It is just a local anesthetic. There will be many unforeseen problems ahead." As Paik manipulated technology in a seemingly carefree way, he was also a visionary aware of its potential perils.
"NAM JUNE PAIK" runs through October 3 at SFMOMA. More info here.