The screens of the Embarcadero Center Cinema usually host upscale art films, safe Sundance indies, and pre-calculated awards fodder. But this week at least one such screen will be scalded by hardcore gay porn. That accomplishment comes to us thanks to the distribution company Altered Innocence, which is bringing to San Francisco 4K restorations of a pair of singular movies by Fred Halsted, L.A. Plays Itself and Sextool. 
Instead of losing themselves in the trials of orphaned waifs, small-town Midwestern folk, and jaded bourgeois Europeans, the Embarcadero's audience of weekend brunchers and nervous couples on first dates can sample a double-bill containing solo JO, at least two brutal couplings, and a two-fisted fearsome foursome making full use of the metal skeleton of a bunk bed. (Ouch.)
But reducing Halsted's early movies to sensationalist sex acts doesn't do them or him justice—even though shock tactics were a primary part of his aesthetic and sales approach. A rare porn director who has movies in the collection of the Metropolitan Museum of Art, Halsted draws from an array of influences, and is influential himself. Landscape to manscape, the pan flute pastoral Encinal Canyon idyll in the first half of 1972's iconic L.A. Plays Itself isn't far removed from the 1970 softcore gay porn Song of the Loon—until it is, when bulldozers invade the scenery. (Among many readings, the movie can be interpreted as an early protest against urban development.)
In other areas, L.A. Plays Itself ventures beyond or outside of porn, to more experimental realms. Laden with innuendo and bullshit philosophizing, its voiceover conversations between a naive young country yokel and a predatory older man evoke Warhol, while its fractured, edited bursts of suggestive commercial and pop imagery invoke the dark magic of Kenneth Anger. 
In the 2011 book-length collage portrait Halsted Plays Himself, William E. Jones draws comparisons between Jacques Demy's Model Shop (1969) and L.A. Plays Itself. It's not a stretch to see both laying the roadwork for the hyper-referential Quentin Tarantino's 2019 Once Upon a Time in Hollywood. All three are partly defined by sequences that languidly cruise through parts of LA from a driver's or passenger's POV, and both Halsted's and Tarantino's movies refer to the Manson murders. Undeniably, L.A. Plays Itself's title and its non-porn segments are a core inspiration for Thom Andersen's masterful, exhaustive Los Angeles Plays Itself (2003), an epic 169-minute survey of the roles the city plays in cinema.
Arguably the more expressively audacious of the two roughly hour-long featurettes, definitely the better-known, L.A. Plays Itself is almost perfectly divided into halves. Its second section, featuring Halsted and his on- and off-screen lover Joey Yale (billed here as Joe Yanichek), finds the brutal, dark-haired former pelting the blond, boy-ish latter with eggs, making him lick his boots, and spanking his ass so hard that he leaves deep red handprints. As a minimalist and at-times abrasive electronic score swerves and gleams, this and more are all foreplay for a climactic punch-fuck that utilized a stand-in for Yale. Not for the weak of heart, or other parts.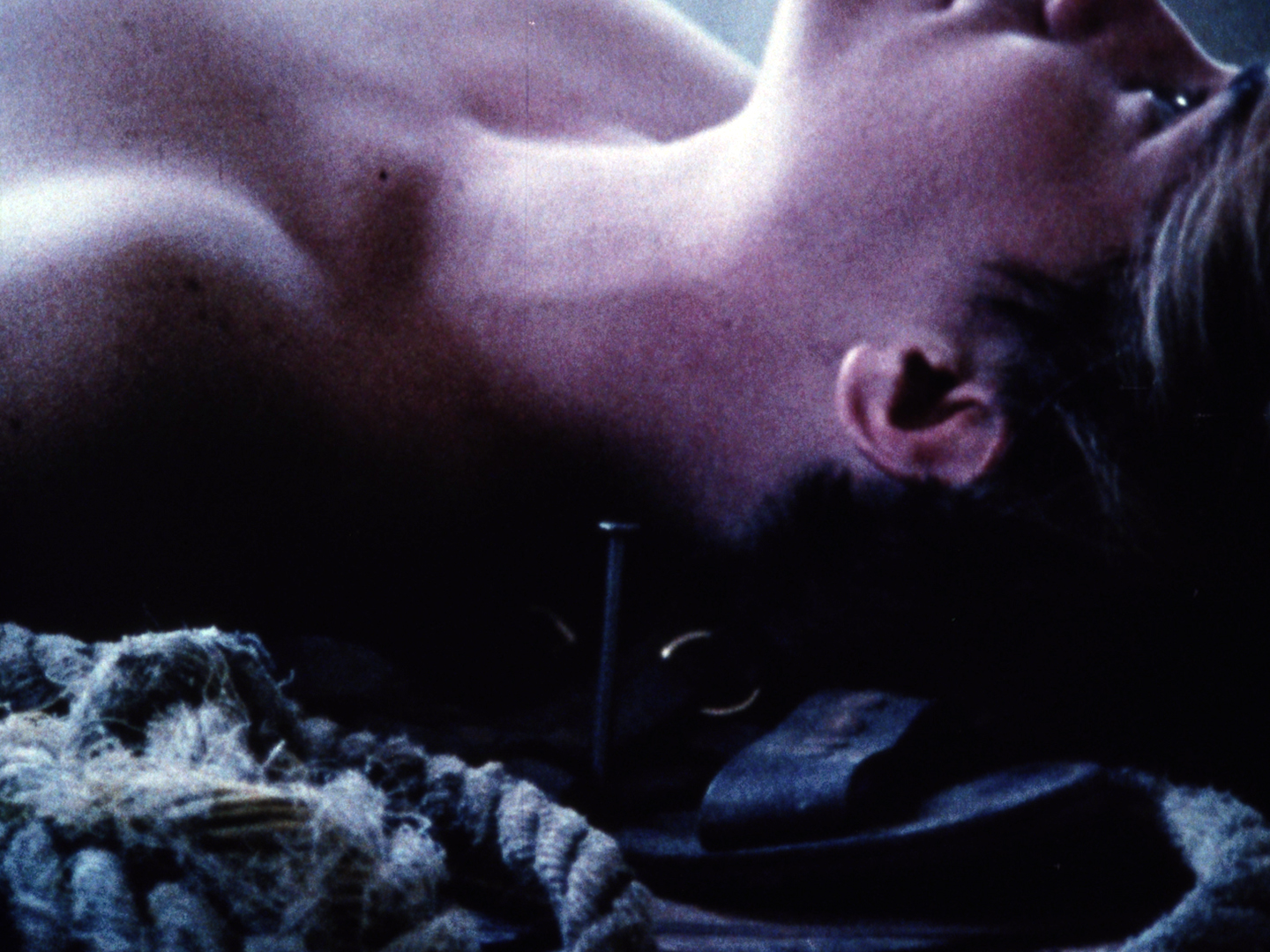 At the midway point of L.A. Plays Itself, a slow pan from bulldozer to American flag zooms out to reveal ravaged terrain. Shot on film, Halsted's movies are a great deal more artistically expressive than the porn of today, or his own era for that matter. Onscreen, though, he's the strong silent type, downright mean in dishing out punishment. This persona reaches extremes in 1975's Sextool. On one hand — no doubt fisted — it's a much pricier failed bid for commercial success, shot in a 35mm format aimed at the projection booths of arthouses rather than porn theaters of the time. On the other, a few of its sexual segments are more extreme than anything Halsted had shot before.
Structurally, Sextool is a more conservative film than L.A. Plays Itself, favoring a vignette approach to porn. It repeatedly shifts back and forth between a toney, phony L.A. party and the wild sexual exploits of some of its dressed-up guests. Sextool came out the same year as Curt McDowell's fabled Thundercrack!, and a comparison between the two movies is revealing in terms of the strong difference between L.A. and Bay Area sensibilities. 
At first glance, McDowell's comically Gothic omnisexual freak-for-all appears more radical, or at least free-spirited, than Halsted's vision, which contrasts hyper-masculine archetypes with trans and drag femininity. But there's no denying that Sextool's SM sequences pack a serious (gut) punch — in particular, the segment featuring Halsted and Yale occupies a violent psychological space, seemingly beyond safe words. Tough tops rough up boyish blond bottoms — at the very end, when the movie presents an example of normative, vanilla gay sex, it does so with utter contempt.
For far more extensive writing about these two movies, one can consult Halsted Plays Itself. Jones' book pieces together movie dialogue; magazine, playbill, and yearbook clippings; and production stills and personal photos. Previously published interviews and reviews accompany the author's own writing and research. All of it forms a biography-as-mystery. Halsted remains a paradox trapped inside an enigma. Readers learn that his bedroom brutality can be sourced to childhood, while discovering that the sexually-submissive Yale sadistically held the reins of their relationship. Neither met a happy end.
Halsted Plays Itself has no shortage of funny trivia. Halsted was a gardener for Vincent Price. In high school, Yale, then known as Joe Yanoska, acted in plays with Joyce De Witt, who went on to play Janet in Three's Company. He also was cast as The Jungle Book's Mowgli in a Disney touring company when L.A. Plays Itself was already on his resume. Jones' book is partly a quest for Halsted's unpublished autobiography, Why I Did It. As his and Andersen's direct nods or homages make clear, Halsted had a way with a title. (Why I Did It could be considered a stoic relative of What Did I Do?, a memoir by another slippery character, the painter Larry Rivers.) 
The iconic work of an iconoclast, L.A. Plays Itself is meta-porn—postmodern well before that term came into vogue. Decades later, by the time Jones's biography arrived, to play oneself had stronger connotations of accidentally giving the game away, of exposing oneself to an embarrassing degree. In a way, Fred Halsted did exactly that. In another way, he didn't.
LA PLAYS ITSELF/SEXTOOL DOUBLE FEATURE Starts Fri/9 at Embarcadero Center Cinema, Shattuck Cinemas, and other local theaters. www.landmarktheatres.com