More than 250 people rallied outside Oakland City Hall Tuesday as a part of a nationwide day of action across 20 US cities organized by the Service Employees International Union, urging bipartisan support for President Biden's proposal to invest $400 billion into subsidizing and increasing the quality of healthcare for seniors and people with disabilities, including expanding access to home-based care by professional caregivers and family members as a part of the American Jobs Plan, one half of Biden's proposed $4 trillion economic recovery plan.
Biden's proposal has been opposed by some Republican lawmakers, who say that spending on home care does not qualify as infrastructure and should be excluded from the proposal. The idea of federal spending to subsidize otherwise expensiv long-term care, which is often not covered by insurance, enjoys bipartisan support among voters, with 55 percent of Republicans and 73 percent of Democrats in favor, according to polling by Vox.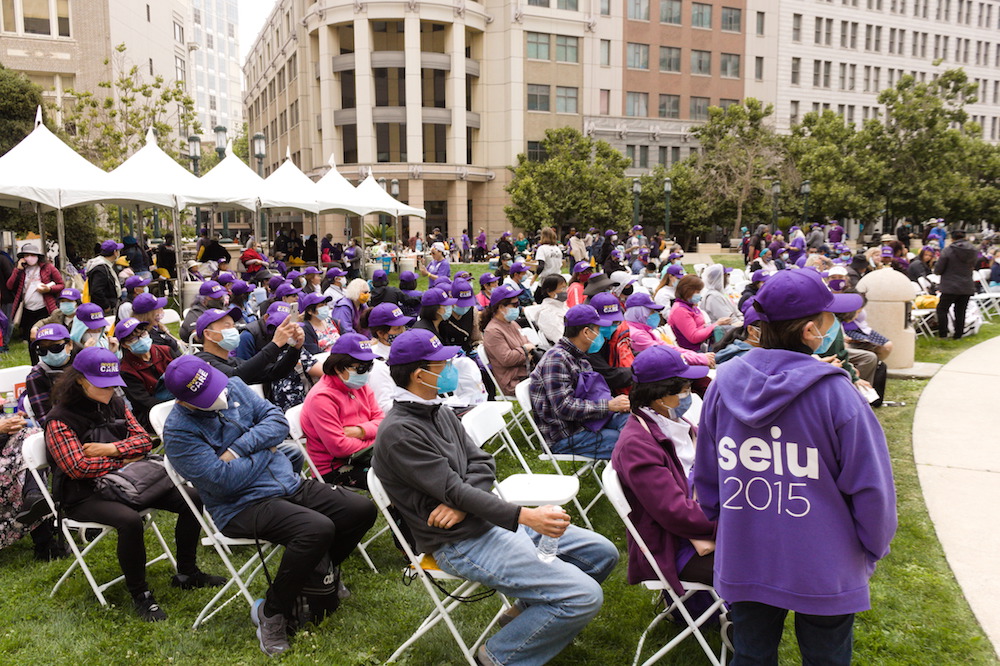 "For someone who says that human capital, human infrastructure is not real infrastructure, I would say to them that we cannot afford to continue to not look at home care as critical to the future of infrastructure needs of this country, said Arnulfo De La Cruz, executive vice president of SEIU Local 2015, a union that represents California home care workers. "Seniors are going to continue to have important care needs to live with dignity, and I think people are looking for leadership to address these needs…this is not a partisan issue, care-giving has no party."
The rally came the same day that Democrats agreed on a proposed $3.5 trillion plan closely resembling Biden's proposal, with a heavy emphasis on spending, which they will likely pass via budget reconciliation, although the union says that the Democratic proposal does not go far enough.
"The proposal from the White House doesn't solve things," said De La Cruz. "What we need is universal access to long-term care…I don't think this proposal does that, but we know that it would be a huge step. This is the opportunity of a lifetime to invest in and strengthen our long-term care systems."
The need for long-term care is growing—AARP estimates that 10,000 people each day turn 65 and by 2030, the youngest baby boomers will be 65. The Bureau of Labor Statistics estimates that employment in the home health care sector will grow by more than 20 percent between now and 2029.
Vivian Deniston, a home care worker from Humboldt County and a member of SEIU 2015, is a senior herself, and cares for her 38-year-old daughter. Deniston said that the need for investment in long-term care is important for her, as the day will come when she must rely on a home care agency to provide care for Sarah once she is no longer physically able to do so herself.
"I'm a senior, and I care for my adult daughter, and there's going to come a day when I will need someone else, a stranger, to do it. I really need this program to be the best that it can be…I think people want to stay in their homes, cared by someone who is invested in them, and it's so much cheaper."
According to a 2020 survey by life insurance company Genworth, the average cost of a home health aide in California is $5,529 a month. A semi-private room in a skilled nursing facility costs an average of $9,247.
Despite the growing need for home care workers, workers employed through agencies are often paid low wages, and many of these workers are women and people of color. According to the Bureau of Labor Statistics, a home care worker in the SF Metropolitan Area makes an average salary of $34,470.
Those who care for their family members in their homes and rely on MediCare to pay them for their care work often incur debt according to a June AARP study, which found that only 28 percent of caregivers break even monthly and 23 percent of caregivers take on more debt each month, with an average loss of $7,200 a year.
Tracy Hammond, a home-care worker from Yuba County who has cared for her 23 year-old daughter, Cheyenne, for the past 15 years, is paid for her care work through the In-Home Supportive Services program, which is joint funded at the federal, state, and county level. Hammond keeps a monthly time sheet of hours spent performing tasks involved with caring for her daughter, including meal prep, grooming, dressing, and doing laundry. Hammond, however, routinely has to go beyond the hours she is allotted by the government.
"You may have the hours that you are supposed to work, but nine times out of ten you are working more than those hours…to take care of somebody you can't say 'no, I can't get you that glass of water because my time's done'," Hammond said.
Hammond added that home care is the only viable option for her daughter, and that placing her into a permanent care home would be too expensive and stressful.
"She would have to be institutionalized if it weren't for me being able to get paid to care for her, because I would have to go to work and she can't be left alone…her father passed away three years ago and I'm all she has now. If she were put in a home, I don't think she'd survive, if would break her," said Hammond.
Congregate care facilities have also become less appealing during the COVID-19 pandemic—with nursing homes accounting for nearly 40% of COVID-related deaths as well as heightened scrutiny of nursing homes' business model, getting care in one's own home may be seen as a safer option than congregate care facilities.
"Although these facilities provide incredibly important care, there's an increasing demand for people to say 'look, I would really like to figure out how I can be cared for in the setting of my home or wherever I live,' there's going to be an enormous demand for that," said De La Cruz.
Ultimately, for both those receiving care and for their loved ones, investment in home care is important because disabled people deserve the best quality of life possible, ideally in their own homes, according to Deniston.
"For people who are disabled, they didn't ask for that…we have an obligation to give them the best quality of life that they can have, and that's staying home. I owe that to her, my child," Deniston said.