The grim procession of movie house closures marches on, with the plug abruptly pulled earlier this month on the UA Regal—the last commercial cinema in downtown Berkeley—and news last week that SF's CVG Cinemas on Van Ness will shutter March 1. (The South Korea-owned chain, which took over and remodeled the space from prior owners AMC, did such a poor job of promoting it that one suspects most San Franciscans never even knew it re-opened.) Then there's the still-hotly-throbbing issue of the Castro Theater, and whether its future configuration will be suitable to regular movie showings, as opposed to high-ticket "special event" ones, as well as the many local film festivals that utilized its space during the year.
We don't know yet if the Jewish Film Institute will be hosting its next full summertime festival at the Castro, as usual. But its current, smaller-scaled WinterFest (Sat/25-Sun/26, more info here) returns this weekend at the Vogue Theatre, another rare remaining single-screen movie house in the city. (While it didn't open under that name, the Vogue is in fact a full decade older than the 100-year-old Castro.) 
This 10th WinterFest edition provides two full days of narrative and non-fiction cinema, including the one Best Documentary Feature Oscar nominee that hasn't yet played the Bay Area. Danish director Simon Lereng Wilmont's A House Made of Splinters is a gracefully crafted if sometimes wrenching look at a sort of "halfway house" facility for children in Eastern Ukraine. The war against Russia is barely mentioned here; this facility predates it, and the "unfit parents" whose children have been dumped on the premises would likely have serious issues (mostly alcoholism, we glean) even in peacetime.
The all-woman staff are admirably caring, but no child can stay here longer than nine months. At that point, they're either adopted out, moved to an orphanage, or sometimes returned to exactly the same miserable situation they were removed from. Even during that relatively short span, it seems someone like little Sasha ages drastically—she goes from being a sweet, shy innocent to a prematurely disillusioned figure of low expectations. At least she has prospects, something you probably can't say about teenage Kolya. He is unlikely to attract an adopter, and will be old enough to risk prison the next time he's caught stealing or otherwise gets in trouble. Experience has made him cynically bitter, and you can hardly blame him. (A House Made of Splinters) is also streaming on on-demand platforms.
Other documentaries in WinterFest include Kate Schermerhorn's Do I Need This?, a humorous meditation on materialism from hoarding to Marie Kondo-style ascetism; Israeli The Camera of Doctor Morris, about a "British bubble" founded by an expat pilot in that newly founded nation's southern desert region after WW2; and Steven Pressman's The Levys of Monticello, which examines the legacy of the Jewish family who bought Thomas Jefferson's debt-riddled estate following his 1826 death. There's also Joanna Rudnick's short Brother, a documentary with animation in which her late sibling Matt details his struggles with opioid addiction and other woes. (It's worth noting that the Jewish Film Festival and Jewish Film Institute's executive director, Jay Rosenblatt, is currently an Oscar nominee for his own latest short, the likewise family-autobiographical How Do You Measure a Year?)
A quartet of disparate narrative features offer different takes on marriage and family—as well as the lack of either. In Maggie Peren's German The Forger, based on Cioma Schonhaus' memoir, a young Jewish Berliner (Louis Hofmann) whose relatives have already been "deported" by 1940 manages to hide in plain sight, running various scams including identification forgery. The antic, caper-ish tone can feel a bit incongruous given the life-or-death stakes, but this slick film's fadeout does bring the horrors of the Holocaust home.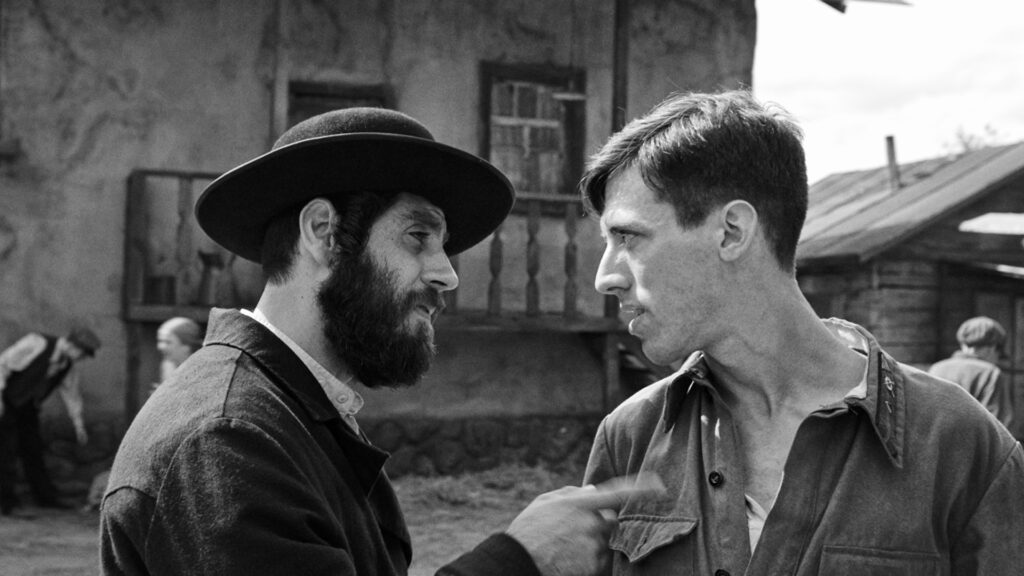 Taking place around the same time is Ady Walter's Ukraine-French coproduction SHTTL, an acclaimed B&W drama about a Yiddish Ukrainian village—and a prodigal son who returns to marry the Rabbi's daughter there—just before Nazis invade across the Polish border. As such communities have long since been eradicated from the region, the filmmakers constructed an elaborate shetl set, intending it to be preserved as a museum after production wrapped. Alas, it has apparently already been destroyed amidst the current war with Russia.
On a somewhat lighter if still bittersweet note, Other People's Children has Virginie Efira of Paul Verhoeven's Benedetta as a single Parisienne whose desire to have children of her own is complicated by her new relationship with a divorcee (Roschdy Zem), whose five-year-old daughter she adores. There's nothing light whatsoever about Mordechai Verdi's Israeli Barren, centering on a young ultra-Orthodox couple (Mili Eshet, Yoav Rotman) trying without success to have a first child. They live with the husband's parents (Ilanit Bar-Yakov), and one day his father (Nevo Kimchi) brings home an older man (Gil Frank) he met at the synagogue, who has nowhere to stay. He claims to be a rabbi, a professional shofar blower, and "healer" of the infertile.
This household naively places its trust in the supposed "holy man" stranger—then he terribly abuses that power. The rest of Barren painfully details how the rigid gender roles in this kind of community almost invariably wind up punishing a woman for the "crime" of having been assaulted. Nonetheless, this impressive first feature is a nuanced portrait of characters dealing with gross injustice while trying to maintain faith, and obey traditional laws that are open to interpretation.
The JFI WinterFest takes place Sat/25-Sun/26 at the Vogue Theatre in SF. For schedule, program and ticket info, go to www.jfi.org/winterfest.
Two other events of particular local interest are taking place this weekend. This Fri/24 at 7pm the 4 Star Theater will be showing two 8mm video diaries by late, great local resident George Kuchar, both of them from 1987. The half-hour 1980 Seven finds him preparing to embark on a trip, but very easy distracted, including by such artistic fellow travelers as Curt McDowell and Jennifer Montgomery. In the 70-minute Weather Diary 2, he enjoys the hair-raising excitement of a typical storm season in his favorite meteorological getaway destination of El Reno, OK. If you're at all familiar with George's work, you know these audiovisual essays will be an eccentric delight. Info on the bill co-presented by Variable Density and San Francisco Cinematheque is here:
The next night, Sat/25, Other Cinema at Artists Television Access will present "Psycho-Geo: San Franciskino," a program of shorts and slide shows about SF sites and sights. The main event will be a "very rough compilation" of footage from Anthony Buchanan's work-in-progress "zine film" Memory Is Resistance, which promises a sprawling look at 16th & Mission as a center of (mostly) late-20th-c. local culture, activism and antics. There will also be random glimpses of such retro attractions as Sutro Baths, Playland, and Steve McQueen doing his Bullitt thing. More info here.
Rewinding back to theater closures, the Roxie (don't worry, it's holding on) is opening veteran actor-turned-director Raphael Sbarge's documentary Only in Theaters there this Fri/24. His subject is the Laemmle family, which been in the business for 80-odd years—well, longer, if you count the Carl Laemmle, who founded Universal Pictures. But it was his cousins who began operating movie houses in the greater Los Angeles area in the late 1930s, becoming the region's kings of arthouse exhibition.
While LA is often considered an "industry town" without much interest in any culture but the kind it manufactures, various critics, directors and others interviewed here—including Kenneth Turan, Leonard Maltin, Nicole Holofcener, Ava Duvernay, Kevin Thomas, Cameron Crowe, James Ivory and Allison Anders—attest to the importance of the Laemmles' venues in diversifying that culture, and shaping their own sensibilities. They "broke" many a foreign, independent, documentary or initially under-radar title, whether hosting the premieres of the original Rocky in 1976 (Sylvester Stallone was a "nobody" at the time), animation giant Pixar's very first short, or Tommy Wiseau's now-notorious The Room.
But the impact of streaming hit arthouse venues even harder than mainstream ones, so much of Only is about the current generations of Laemmles weighing whether to sell their no-longer-financially-supportable operation or not. That is a matter for considerable hand-wringing, since these aren't just bottom-line-oriented businesspeople; they really do love movies, the art of movies, and championing commercial underdogs. Still, fate has a major twist in store: This dilemma takes place over the course of 2019. Little do the Laemmles suspect that much harder times are just around the corner.
The family members do appear to be very nice folk, and god knows we want cinemas (especially arthouses) not to go the way of the dodo. But unless you're a nostalgic ex-Los Angelean with memories tied to the particular theaters in question, Only in Theaters doesn't really say anything that every other documentary about COVID-battered businesses hasn't said already. There's plenty of familiar yak about the magic of the big screen and the communal moviegoing experience. But there's not enough here that's interestingly specific enough to justify 93 minutes, when 10 or 20 would have done just fine as sufficient tribute to several good people who've unfortunately lived to see the likely demise of something (public exhibition) that's dying everywhere.