First of all, Zurin Villanueva as Tina Turner on the opening night of the touring/BroadwaySF production of jukebox musical Tina: The Tina Turner Musical (directed by Phyllida Lloyd, through August 27 at the Golden Gate Theater, SF) is absolutely phenomenal, a magnetic performer and dynamite singer. She's accompanied by a wonderful cast and band who deserve so much better than the script they do their damnedest to enliven.
Which brings me to my second point: How on earth are you going to have a Tina Turner musical that doesn't leap on the opportunity to dress her in that iconic Mad Max: Beyond Thunderdome look that helped define the mid-'80s?
Look, you have to be a certain type of theatergoer to appreciate jukebox musicals, similar to those who enjoy pop star biopics. (I am one!) There will always be a certain amount of cliches to slog through to reach those ecstatic musical highs that bring legendary performers to life. There are only so many arcs a career in showbiz can take, the peaks and valleys that a good writer or film director will fill with enough curiosity-satisfying detail to keep you gripping the rollercoaster rail until you can singalong to the hits.
Tina Turner is a monumental figure whose story of escaping horrifying abuse and making her own way to superstardom has served as an inspiration for generations. Unfortunately for this show, that story has already been perfectly told in a hit movie and a bestselling autobiography, both of which have remained pop culture touchstones, elevated back into mainstream consciousness on the occasion of Ms. Turner's passing earlier this year.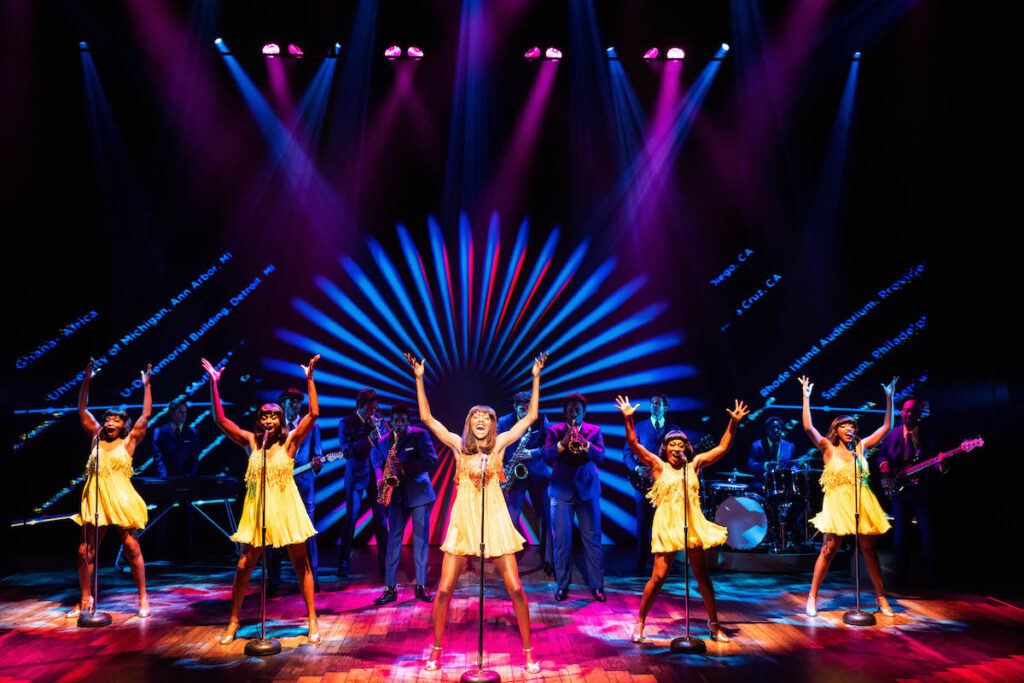 Tina: The Tina Turner Musical follows that tale pretty much beat for beat (even the title shows a lack of creative divergence). That's not necessarily an impediment, the story is truly a tale of self-empowerment for the ages, in a business and world that would do anything to keep a Black genius from Nutbush, Tennessee down. The costumes and energy of the performers, the dynamic lighting and sets, are off the charts. As young Tina, powerhouse vocalist Ayvah Johnson brings down the house.
And in certain pockets of the production, we see what could have been a fresh retelling—the striking mystical and psychedelic montages that riff on her spiritual awakening, for instance, or the threading through the narrative of callbacks to her musical past, all the way back to African influences, and her genre-defying musical tenacity, choosing arena pop-rock over niche soul.
But the tale told on stage is also overfamiliar—floozies waving around sandwich bag-sized pouches of cocaine, slicked-back racist record company execs, and pain, pain, pain for Tina—even if Katori Hall, Frank Ketelaar, and Kees Prinz's book tries to mix it up by inserting some hits in non-chronological order to increase the dramatics. Thus the missed opportunity for some welcome Mad Max camp during "We Don't Need Another Hero"; Tina is too busy wrestling with the demons she faces in real life for a costume change. (We do get a lovely glimpse of Tina's technique in the studio with Phil Spector that builds to a thundering crescendo in "River Deep, Mountain High," I would have loved more of that.)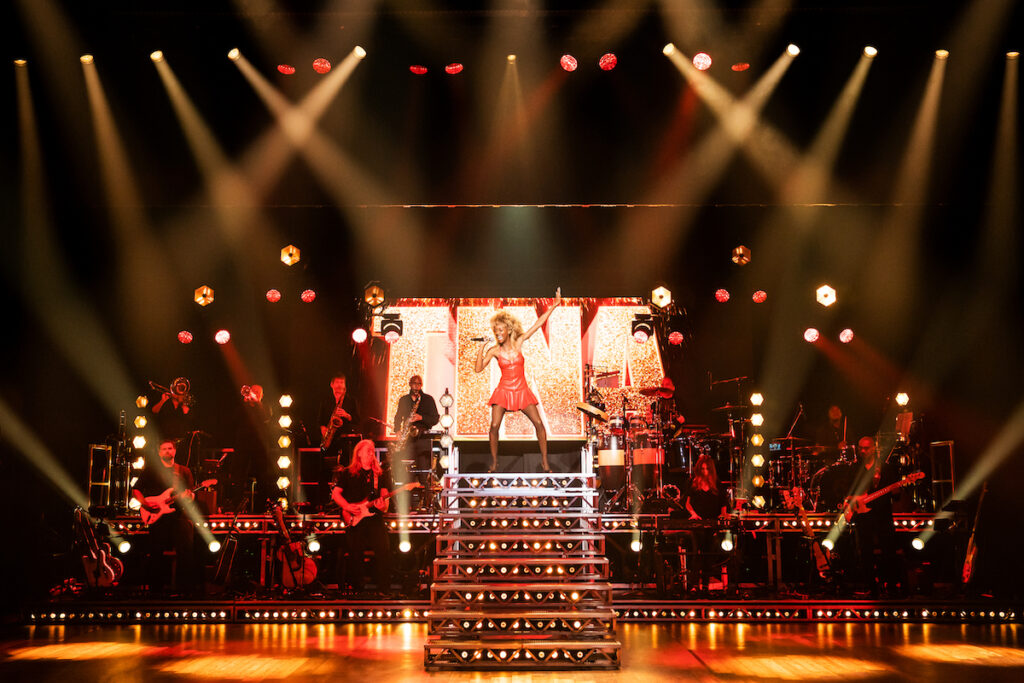 This occasional musical timeline-remixing at least something different, but leaves the audience in the lurch. Tina is so abused and beaten up on stage by husband Ike (in a swaggering if fatally nonthreatening turn by Roderick Lawrence) that every time you're jumping up to clap your hands along with some force of nature like "Proud Mary," the grim spectacle of watching a woman being battered, again and again, is not far behind. Every up comes with a terrifying down. (Luckily, the fight choreography is cartoonish.)
The poor women next to me who talked excitingly about shouting along to the lyrics of all the songs were too traumatized to even snap their fingers.
Of course, Tina ends up standing up for herself and building a epochal career, going form Vegas disco has-been to world-conquering hero with the Private Dancer album and the song "What's Love Got to Do with It" (whose origin and making are delightfully told here, including appearances by the New Wave synth-pop idols who helped make it). But even that is undercut with a corny deathbed scene where Tina's mother (soulfully played by Roy White) attempts to reconcile abuser with abused.
Mercifully, the musical finally gives us what we want—and probably what should have been all along—when the band comes on stage and Villanueva re-enacts one of Tina's most famous concerts, for an electrifying 15 minutes of unstoppable joy. As my companion said, referencing Turner's attendance at the Broadway premiere, "Imagine one of your last periods of time spent on earth watching yourself being beaten up all over again, then ending with a singalong." Turner's story is definitely worth telling, but this might not be the most appropriate vehicle for such heavy material.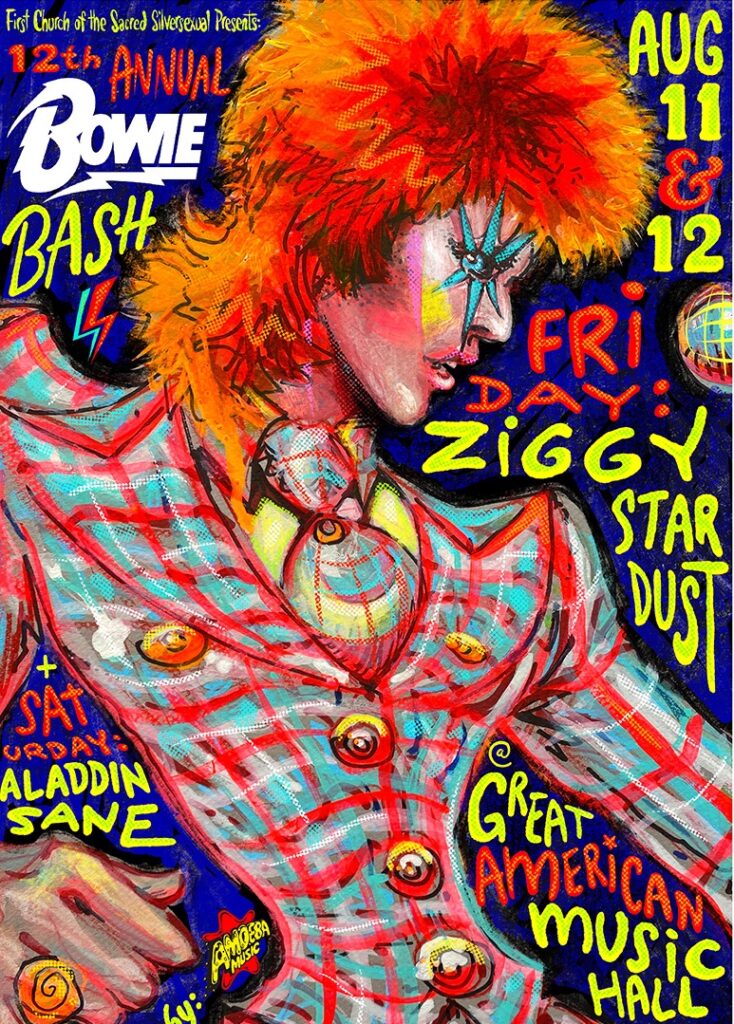 FOR ANOTHER SHOW OF LEGENDARY ROCK STAR FIREWORKS—without the drama, maybe—check out this weekend's 12th Annual Bowie Bash (Fri/11 and Sat/12 at Great American Music Hall, SF) which brings together the city's top rock, drag, and burlesque performers to pay homage to The Rise and Fall of Ziggy Stardust and the Spiders from Mars (Fri/11) and Aladdin Sane on its 50th anniversary (Sat/12).
Led by Rev. Lysol and the First Church of the Sacred Silversexual, "the world's only Worship Band devoted to the teachings of David Bowie," this annual spectacle is truly San Francisco, a tribute that Bowie would appreciate fully, and which resurrects his badly missed subversive and sensitive spirit.