Real estate developers are generally an arrogant bunch, who try their best to defuse, ignore, or dismiss any public input that might threaten their ability maximize their profits.
But even by those very low standard, the way the man who wants to build 181 units of mostly luxury housing at Mission and 22nd is treating the community is pretty horrible.
Hawk Ling Lou owns the site where a series of fires, one of them fatal, destroyed a building where low-income tenants lived in rent-controlled housing.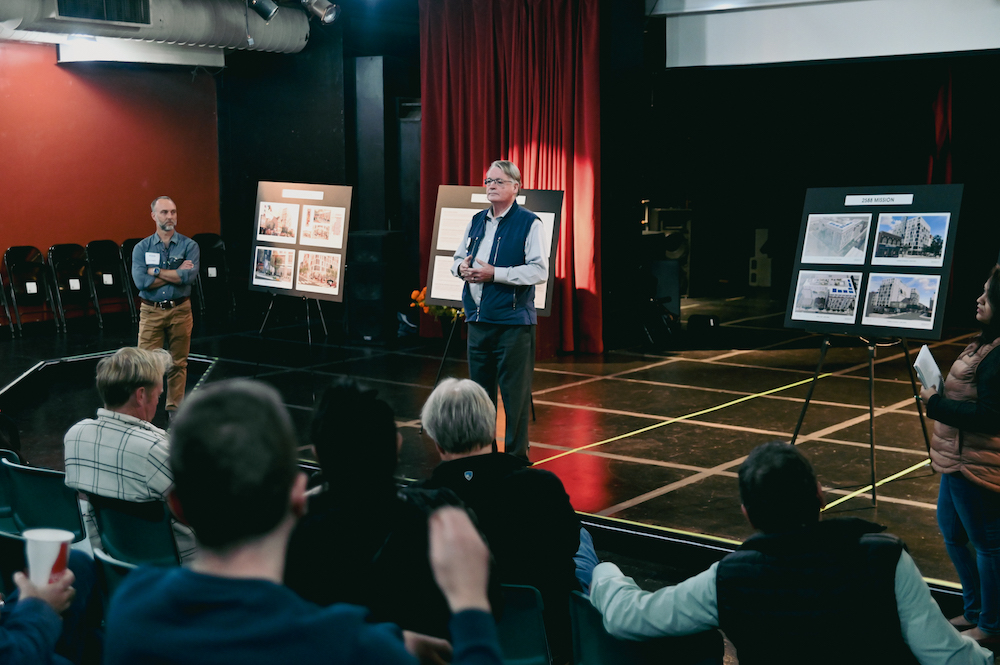 Lou owns a number of buildings in the city, and the District Attorney's Office filed charges against a contractor he hired, who allegedly didn't provide adequate fire-prevention equipment at the Mission Street site.
Under city law, if the building could have been repaired after the fire, the tenants would have the right to return, at their original rents.
But the city determined that the building wasn't inhabitable and it was demolished—meaning the Right of Return doesn't apply.
The city requires major developers to do some form of "community outreach," so Lou's architect and land-use lawyer showed up at the Mission Cultural Center Tuesday night for what was billed as a community meeting.
When I got there, the architecture team from Ian Birchall and Associates was setting up poster boards on easels with mockups of the project and an FAQ. Birchall says I don't have permission to post photos of the mockups (which is weird), but you can see them here.
Milo Trauss, a representative of the developer, then announced that there would be no formal presentation, but that participants were welcome to walk around and look at the images and ask individual questions.
That didn't fly.
Lou Dematteis, a longtime Mission photographer and filmmaker, demanded a real meeting, with real input. "We want to be heard," he said, not just one-on-one. Let our voices be heard."
So Birchall, who said he was not prepared to do a presentation, agreed to present anyway. But all he could really talk about was the design of the project, how many of what types of apartments (all one- and two-bedroom units) would be on site, and how many would be affordable (21, the minimum required under state and local law).
Who no larger units? "It's about getting the maximum number of units" in the building envelope, Birchall said.
The bigger question that participants asked, over and over again: Why is this project coming to the Mission? Won't it lead to more displacement? Will the developer sell the site to the city for 100 percent affordable housing?
Birchall couldn't answer.
Which is not his fault: The person who can make those decisions—Lou—and who will be making the profits on this, was nowhere to be found.
DeMatteis: Where is the developer?
Birchall: The developer isn't here.
"You are coming to a Latino neighborhood," Susana Rojas, who works with Calle 24, said. "It's horrible that the developer isn't here."
Birchall couldn't answer that, although he did say that "neighborhoods change."
John Mendoza, also from Calle 24, challenged him: "Do you know why neighborhoods change? It's because of projects like this. A person died here. Our community is suffering, and the developer doesn't care."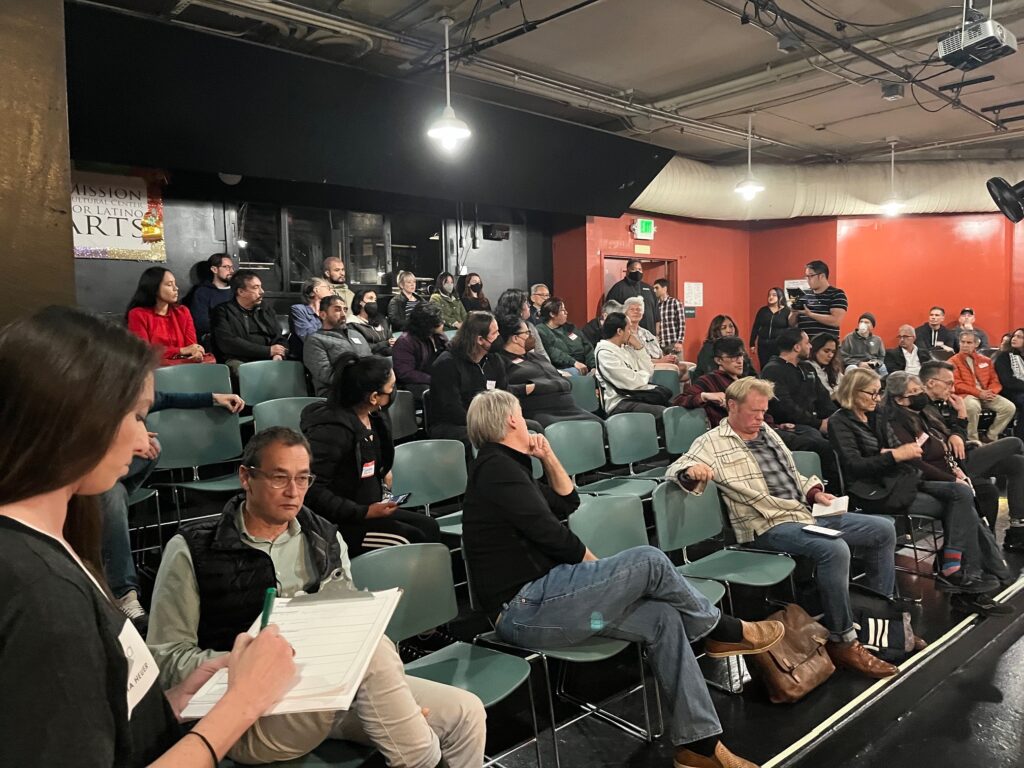 Isa Garcia asked the question directly: "What is the point of this? There is plenty of unbuilt housing and plenty of empty units."
April McGill, from the American Indian Cultural Center, said "this is insulting to us." She noted that there was nobody among the presenters who spoke Spanish.
Rojas summed it up: "Why are we wasting our time? When will we have the next community meeting when the developer will be here?
Birchall could only say: "I can't make the property owner do the things you want to do."
I asked Birchall before the meeting whether the project had financing. He said it didn't; that would come later. Which means that it might not get built any time soon anyway.
The biggest obstacle to market-rate housing in San Francisco today isn't "red tape" or NIMBYs or the progressives on the Board of Supes; it that financial institutions aren't putting money into new housing right now because the return on investment isn't high enough.
Several community members said that after the old building burned, the late Mayor Ed Lee promised that the site would become affordable housing. I asked him Birchall if there was any chance the owner would sell the lot to the city. He said anything was possible.
In the meantime, folks in the Mission are furious—at a project they don't want, and at a developer who doesn't have the common decency to come to a meeting and listen to the people whose community he wants to change to make a profit for himself.
Despite some bad state law, this is not a "ministerial" approval; it will have to come before the Planning Commission, where there will likely be strong opposition—not from the so-called NIMBYs worried about property values but from Latino and Indigenous residents of the Mission worried about their ability to stay in their community.