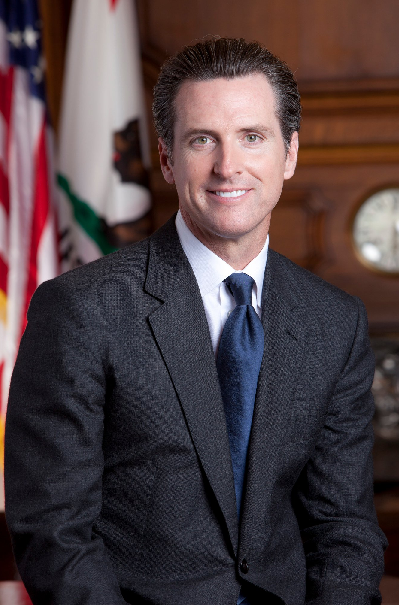 By Bob Planthold
JULY 8, 2014 — Lt. Gov. Gavin Newsom wrote an op-ed piece June 16th in the Sacramento Bee that focuses on the innovation brought on by Transportation Network Companies. But he ignores the TNCs' obvious discrimination against people with disabilities.
Remember that as supervisor and as mayor, Newsom preached the value and necessity of "customer service" as a part of effective government. But somehow, with TNCs like Lyft, Sidecar, and Uber, this same goal is ignored or overlooked.
Newsom is not alone. The California Public Utilities Commission, the state Legislature, and the San Francisco mayor, city attorney, and Board of Supervisors have done the same thing. They have failed to acknowledge that a TNC, like a taxi company, is a "public accommodation," as defined by the Americans with Disabilities Act. Meaning it must serve all and be reachable by all.
Yet, TNCs are not incompliance, since they:
— Allow their drivers to decide not to pick up people with guide/ service dogs, and
— Can't serve people who need ramps or lifts to enter and exit a public conveyance, and
— Are not usable by those who don't have a smart phone.
This so-called innovation is biased towards those who are both fully able-bodied and have money and ability to use a smart-phone. Which means TNCs fail to meet the requirements of a public accommodation. This is becoming a national issue.
No one has yet verified whether the websites for the many "sharing economy" start-ups are accessible for those who are blind or low-vision. Some clearly aren't — yet that also is overlooked by the many officials who genuflect to the Oz-like image of innovation.
This one-sided response by our public officials to TNCs, and to other sharing-economy companies, makes me wonder:
What are the core civil-rights values of the many public officials who are lavish in their praise of these sharing-economy companies? How committed are public officials and the news media to actually seek ways to get TNCs, and other sharing economy companies, to obey the law, especially if enforcement interferes with campaign contributions or ad revenues?
The Newsom op-ed is especially distressing to the disability communities. While Newsom was mayor, his picture was included among those on the webpage for the Mayor's Office on Disability – based, I was told, on his previous public acknowledgment of dyslexia.
Thus, his total failure to address the inaccessibility of these sharing-economy companies is almost a denial of the relevance and importance of the rights of people with disabilities to the larger community.