San Francisco Media Company paper bleeds employees and feeds accusations of chauvinism.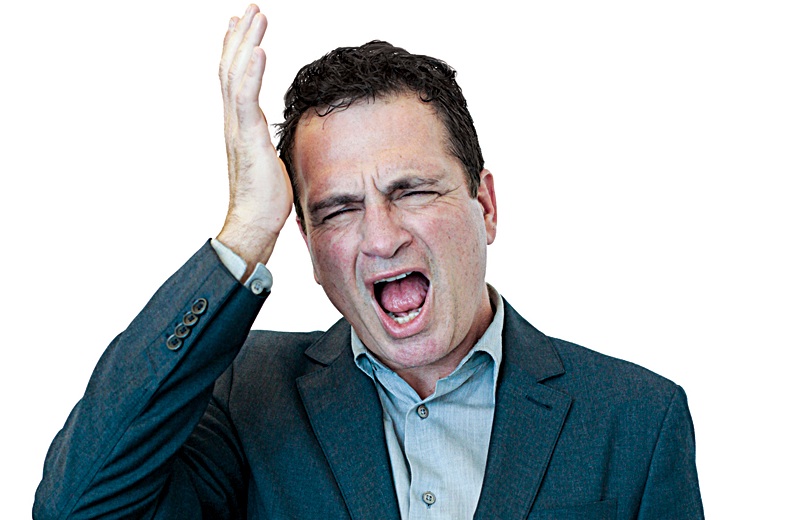 By Marke B. 
MARCH 27, 2015 — The San Francisco Media Company is bleeding employees. 48 Hills  has received word that, with three more departures today, up to 17 writers, editors, and other workers have left the company that operates both the SF Examiner and the SF Weekly in the past two months.
The Weekly has been the hardest hit by the exodus. Two-thirds of its editorial staff — six people, including news reporters Joe Eskenazi and Rachel Swan, both music and culture editors, and a social media editor — have left the company, after the Weekly's editor, Brandon Reynolds, was unceremoniously dumped earlier this year. This morning, we received word that one of the SF Weekly's former vice presidents, now an advertising director at the company, has also left.
When I called to ask new SF Weekly editor Mark Kemp about the severe bloodletting, whether there were plans to hire replacement staff, and several other questions pertaining to this article, he told me that the media company was "not ready" to answer any questions.
Some who've spoken to us anonymously have told of a creeping  "chauvinist," "retrograde" mentality at the company that had made the atmosphere untenable. Certain recent actions by SFMC — including launching "After Dark," an advertorial magazine showcasing female exotic dancers and mainstream gentlemens' clubs — have reinforced this view. "It feels like the Weekly is circling the drain," a former employee said. "None of the people in charge seem to know what they're doing. But there's certainly been a lot of mansplaining."
This week's SF Weekly cover features controversial sportswriter Jay Mariotti, a widely disliked figure in the sports world who recently pleaded no contest to misdemeanor stalking and assault-related charges involving a former girlfriend. Mariotti was hired as the Examiner's new sportswriter, a hire that elicited alarmed reactions from local media, and was specifically decried by new Chronicle editor Audrey Cooper on Twitter.
"Wow, this newspaper needs help" — girlfriend batterer Jay Mariotti, hired by @SFExaminer: http://t.co/46v9QtKHx3 via @sfchronicle

— Audrey Cooper (@audreycoopersf) March 7, 2015
(The Examiner is suing the Chronicle for predatory ad pricing, so it was interesting to see this front open up in the long war between the two dailies.)
Penned by Mariotti himself (and for some reason appearing in the Weekly rather than the Examiner), the self-puff piece, titled "What the Hell Were You Thinking?: The Lightning Rod of Sports Journalism Explains What on Earth He's Doing In San Francisco," is long and relatively unremarkable, except for repeated exculpations from and protestations against the girlfriend-battering incident and myriad other sins Mariotti has been accused of.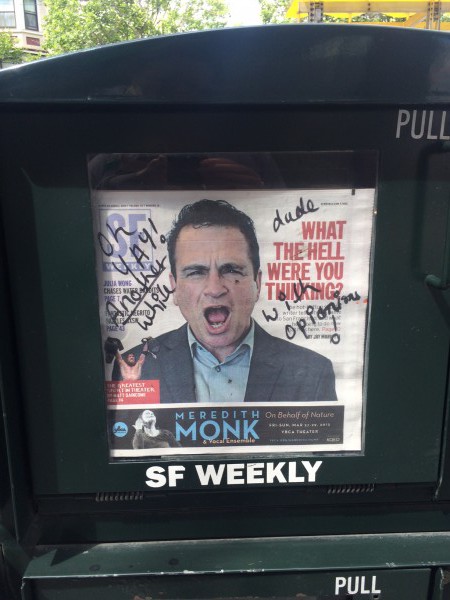 It's not that surprising that the SF Weekly would put yet another middle-aged white man on the cover, or allow him full, unquestioned voice about these incidents for several pages. But considering the view many are forming of SFMC since new publisher Glenn Zuehls and new content director Michael Howerton recently took over — that the company is out of step with contemporary San Francisco mores, including diversity (all of the officers at the company are now middle-aged white males, most from out of town) — it's striking that the company would double down by hiring and promoting such a symbol of chauvinism.
What's most extraordinary about this edition of the Weekly is the earnest defense thrown up for the Mariotti piece by new editor Kemp. In his first editorial for the magazine, Kemp invokes Journalism 101 touchstone Hunter S. Thompson and celebrates the gonzo journalism style as being exciting because it's not "politically correct." (Readers may have to look hard to recognize anything genuinely gonzo in Mariotti's cover piece — or his brashly opinionated writing in general.)
As for the battery charges against Mariotti, Kemp's editorial, titled "New Editor, Controversial Sports Writer — What More Could You Want (To Be Outraged By)?," merely sidesteps: "Here's the deal: Of course we know about Mariotti's troubled legal history. We know he was accused of domestic violence and that he pleaded 'no contest' and got probation for it. But we didn't bring Mariotti here to write about domestic violence. We brought him here to write about sports."
Kemp continues to half-defend Mariotti for two more paragraphs, casting the decision to hire him as "bold" and brushing off the allegations against him. Kemp claims "SF Weekly's mission in this city is to uncover heinous crimes and corrupt leaders; to write about food, arts, music, and cultural issues in ways that hopefully give you different perspectives. No holds barred," and that he's going to "dust off the spirit of gonzo."
Whether he can accomplish that with barely any staff, a lack of diverse corporate input, a conservative viewpoint that spins tired buzzwords like "politically correct" and "outrage," and an increasing reliance on advertorial content remains to be seen.
In the meantime, we'll have Mariotti, who includes this anecdote in his cover piece:
"Last time I had the potential for this much fun, Snoop Dogg was staring me down before an "Around The Horn" taping, saying, "Who do you think you is?"
Who do I think I is?
I'm the Diddy by the Bay."
Marke B is the former executive editor of the Bay Guardian, a San Francisco Media Company holding that was shut down in October.