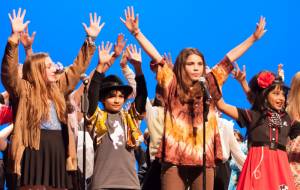 While adults (grant inequity-spurring tax breaks to social media companies and) dither on about the current influx of wealthy tech workers and resulting community displacement in San Francisco, their children quietly live their consequences. They're the ones whose futures in the City are endangered — and alternately, they're the ones who have to deal with flack when they have techie parents who actually ride those Google buses. I do not have to explain why this truly sucks for them.
Because kindergarten to fifth grade students rarely have blogs or bumper stickers on which to air their complaints, it is all the more important that you pay them heed when they do get a chance to speak. Do so this weekend (Sat/16 and Sun/17) at City Not For Sale, a play about San Francisco starring the kids of Children's After School Arts (CASA), a social justice-focused program for local kids.
48 Hills caught up with Leslie Einhorn, CASA's founder and artistic director, to get the origin story of City Not For Sale:
There's such a mass exodus of artists and people of color and families out of the city. I've been with CASA for almost 20 years now and I've seen the program change so much, mainly because of who is going to public school in the city. The kids have a lot questions about it. We have a very diverse group which includes a lot of families who are being pushed out of the city — and more and more, kids of tech workers. There's a lot of conversations on the yard about what these tech companies are doing to our city. The teachers are saying that they don't know how to talk to their students whose parents are in tech … not to mention the fact that the kids are all obsessed with technology but complaining about the influx of tech in the city.
CASA's yearly productions — past themes have tackled "revolution" and the various kinds of "family" — have long drawn on teachers and students' need to understand the world around them. To that end, City Not For Sale's plot invokes SF's historic role as a center of social dissent. Look for cameos by the hippies and beatniks, among other countercultural groups that were born in the city.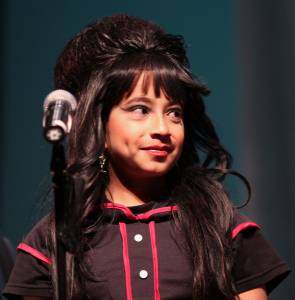 Einhorn says the eviction theme running through City Not For Sale hit a nerve with CASA's students and teachers.
We have a long time employee, Laurie Bushman, who is a fixture in San Francisco — she's hosts the sing-a-longs at Castro Theatre. She has lived in the Castro neighborhood for many years and is currently under the threat of being evicted. A lot of our teachers have left San Francisco and live in Pacifica or the East Bay. There was a big range within how our teachers were feeling, from fuck you San Francisco, this city has broken my heart to (I think where I'm at) this false optimism of no, I fell in love with this city and for better or worse I'm sticking by. Through working on the play it shifted to (to quote Whitney) I believe the children are our future! CASA has always been this really radical program and I've been there long enough to see what the kids do after they leave. Most of them have a keen eye for social justice and creative expression, and a lot of them stay in the city.
Could the wise words of Whitney Houston hold the key to surviving this acrimonious battle over the future of SF? Surely we can all agree that a play featuring 188 native kids expressing their thoughts and feelings about where our city is at is a happening to which we should all pay heed. In the words of the play's closing number …
Shake Things Up! This City's Not For Sale

We're all so busy searching, yet we never find
The secret to our freedom is right beyond the grind
Our thumbs are running marathons, our eyes are on the screen
We're too busy searching to see the grass is green

It's time for us to look up and do more than say
What on earth has happened to The City by the Bay?
You say you love the color, it's so vibrant and gay
Then stop pushing out the people who made it that way

There's beauty all around us, from North Beach to the Haight
But a fog of greed covers the Golden Gate
We have plenty of energy but a lack of dollar bills
Just to keep on climbing these forty-eight hills

With pockets full of memories and one foot out the door
We make a vow to love her in richer and in poorer
We make a vow to stand up and ask for what is fair
We're shouting from the Rooftops, There's justice in the air!

Chorus:
We gotta Shake! Shake! Shake! Things up
Cuz we have had enough
We gotta scream and yell and shout and wail!
This city's not for sale!  This city's not for sale! This city's not for sale!

Bridge:
This isn't my city, where I chose to live
Something's gotta change, something's gotta give
It's time to right the wrongs, to fix the big mistakes
This city needs some shaking bigger than an earthquake
Einhorn cautions that opening night of CASA productions usually sell out — even in the 800-seat Carol Channing Theater at Lowell High School — so jump on the links to tickets below.
CITY NOT FOR SALE
Sat/16, 6pm and Sun/17, 2pm; $12-28
Lowell High School, Carol Channing Theater, 1101 Eucalyptus, SF.
More information and tickets here