Forty years afer the war ended, it's Apple, Facebook, and American TV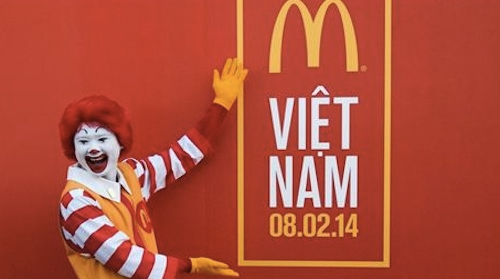 By Andrew Lam
MAY 5, 2015 — Forty years have passed since the Vietnam War ended, and a parade was staged in Ho Chi Minh City, formally Saigon, to commemorate that date. Yet despite the fanfare debates rage on both sides of the Pacific as to who really won and who lost that war. While the hammer and sickle and Uncle Ho's image may still adorn T-shirts it sells to foreign tourists, Vietnam's heart throbs for all things American, especially Apple. In 2014, in fact, Vietnam became its hottest market. In the first half of the 2014 fiscal year alone, iPhone sales tripled in this country, far surpassing sales growth in India and China.
But it is not just iPhones, of course, that exemplify America's powerful presence in Vietnam 40 years after the war ended. Facebook entered Vietnam's market four years ago and at one point was adding a million signups a month. As of October, it had 30 million users, and that's out of 40 million Vietnamese who have access to the Internet. 
On television too, America has managed to seduce its former enemy. One of the country's favorite shows is "Vietnam Idol" (in addition to "The Voice of Vietnam" and "Vietnam's Got Talent"). You don't need to understand Vietnamese to follow the plot. A rural teenager appears; she's nervous, full of self-doubt. When she sings, however, we hear a golden voice. Judgesswoon. Soon, a few weeks later, she has been transformed, grows in confidence and beauty. See her studied gesture of shyness, the chic skirt, the professional hair and makeup and the flawless performance.
From corporate investments to tourism, from military engagements to products, from social media to entertainment media, from the Vietnamese-American expats who return in droves to invest heavily in their homeland to a horde of Vietnamese foreign students coming to the U.S. for a much coveted American education, Vietnam is falling quickly back into America's orbit. In 2014 the U.S. overtook the European Union to become Vietnam's largest export market, buying nearly $29 billion worth of goods, and it sold more than $5.5 billion worth of products to Vietnam.
Last October, to deepen ties, Washington eased a ban on weapons sales to its former enemy, mainly to upgrade Vietnam's naval defenses. It also performed its fifth joint military exercise with the Vietnamese military, despite China's objections. China has reasons to be nervous. It now claims 90 percent of the South China Sea, all the way to Borneo, amid international protests. This vast stretch of water provides shipping lanes for more than half of world trade. And for the U.S. alone in 2012, an estimated $1.2 trillion worth of goods transited through it. Under that sea, too, lie untold oil pockets and natural gas, the stuff that could make or break an empire for the next 100 years. But by claiming control over this international body of water, Beijing is spurring a warming of relations between the U.S. and Vietnam.
Much of that cozy relationship can be attributed to Hillary Clinton who, as secretary of state, visited Hanoi in July 2012. "Clinton's visit paved the way for the establishment of the US Vietnam Comprehensive Partnership, which was formally laid out a year later in Washington at the July 2013 summit meeting between U.S. President Barack Obama and Vietnamese President Truong Tan Sang," noted The Diplomat, an Asia-focused news website.
How important is this breakthrough? Very. Less than a decade ago, Hanoi had considered China as its strategic ally, but not anymore. Vietnam is asking to buy more weapons from the U.S. so it can defend itself from China. Clinton, who's running for president in 2016, considers the Pacific region the top priority.
In "America's Pacific Century," an essay written for Foreign Policy in 2011, she noted, "One of the most important tasks of American statecraft over the next decade will … be to lock in a substantially increased investment — diplomatic, economic, strategic and otherwise — in the Asia-Pacific region." All this is to say Vietnam will continue to be a big blip on America's radar for years to come.
This story comes from New America Media.