Multimedia artist brings raw, transformative retrospective to Galeria de la Raza — hot sauce strap-ons included.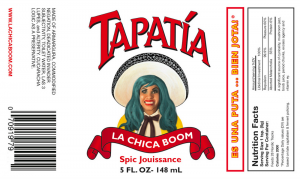 ART LOOKS Xandra Ibarra, a.k.a. Bay Area multimedia artist La Chica Boom, has built an international career of parodying microaggressions through her so-called "spictacles," hyper-racialized performance pieces that blast apart notions of respectability associated with femininity and Latinidad. Think a strap-on harness that brandishes a five-ounce bottle of Tapatio: this is the calling card of La Chica Boom.
Sat/1, 6pm-10pm, marks the official opening reception of Galeria de la Raza's "Ecdysis: The Molting of a Cucarachica," Ibarra's first solo show of its kind. (The exhibition runs through Sept. 6.) The show, which has been installed in Galeria since July 25, features documentation of Ibarra's post-2012 work, in which she attempted to leave the La Chica Boom era of her art career behind — she felt it was too restrictive — and morph into something new.
That attempt wasn't entirely successful, although it did make for some great art. Performance photography, video, and original interactive works from the recent, turbulent period will be on view. (Unfortunately, you'll have to leave the kids at home for this one — the show's been deemed unsuitable for the under-18 crowd due, among other things, to a clip showing the Tapatio harness in action.)
I had a very candid Skype conversation with Ibarra in which she explained some arresting images from her body of work for 48 Hills.
LAUGHING NUDE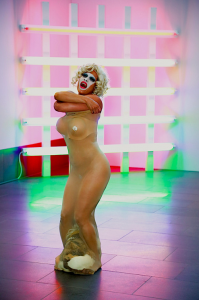 XANDRA IBARRA: Since my "Fuck My Life" show [at CounterPulse] in 2012 I've been obsessed with the idea of molting. I was like, I'm over La Chica Boom and now I'm just going to be a roach lady. Since then I've been reading about roaches, studying them. Depending on how long they live, they can molt several times. It's not a metamorphosis, like a butterfly or a worm that turns into this beautiful thing that flies away. A roach molts its exoskeleton and it looks exactly the fucking same. I was like huh, that feels exactly like my motherfucking life. La Chica Boom is the only way that I'm known. I can never leave her because any time I get invited to perform internationally, or even here in the US, I always have to perform La Chica Boom. They just want to see me do the spictacles.
I had been playing with this idea of molting, but I had only been doing it using Chicanidad. I got invited to perform at the Asian Art Museum, during an exhibit called "Gorgeous" with SFMOMA. The exhibit had some work by John Currin, do you know him? Painter. He does these really crazy – they're amazing, actually – paintings of white women and they're grotesque. They have big tits, they're crazy looking, always happy, super overjoyed. When I saw those I was like, this is so bomb because it's exactly how I view white femininity.
I was playing with hyper-representations of white femininity – ballet shoes, blonde wigs, pearls, all of that stuff. What came out was this crazy laughter that was like, being overjoyed with my whiteness and my sexuality, being so liberated and all this stuff.
For the performance, I had literal whiteface on, and a blonde wig. I went out nude into the museum and I walked around giggling with a sack of hyper-white lady items. Everyone was looking at me really strangely. I had been studying famous white ladies up until Miley Cyrus. Marilyn Monroe shit, her stuff. Lady Gaga. You know, Madonna. I studied everything that they did and I did it inside of the cocoon, the white skin. For 20 minutes I was writhing and posing in different ways. What I was trying to do was make people feel freaked out about the way in which someone might enjoy their whiteness and their sexuality via whiteness.
By the time I came out of the bag, all the makeup was off of me. The wig I was wearing came off, everything came off. I even had my nipples painted white, my pussy hair was white. And because I was sweating like a motherfucker, it all came off. So when I came out, I came out like a brown lady. And I walked away nude. It was fun! And everyone was like, that was creepy and weird. And I was like, wonderful!
EGGS, FIRE AND MEAT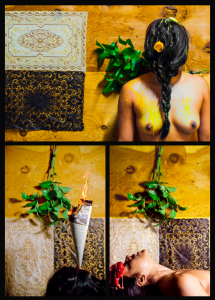 XI: My grandmother gets this egg when she's doing a limpia for you. There's praying and other things involved, but supposedly the center of the egg, the nucleus, the yolk, is supposed to absorb evil from your body. So they rub it all over your body. After that, they crack the egg somewhere else, not on your body. These are healing practices that I no longer practice. My grandmother still does, but my mother doesn't and now I just don't do them. So they're kind of going away.
I always talk about not wanting to heal myself because I think that healing is about trying to be whole, something I could never be. Let me just put it this way: I like myself fucked up. I would never try to heal those portions of me because they are a part of who I am.
When I did the pictures, I wanted to showcase me not doing the healing practices correctly. I crack the egg back on myself, so I pour the evil back on. I used to get a lot of migranes when I was younger because I was a stressed out little girl. I still am. My grandmother used to always get meat – again, with the absorbing, but it was also cold so it felt awesome. She would put it on my forehead. The fire … I don't know if you've ever seen anybody do this in Mexico, but if you have an ear ache you twist up newspaper like a cone and you light the top and it's supposed to take out the oxygen. That's a really common Mexican healing practice. I paired the three that I know to show my failure in connection with my roots.
CUCHARACHA SMILES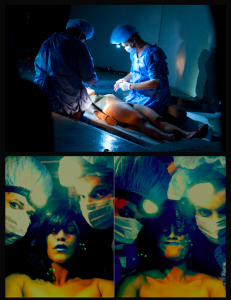 XI: When fucked up things happen, some people have the ability to address it in the moment and say "this is racist" or change the situation. I am usually just trying to get the fuck away. Like, if I actually did something I might murder people or light shit on fire, the anger is so deep. Normally what I do is a gesture of endurance; I smile. Sometimes you have to do this to make money. Sometimes you have to do it because you're with your parents, your family. You have to do it all the time.
I was actually considering going to Korea to get a smile lip surgery done as a performance. You know resting bitch face? If I don't smile it just goes like this [frowns slightly]. There are surgeries that make it so it's kind of like [smiles slightly]. I wrote grant applications and stuff for it – everybody was like, this bitch is crazy! She wants to get surgery to smile racism away and we're going to fund her?
My partner was like dude, this is too big. You can't do performance on this scale to your body. It's a problem. And then I was like, fine. No one's gonna give me the money anyways. (If they do, I'm going to do it. But nobody has.) My partner was like, there's a million ways of doing this without actually like, going into your fucking face. And I was like you know, there are. I could tape my face, which I think is boring but kind of cool.
Justin Hoover at the time was the curator at SOMArts, he recently left. He invited me to be in this event called "100 Performances in the Hole." So I invited DavEnd and Craig Calderwood, who are both trans ladies, to be the doctors – not because they were trans ladies, they just happened to be the only white ladies I'm friends with. We rehearsed and put a bunch of tape on my face and we laughed like crazy. And then we just did it.
FUCKED LIFE MEXI STRAP-ONS 
XI: I have several performances for which I use a harness with a bottle of Tapatio salsa, five ounce bottle. I use it to jack off on different things, the Tapatio stains are like art. I fucked somebody in it. I make tacos with it.
When it was time to do "Ecdysis", I wanted to make a new strap-on that was really stylized. I made a regular strap-on, which is not that hard, I don't know why people pay a lot of money for those. It's really not that hard. The one that I usually wear I've had for years and I made it super fast and it's still held up over the years of performance, like 10 years. It's not even close to being damaged.
The new ones I made are stylized like traditional Mexican stamping looks with the ferns. Each one has different words that I've created to describe my world. One of them says "Cucarachica," one of them says "XXX" and then "La Chica Boom." They're up there next to the video of me fucking Amber and 167 bottles of Tapatio with a new label with my face on it. The bottles say "Spic Jouissance" because I love Jacques Lacan. If I could go back in time, through all of history, I would totally just want to be with that man. Jouissance is his terminology, it means pain with pleasure.
The humor that I play with is fun, funny camp but at the same time it's very hurtful to me because it's all based in racism, hyper-racist representations. I haven't really enjoyed La Chica Boom performances for years. I mostly have white audiences that take my work in a way that they're not supposed to. Most Latino audiences are very conservative and do not care for La Chica Boom unless it's a small, radical Chicano group. I've had Chicano and Latino fags come up to tell me that I'm pushing things too much, with the Virgin de Guadalupe references. I've had lights turned out on me even though I was invited to perform, from Chicanos, yep.
XANDRA IBARRA: ECDYSIS
Opening reception: Sat/1 6-10pm, free
Exhibition runs through September 6
Galeria de la Raza
2857 24th St., SF.
More information here.