Anti-Eviction Mapping Project's latest interactive visualization details the attack on SF's fragile commons.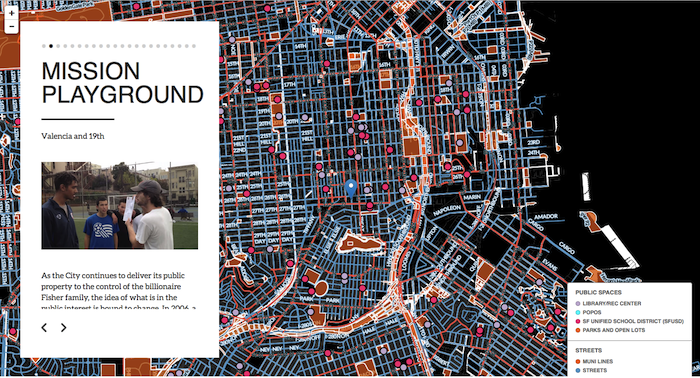 By Marke B. 
JULY 10, 2015 — "We knew from Google Bus protest actions and the Mission Playground/Dropbox incident last year that San Francisco's public spaces were under attack," the Anti-Eviction Mapping Project's Erin McElroy told me. "But it wasn't until we started putting something together on it that we realized how widespread the phenomenon was. It was almost everywhere we looked."
"And it was shocking to see how many private corporations and how much some groups, like the billionaire Fisher family, were behind it."
The map, called "San Francisco for Sale" plots out SF's commons, including streets, parks, rec centers, POPOS (privately owned public space), public schools, and libraries. Against this backdrop, it then highlights 21 stories exhibiting the increased privatization, policing, and reduction of SF public spaces.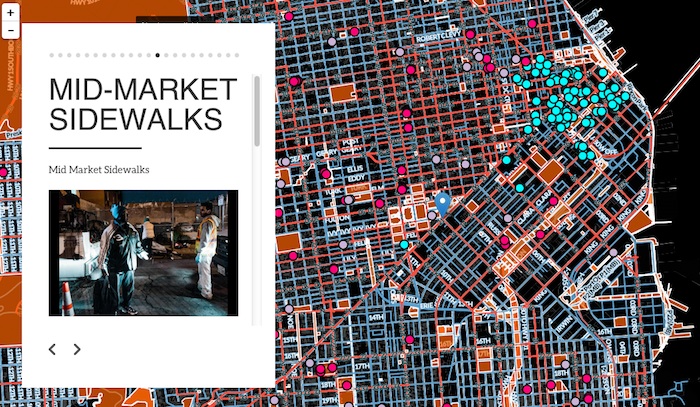 "From the 'Dropbox Dude' incident at Mission Playground to the takeover of public bus stops and parking meters by private tech companies, and from the increased policing of the 16th Street BART plaza to the condo-ization of Daggett Street, this map offers multiple examples of gentrification's impacts on public space. Not only are residents being forced out of their homes through evictions and unpayable rent increases, but they are further being squeezed out of common spaces across the city," an AEMP press release about the map says.
Using data provided by the city as well as previous research, AEMP spent six months building the map and gathering stories to feature that illustrate the encroachment of private interests on the public sphere.
The stories also include such things as the closure of Howard Street for private software company events and developer-lobbyist Phil Lesser's "Mission Miracle Mile," a Community Benefits District which allows him unprecedented say over neighborhood affairs, including proposing a flood of street cameras.
The map also includes public spaces that have vanished into privatization, like Daggett Street Park, the Haight-Ashbury Recycling Center, and Hayes Valley Garden. It also includes cases like the parking meters around 16th Street and Van Ness, which are "white-zoned" for tech buses in case of overflow, depriving residents of parking, especially teachers at nearby schools.
An ongoing project, the "San Francisco for Sale" map will grow to include more tales of privatization and, hopefully, any successes it retaking public space.
"Like many cities across the country, San Francisco is undergoing a dramatic transformation driven by private interests," the press release continues. "The logic of privatization has crept into city planning strategies and accelerated the erosion of public space. From parks and plazas to streets and sidewalks, the transition from public to private management and ownership envelops us, threatening our freedom of movement, freedom of expression and freedom of recreation in natural spaces.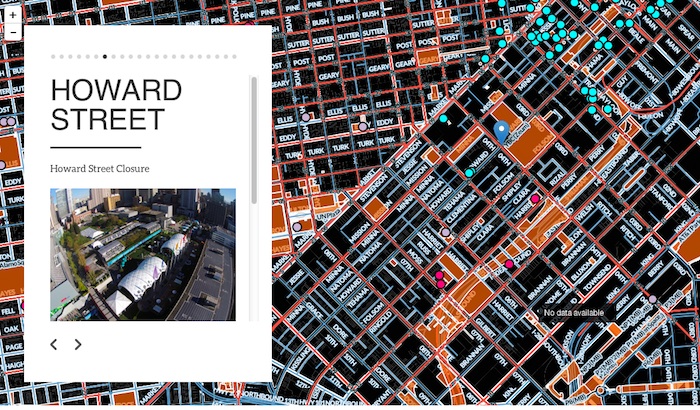 "Public spaces have long been a refuge for those without stable homes. They have also long served as places to organize and build community. As the city reaches a heightened stage of neoliberalization, and as the public sector increasingly partners with private interests, we are witness to an era in which public spaces corrode at an alarming rate. The 21 stories on this map do not detail every example of this phenomenon across the city, but they do illuminate a number of mechanisms at play in expropriating the commons from the public vis-a-vis the collaboration of private and public sectors."
The map is not prescriptive, but I asked Erin anyway what might be done to push back against privatization of SF's commons.
"I think there have been several actions that may point a way forward, from Occupy's tactic of simply moving in to the more organized actions of groups like the Plaza 16 Coalition and Calle 24," she said. "We must think of ways to expand on those tactics to include the entire city.
"There's obviously a huge struggle ahead for citizens of San Francisco to stay on top of this, but visualizing what's going on is a huge first step."