Housing rights advocate heads for LA with a big party Thursday night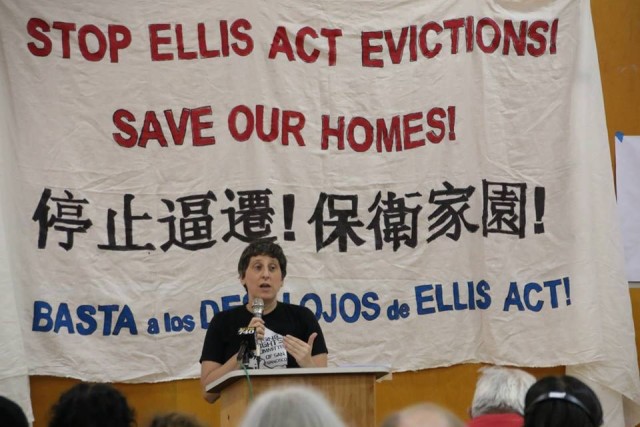 By Tim Redmond
DECEMBER 16, 2015 – Many of the members of the Board of Supervisors made a point Tuesday of saying something nice about Sara Shortt, the longtime director of the Housing Rights Committee who is leaving that job, and the city, to move to LA.
Sup. John Avalos noted that Shortt had "spend so much time in this room, where you have pissed off so many of us," and he meant it: Shortt was given a commendation by the city's elected leaders for work that often put her at odds with the city's elected leaders.
She's been a fearless advocate for tenant rights (so much so that, in one of the stranger moments, Sup. Malia Cohen talked about sitting so close to the rail where the public makes comments that she could tell Shortt was "spitting mad.") She has been part of every major progressive coalition working on housing issues.
And she's done it all with a sense of humor. As Sup. Aaron Peskin, who has been working with her as an activist for the past seven years before returning to office, "thank you for making it fun."
The work wasn't always fun. Shortt helped thousands of renters fight evictions, fight landlord harassment, and keep their homes. She was one of the few advocates who spent time working with tenants in public housing, who are often ignored in this city, and fought bitterly with the Housing Authority.
She was at marches and rallies. She did everything from working inside with supervisors trying to craft legislation to civil disobedience in the streets.
And she did it all with character.
After an Airbnb supporter wrote a piece on Medium seeking to discredit Prop. F, the measure to limit short-term rentals, Shortt added her own commentary, called "I've looked at Airbnb and it's way worse than you think."
Any time citizens try to regulate corporations, they respond by spending millions to stop it. Like any other corporation, Airbnb is fighting fair, reasonable regulations by making the simple idea of regulation seem radical, or dare I say, "extreme."

Unfortunately, we know from sad experience that big companies lie to protect their profits. Just ask any Volkswagen diesel owner.
It has always been a joy to work with Sara, and I will be one of the many, many San Franciscans who will miss her.
Of course, she's just moving down the road a ways, and the city of LA (and, I suspect, the renters who live there) will be better off when she takes her advocacy to her new home. Landlords of SoCal, look out! And one day she may be back ("when the rent comes down," she told the supes.)
She wouldn't leave without making a few points. After thanking the board members, some of whom have voted against her repeatedly (and some of whom didn't join in the standing ovation or speak about her), Shortt noted that "my heart has been broken slowly by this city. Every time a senior on a fixed income has been thrown out on the streets by corporate greed. … every time private buses get the right of way over ordinary people who are just trying to get to work. It has taken its toll on me."
And she told the supes: "Do everything you can to strengthen, expand, and preserve rent control. Without rent control, we literally would be a very different place, a dark dystopia."
I hope all the people who were happy to congratulate her for her work will remember that, because the best way to honor Sara Shortt is to protect SF tenant rights, now and in the future.
There a party for Shortt Thursday/17, 6pm to 8pm, at The Lab, 2948 16th Street. Food and drinks and celebration. See you there.