SCREEN GRABS Last year I was drenched — figuratively, of course — in porn. I spent several months writing a comprehensive history of porn music, I profiled gay porn stars both big and bigger, and I spent way too much of my time rolling my eyes in delighted disgust at various porn star's effusive Twitters. (No idea how Twitter ended up the porn star medium of choice, but long after Twitter shuts down, I imagine many of our most volubly tweeting porn stars still reflexively tweeting and retweeting and reretweeting into infinity.)
But the one porn experience that really stood out? Watching Dan Savage's raunchy, hilarious, horrific, unbeatable, uncomfortable, arousing, and just plain gross Hump! Tour film fest at the Roxie. (This year it comes to the Victoria Theatre, Thu/28-Sat/30.)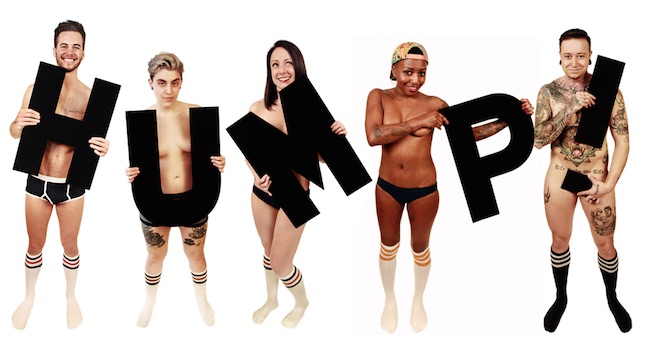 Have you ever watched hardcore — often seriously hardcore — porn with a room full of strangers, many of them on the most awkward first dates imaginable? This may actually be someone's fondest fantasy fetish, and hurray for them, they should go for sure. But for the rest of us (even those of us who remember those hoary "adult erotic theaters" and backroom stag parties of yore) it's a supremely weird experience.
Also damn wonderful. I laughed, I cried, I cringed, I died – all with people I never thought I'd be viewing skin flicks with, many of which featured acts and fluids I never imagined. Hey, guess what, we're all fabulous perverts now. Thanks, Internet! Thanks, Dan Savage!
For those unfamiliar, the Hump! Tour was born of the Stranger's annual amateur porn contest, in which the mag solicits short porn reels from readers. The contest is flooded with entrants. Some are deliberately funny, some are burning with political import. Some are extremely fetishistic, some are playfully romantic. Formerly, the best flicks were screened once at a raucous festival night, and then publicly burned so they would never find their way into the mainstream.
Hump! has grown into a full-blown tour, traveling to several cities and screening the Seattle winners for several nights at each. Dan Savage, who had the original idea and is the Stranger's former editor in chief, puts the effect of it all best: "At HUMP! straight people watch gay porn, vanilla people watch kinky porn, gay people watch lesbian porn. And people laugh, they gasp, sometimes they cover their eyes. But at the end of every film people clap and cheer. It's moving and wonderful and newcomers don't expect it. The whole festival is a celebration of sexual diversity."
Now in its 11th year (and its second in SF) Hump! has upgraded sidewise this time around to the Victoria Theatre, where it will surely be enhanced by hooting form the balcony. You'll be subjected to everything from "Film Bonoir: A cynical dick takes on a challenging head case" and "Cake Boss: Beat until stiff" to "Hysterical Bullshit: A dedicated but distracted reader attempts to get through Mike Huckabee's Gods, Guns, Grits and Gravy."
Also, it doesn't look like Savage himself will be along for the ride this time, but believe me your mind (and possibly the rest of you) will still be blown.
HUMP! TOUR
Thursday, January 28: 7pm, 9:30 pm
Friday January 29: 7 pm, 9:15pm, 11:30pm
Saturday January 30: 6:30pm, 8:45pm, 11pm
$25
Victoria Theatre, SF
Tickets and more info here.