A largely white, entirely suburban jury found yesterday that four San Francisco police officers acted properly and violated no laws when they shot and killed Alejandro "Alex" Nieto on Bernal Hill in 2014.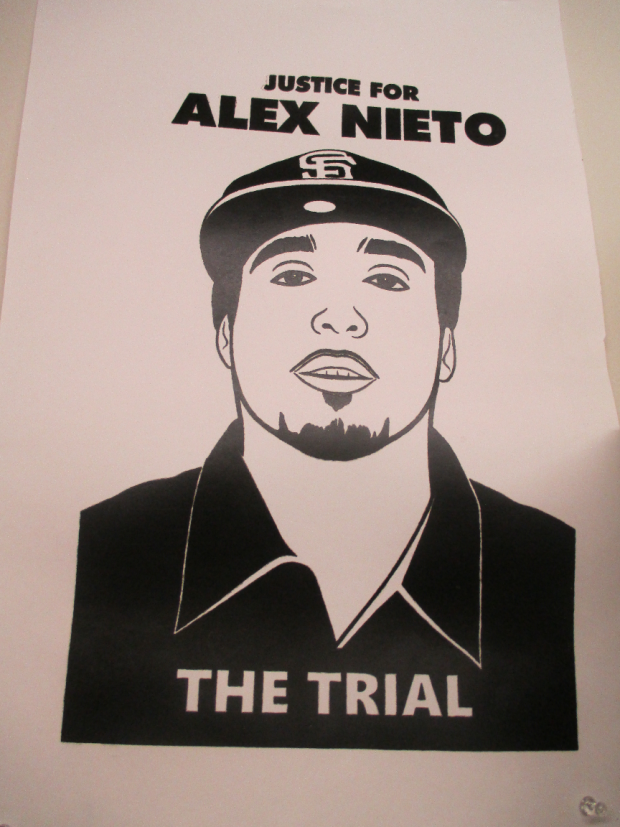 The deputy city attorney who represented the cops, Margaret Baumgartner, later said that the issues were all about evidence and the federal standards for finding a violation of Constitutional rights. The jury, she said, believed that the officers were following the law and their high level of training and had no choice but to open fire and release some 58 bullets into the air, at least ten of which struck Nieto.
That didn't satisfy the people who had attended the trial every day and heard all the evidence. As Baumgartner stood outside the courthouse to speak to media, Charles Pitts – a Nieto supporter who attended the trial regularly — interrupted her several times. "What do you say about the fact that this doesn't even match the physical evidence of what happened?" he shouted. "They just kill us [Brown and Black people] off and the White people think it's okay, it's okay all the time. When do we get justice?"
He was not alone in that reaction.
In the end, after all the discussion of legalities and burdens of proof is over, the bottom line is simple: Eight jurors from out of town — in a federal case like this, the jury pool is regional — sent a very dangerous message to the police and the community in San Francisco.
Many San Franciscans heard yesterday that the federal courts think it's okay for the cops to shoot young men of color with impunity.
Adante Pointer, lawyer for the Nieto family, noted that it's hard to get justice for a person of color from a jury that doesn't share that person's life experiences. He also said outside the courtroom that this trial was only part of a longer struggle for police accountability.
"For people who believe in the justice system, today's decision is a hard pill to swallow. The Nietos obviously wished for something much more, but the Nietos through the trial and through this process [feel] that at least the truth got out. Before the trial all people heard was that there was someone who was behaving erratically, but through the trial everyone heard that he was just another guy, in the words of a third party witness, he was just another guy enjoying his burrito, and he wound up getting 18 bullets for it."
But, he said, "this case has galvanized the communities to fight for justice."
Speaking to supporters that gathered at Mission Cultural Center for Latino Arts, Refugio Nieto spoke of his anguish over his son's killing. "It was at the courthouse that I saw the images of my son, the bullets that had perforated in his temple, his body, his broken arms, his broken legs, his body destroyed, the young man had been destroyed. How is it possible for the police to sustain a story in which Alex withstood [58 shots] and that a jury will find it in favor of the police? How is it possible? It's a shame on the city, it's a shame in the city and we need to understand that this is a danger to our grandchildren to all of us."
The legal and political issues are just beginning.
There are at least two other cases where officers killed young men in what can at best be called dubious circumstances: Almicar Perez Lopez was shot down in the Mission, and Mario Woods killed in Bayview. In both cases Police Chief Greg Suhr has sided with the officers, who face no sanctions.
In both cases, family members have sued, and unless the city settles, those cases will go to trial. "We may be right back here again," Pointer, who is working on the Woods case, told reporters.
The supporters of Nieto and his family are working with the activists who are seeking justice for Perez Lopez and Woods, and there's a growing coalition of people outraged by the shootings. That will be a force in the political realm as well as the courts.
At the vigil, black and brown people of the Bayview, the Western Addition and the Mission came together to pay their tribute to Nieto. Minister Christopher Muhammad gave a rousing speech, urging people to embark what he referred to as a struggle against police impunity.
"We have to now come together and enforce consequences," he said. "This can't just be a moment, but this moment has to now lead to a movement."
But the jury's verdict, rendered in less than eight hours, was shocking to many who attended and covered the trial. It suggests that the jurors believed everything the police officers said, and disbelieved the other eyewitness, who unlike the cops had nothing to gain from his story.
It sends a message to other officers, Pointer said, "to let them say I can do whatever I want."
In that sense, this was more than just a single civil cast. It was representative of the ongoing crisis in the San Francisco police department – a crisis that had led to a federal investigation, a special panel working with the district attorney, and demands for new policies and procedures for the use of deadly force.
At least, as supporters pointed out, Nieto's story was told. So often these cases are buried; police review and discipline hearings are closed to the public, the Office of Citizen Complaints is not allowed to release the full results of its investigations, and even the records of violent officers are not available to the public.
So for almost two weeks, the media and the public got a look at how police officers operate, how they respond to questioning – and how a case that started off with a young man eating his dinner in a popular park wound up as a tragedy.
We heard how the officers started shooting the instant they saw what turned out to be a Taser – which, some of the evidence suggested, might not have been turned on – and didn't stop even after Nieto was down on the ground, gravely (and it turns out fatally) injured.
We saw how the story told by four officers, whose careers were on the line if they admitted anything other than that Nieto aimed a weapon at them and threatened their lives, and we heard a very different story told by a man who had no motivation to make up his version of events.
Three of the four officers were white. The man who challenged their story was African American.
The cops were trained and experienced at testifying in court. The witness who challenged their version of events was not. The city attorney too full advantage of that situation.
In the end, the scary message from this trial is that we can't trust the SFPD to protect citizens without killing them.
We asked people tonight – young people, people of color – what they would have done if they saw a man with what appeared to be a gun walking on Bernal Hill. We asked ourselves, too. The answer was always the same: After watching this trial, I would never call the cops.
We asked Baumgartner about that, about whether this trial sends a message that people of color can't trust the police, that the cops can shoot and kill with no accountability. "I hope not," she said.
We would like to hope not, too. But trust between the local police and the community is at a desperately low level. And the verdict today, from a suburban jury that doesn't have to live with the impacts of what they have done in San Francisco, is only going to make things much, much worse.