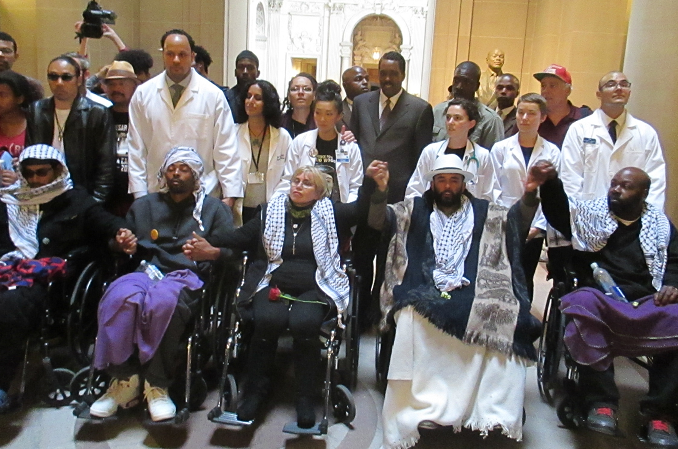 This post is part of our special coverage on the #hungerforjusticesf. Five San Francisco residents are on hunger strike outside Mission Police Station, demanding that Mayor Ed Lee fire San Francisco Police Chief Gregory P. Suhr. Over the past three years the SFPD has shot and killed four men of color; the protestors feel that the hunger strike is the only remaining option to demand an end to police impunity. Read our full coverage here.
Exhaustion and weakness have take a toll on Day 16 as all members of the Frisco 5 have been taken to the hospital. In a short press release the five announced their intention to continue the hunger strike despite being hospitalized. Details of their health situation hasn't been released to the media citing privacy.
Growing increasingly weak on day16 of strike all members of #Frisco5 have been taken to hospital to be monitored pic.twitter.com/uZwtxRzTMY

— Mission Local (@MLNow) May 6, 2016
On day 10 Edwin Lindo, one of the hunger strikers and candidate for Supervisor for District 9 announced "Our blood is in their hands" 
The news comes a day after the group held a press conference with their doctors providing more details on the risks involved as they enter the third week of the hunger strike. The group has been sustaining themselves with electrolytes, coconut water and broth.

Maria Cristina Gutierrez on why she started the hunger strike 
The past few days have seen an increase in pressure on the Mayor's office. On Tuesday, over 800 people marched on to City Hall to demand the Mayor fire Chief of Police Greg Suhr. Despite a large crowd of protestors that stayed on for a few hours, Mayor Lee did not meet with the Frisco 5; his staff told supporters that the mayor was in a meeting in Bayview.
Yesterday afternoon, a call between the Mayor and the Frisco 5 revealed that the Mayor Lee had no intention of firing Chief Suhr.
The Chronicle has reported that the five appear to in little danger, but the medical emergency of today suggests that, in fact, they are risking their health and possibly their lives for their cause. Yesterday their doctors emphasized, without revealing health details, that the five are at risk as they start week three. The lack of solids coupled with the fact that they are sleeping outdoors and spend most of their time outside of tents has caused their condition to worsen over the past few days.