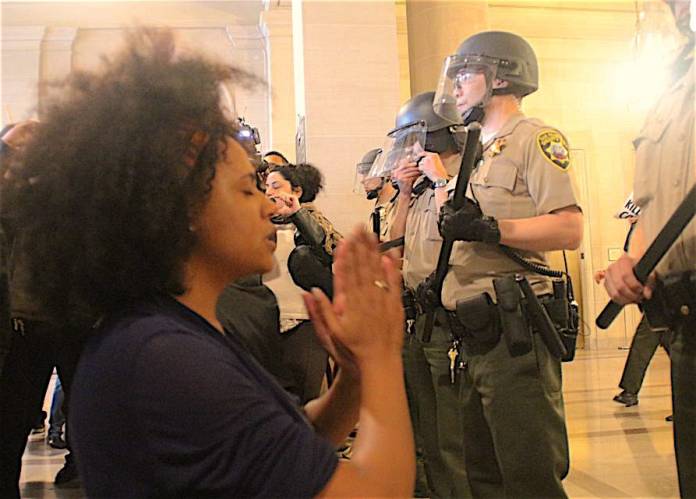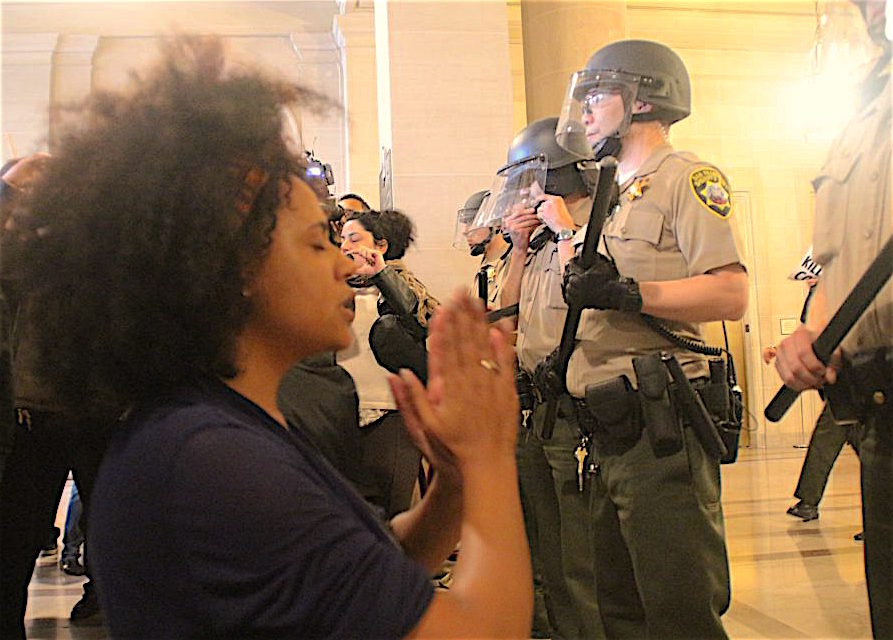 This post is part of our special coverage on the #hungerforjusticesf. Five San Francisco residents are on hunger strike outside Mission Police Station, demanding that Mayor Ed Lee fire San Francisco Police Chief Gregory P. Suhr. Over the past three years the SFPD has shot and killed four men of color; the protestors feel that the hunger strike is the only remaining option to demand an end to police impunity. Read our full coverage here. 
Protestors demanding the firing of San Francisco Police Chief Gregory Suhr clashed with riot police on Friday evening inside City Hall, as the five hunger strikers – known as the Frisco Five – were admitted to the hospital on the 16th day of their hunger strike. Authorities arrested 33 people, including a juvenile, as protestors and several journalists were assaulted by sheriff deputies.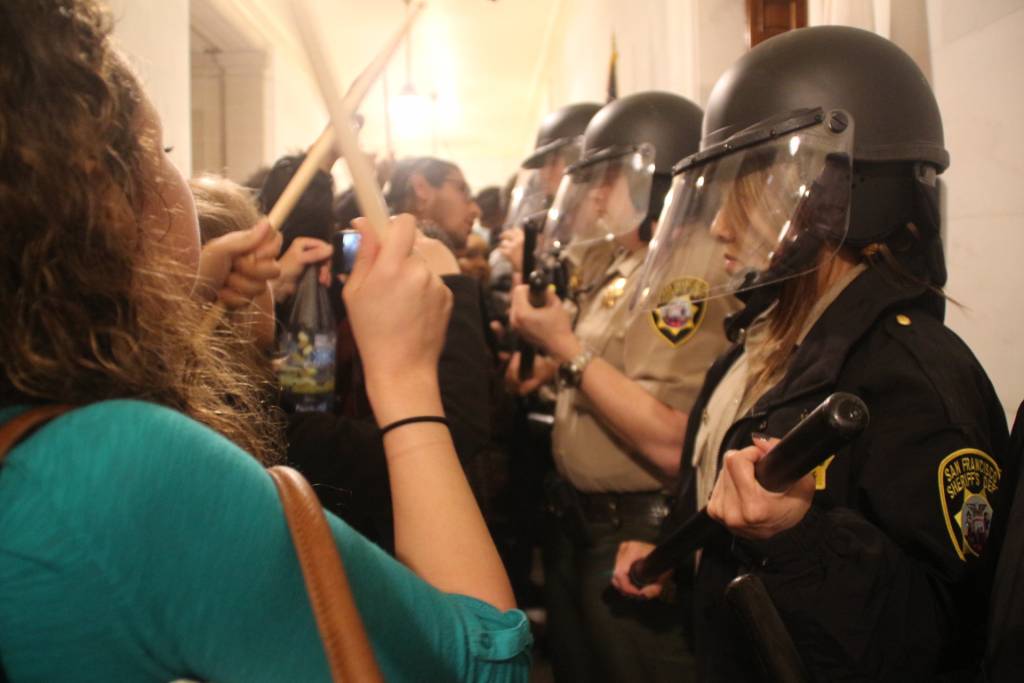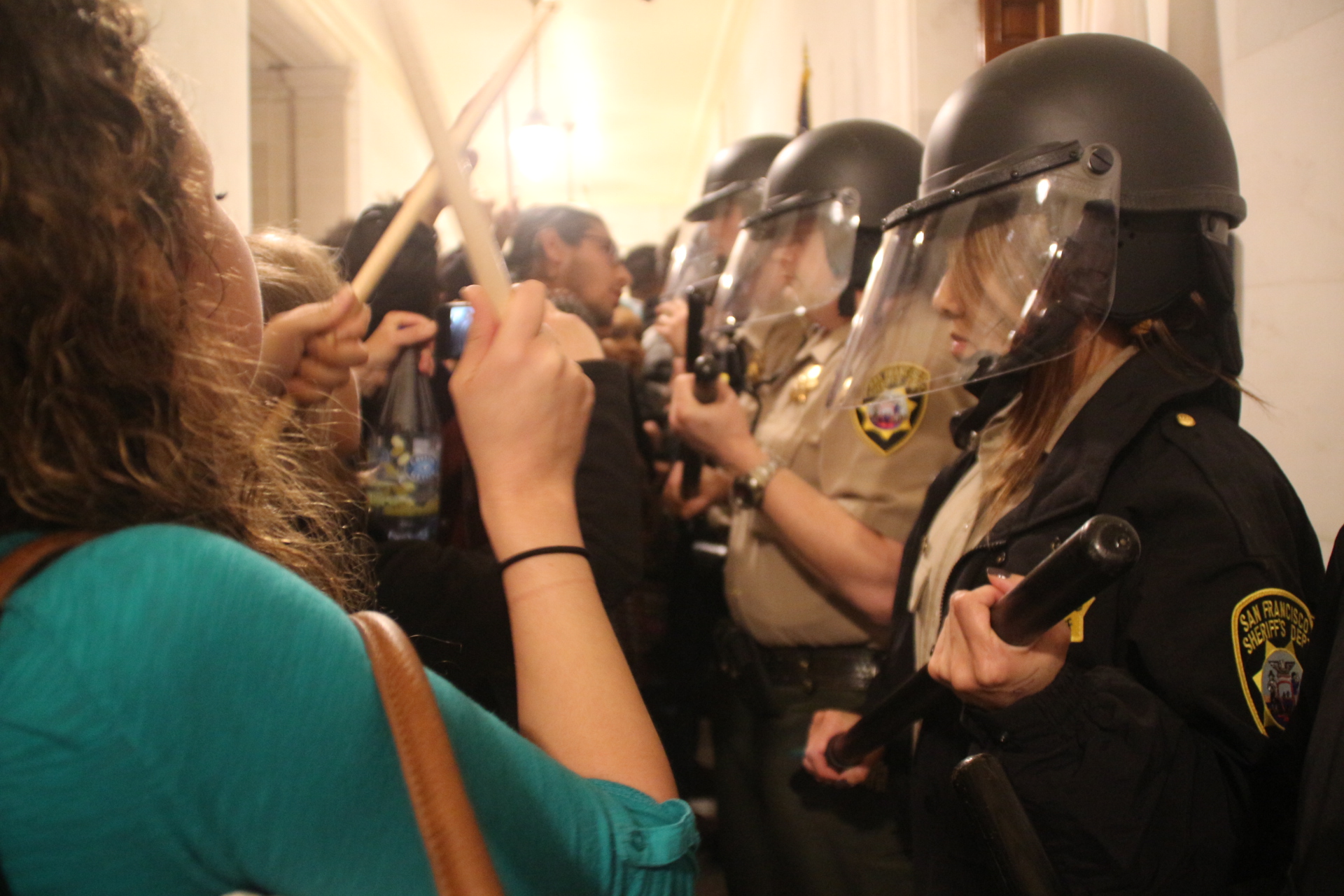 Protestors, who referred to themselves as the Frisco Five Hundred in support of the Frisco five, had "occupied" City Hall to reiterate their demand that Mayor Ed Lee fire Chief Suhr. City Hall closes to public at 8pm, and several scuffles broke out between police and deputies after 9 pm. Sheriff's deputies, who handle City Hall security, used their batons to push back resistant crowds; protestors were often pushed back against the two security desks at the City Hall entrance and against columns. As deputies continued to push people back to the City Hall exit, several protestors were dragged and pushed with some hitting the metal detector, which fell on the ground and was banjaxed.
Some of the protestors were manhandled while being arrested. One individual was pushed down dragged against the floor zip tied and taken away.
Takedown of protester at #Frisco5 #hungerforjusticesf rally pic.twitter.com/Q8eQNXWMgP

— Joe Rivano Barros (@jrivanob) May 7, 2016
[Addition from the Editor: Video from our reporter during the assault] 
A group of more than 50 stood outside City Hall as other supporters were being pushed back in to the exit doors. The deputies worked their way through two groups of people, as the 20 or so protestors that remained further inside the building were surrounded and squared off near the security desk as protestors locked arms to form human chains around each other.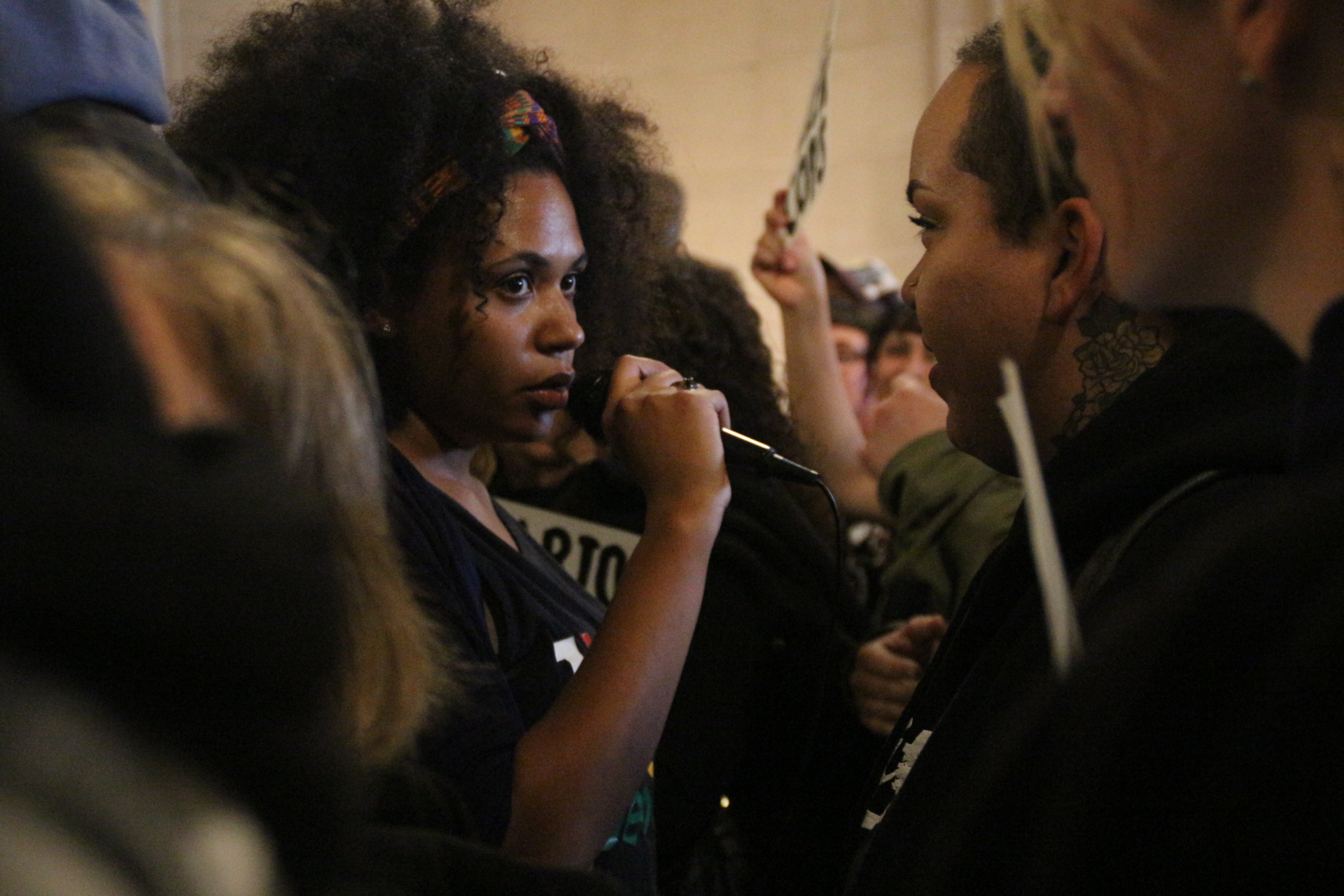 The deputies then moved to separate and arrest individuals one by one. The larger group outside City Hall sang and applauded when a protestor was arrested and yelled chants each time deputies were violent in arresting protestors who sometimes shoved back.
The deputies also pushed back protestors standing outside City Hall doors and locked them as arrest continued inside.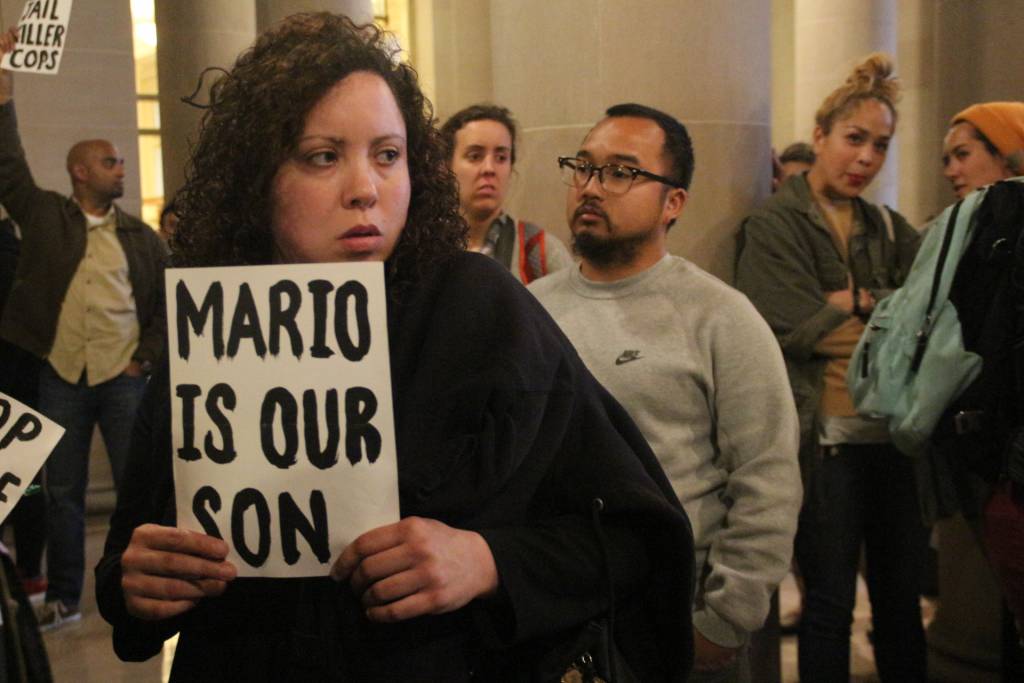 "They are being dragged down, they are being beaten up, enough is enough," the group outside the doors shouted. Every now and then the crowd broke into chants of "Fire Chief Suhr" while they banged on the walls of City Hall and a dozen of them began banging on the doors.
"We do not want to damage public property, stop banging the door. We are not violent, we are peaceful. Don't do that, just back off and chant," Yayne Abeba, activist and spokesperson for the Frisco Five announced. Abeba walked around recording arrests and ensuring that protestors were not being violent.
It took about 90 minutes for deputies to arrest everyone inside and turn their attention to the larger group outside City Hall. Deputies pushed the crowd back to the stairway outside City Hall and on to the sidewalk without incident. A line of deputies then stood guard as protestors shouted back "Shame on you, shame on you"
Captain Paul Miyamoto told Mission Local that the the charges for the protesters were unlawful assembly, trespassing, and resisting arrest and those arrested were taken to the county jail at 850 Bryant St.
On the sidewalks protestors announced "We all need to go home because this is a revolution, it will take it's time but we will come back again and again."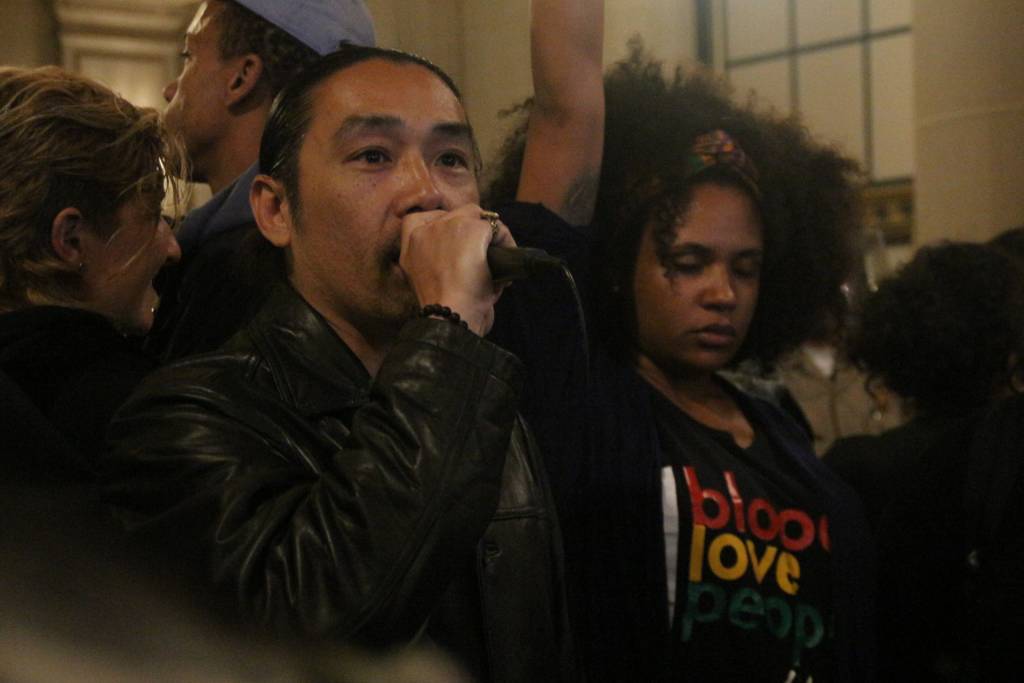 Outside Mission Police Station:
Back at 17th and Valencia, police blocked off the sidewalks and locked down Mission Station just hours after the Frisco Five left for the hospital. Public Works crews hosed down the sidewalk and removed the remaining possessions of the strikers and their supporters.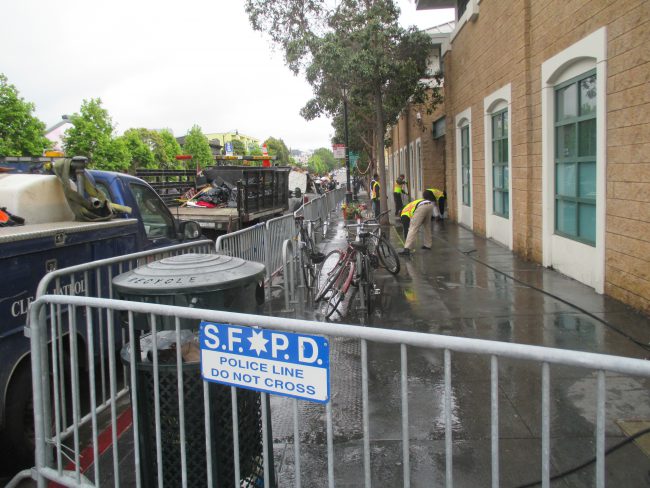 The tents had already been removed, but DPW workers seized everything left. Danae, who had been with the strikers the past three nights, told us that the police would not allow her to reclaim clothes that were on the sidewalk. "My jacket, my hoodie, and four pairs of pants went away in a DPW truck," she said, shivering a bit in the cold.
The sidewalk was shut down for several hours, forcing people who were walking along Valencia to move into the street, where traffic was continuing to pass.
Inside City Hall: How it all began: 
On Thursday, a call for a rally at UN Plaza was put out to support the Frisco Five. Supporters had vowed action every single day to highlight the demands made by the hunger strikers. However, as media and some 20 supporters gathered it began apparent that the rally was a decoy for action inside City Hall.
The protest at City Hall began around 4 pm as a group of 40 supporters assembled outside the Mayor's Office and began chanting and hammering on the door as others slammed drum sticks on the office walls to create noise. "I want you all to know that this is our house, this house belongs to the people and we will stay here until Chief Suhr is fired," said Nanci Armstrong-Temple, activist and director of Dance Out Loud, who intends to run for District 2 Berkeley City Council.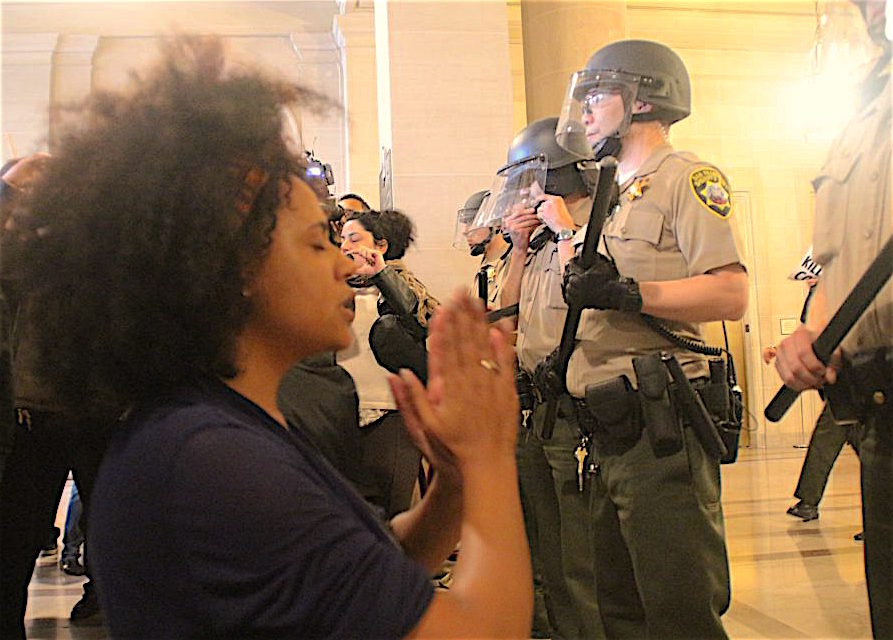 Official closing time on Fridays at City Hall is 8pm. Protesters said they would not leave until their demands were met. At one stage, protesters tricked City Hall staff by announcing their intention to leave City Hall and to the Mission Police Station, but in fact their intention was to get the City Hall doors opened so that the protestors waiting outside could join them. Despite shouts by police to stand clear from the door, protesters kept it open shouting "No justice, no peace."
An hour before official closing time at 7pm, sheriff deputies emerged with batons and Captain Edwin James told protesters they would be arrested if they didn't leave. In response protestors formed a human chain and lined up in front of the assembled riot police.
Human chain in front of riot police #hungerforjusticesf pic.twitter.com/kn01i5E0Gh

— Sana Saleem (@sanasaleem) May 7, 2016
Almost one hour after the official closing time the police started to push people forcefully out. At least three journalists were assaulted by police officers.
Fifteen minutes to official closing time. Protesters will risk arrest if they don't leave #hungerforjusticesf pic.twitter.com/m7qMQ5S6rq

— Sana Saleem (@sanasaleem) May 7, 2016
One journalist, Natasha Dangond, from the CCSF college paper The Guardsman, told 48hills in a shaky voice that she was hit on the head with a baton. "I was standing taking photos on one of the tables with other media and then I jumped down, next thing I know one of the cops had turned me around and held my arms around my back and hit me in the head with a baton." Dangond was pushed against the City Hall visitor's desk. She later visited UCSF Medical Center and was found to have bruises on her head and arms.
Natasha, a photojournalist, was hit on the head with a baton by the San Francisco police last night. #frisco5 pic.twitter.com/9rOAFWeA2W

— 48 Hills (@48hills) May 7, 2016
Despite journalists shouting they were members of the press, police used force against three journalists, including this reporter.
@sanasaleem from @48hills pushed into desk by sheriff's deputies at #Frisco5 #hungerforjusticesf rally pic.twitter.com/VzwPnv66tc

— Joe Rivano Barros (@jrivanob) May 7, 2016
One by one the police zip tied protesters and violently took them away, as the crowd outside City Hall looked in the windows and cheered each time a protestor was taken away.
By 10pm City Hall had been cleared and officers pushed the protestors who were looking in the windows back down the steps of City Hall.
Today marks one month since the police shooting of Luis Gongora on the streets of San Francisco. A stark reminder of what the protesters are protesting. As he Frisco Five wake up to day 17 of their hunger strike and despite being hospitalized yesterday, show no signs of backing down until their demands are met.
(Editors note: Sana Saleem was taken to a hospital and treated for bruised ribs; she is recovering.)