ON STAGE Broadway and Hollywood used to be frenemies. It was an accepted wisdom that film versions killed off the audience for a stage work — hence producers who bought expensive film rights to long-running musicals like South Pacific or Hello, Dolly! often had to wait many years before they were contractually allowed to produce the property they'd bought.
But things have changed. These days, it's a given that a movie (even a flop like Rent) only enlarges a show's demographic, roping in folks eager to see "the real thing" after watching it repeatedly onscreen. And beyond reviving familiar old hits, there's no better recipe for stage success now than creating a live version of a popular movie, as Disney's many Broadway incarnations of beloved cartoon features have demonstrated.
This has spilled over into a whole new (well, just new-ish by now) subgenre: The musicalized stage film spoof. Usually sending up something that was pretty campy in the first place, whether intentionally or not, these musicals have braved Broadway itself (Xanadu), but more frequently arise from and dwell in the realms of Off-Broadway and fringe theater, where tickets are cheaper and audiences suitably rowdier. No one's going to shush you during Evil Dead: The Musical because Patti Lupone is having a golden vocal moment. She probably wouldn't touch that show with a chainsaw, anyway. 
At the Victoria Theatre, which just months ago hosted the excellent Showgirls: The Musical, we're now getting another successful such spoof, albeit from much less obviously readymade source material. If there is nothing about the original big-screen Showgirls that isn't funny (that rape scene aside, of course), it's hard to think of anything that is inherently funny about The Silence of the Lambs, which swept 1991's major Oscars. It's a poker-faced thriller about… well, you know. It works because we take seriously the creepy dynamic between Jodie Foster's FBI trainee and Anthony Hopkins' imprisoned (but not for long) homicidal-maniac-genius, and because the case she's investigating with his Machiavellian "help" — involving an at-large kidnapper/killer nicknamed "Buffalo Bill" — is creepier still. 
It's a lurid story that has duly entered the pop-culture canon, but is it satirize-able? Silence! The Musical (through March 17), which opened at the Victoria last weekend in a production presented by Cloud 9 Theatricals, Long Entertainment Group, and SF's own adventuresome musical-theater specialists Ray of Light, definitely thinks so. And it's spot-on — at least most of the time — in Jason Hoover's mostly sharp and hilarious production. 
Its script written by Hunter Bell (who reached Broadway with a subsequent musical satire, [title of show]), Silence! started fifteen years ago as an "internet musical" comprised just of nine songs by Jon and Al Kaplan, with a stage incarnation following in 2005 and a slowly-escalating number of productions since. There will no doubt be more, for some time to come: The San Francisco edition has already done so well that its planned run was extended before the opening-night curtain went up.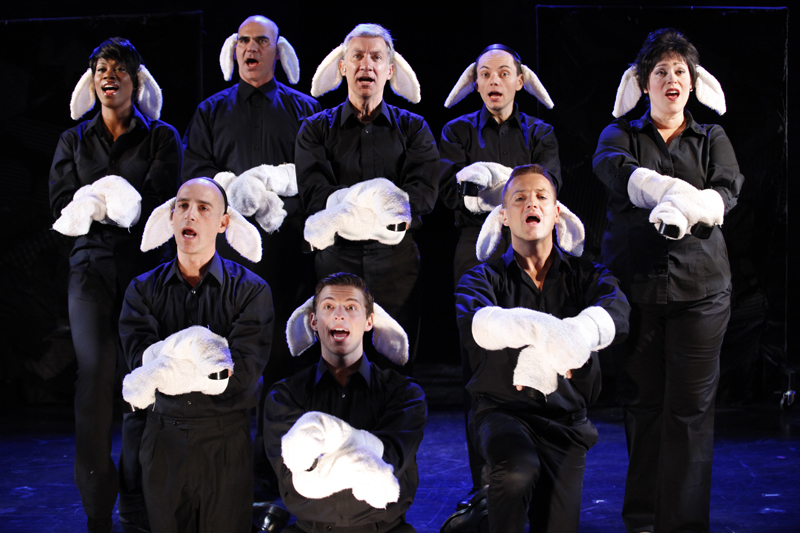 It was an opening that found some of Hoover and choreographer Alex Rodriguez's more clever and ambitious staging ideas not always yet executed with maximum finesse by a cast of 12. And sometimes the writers' attempt to make Silence of the Lambs funny is just too strained. Try as you might to get laughs from a mother's desperate plea that a serial killer spare her child's life ("My Daughter Is Catherine"), those odds are not in your favor. 
But it's surprising how much of Silence! does click, sometimes quite ingeniously. The story, natch, remains pretty well unchanged from the forms familiar from Thomas Harris' original novel and Jonathan Demme's film. Outwardly tough, inwardly insecure — though that gets somewhat reversed here — newbie Federal agent Clarice Starling (Anne Norland) is thrilled/nervous to be picked for a high-priority investigation. Her youth and gender will hopefully loosen the tongue of notorious Hannibal "The Cannibal" Lecter (Scott Hayes), whose diabolical expertise is sought in helping to track down a new serial slayer (Brian Watson's Buffalo Bob) before he kills his latest abductee (Hayley Lovgren).
While the lambs of the title were just a disturbing backstory anecdote in earlier incarnations, here they're a full-on singing, dancing Greek Chorus — a mildly funny idea that would probably wear thin faster if not for all the amusing business Hoover, Rodriguez and the five ingratiating performers themselves have contrived. Some production numbers will probably snap into sharper focus as the run proceeds: Last Friday, it took about a half hour before Bill's introductory "Are You About a Size 14?" provided a sequence that the cast just knocked out of the park. A later highlight in both execution and very clever conception was "We're Going In," which has the FBI (sans perilously otherwise-occupied Clarice) triumphantly preparing to invade… the wrong house. The former's snarky grotesquerie and the latter's sendup of macho action-flick bravado provided two occasions when Silence! hits a satirical target just right.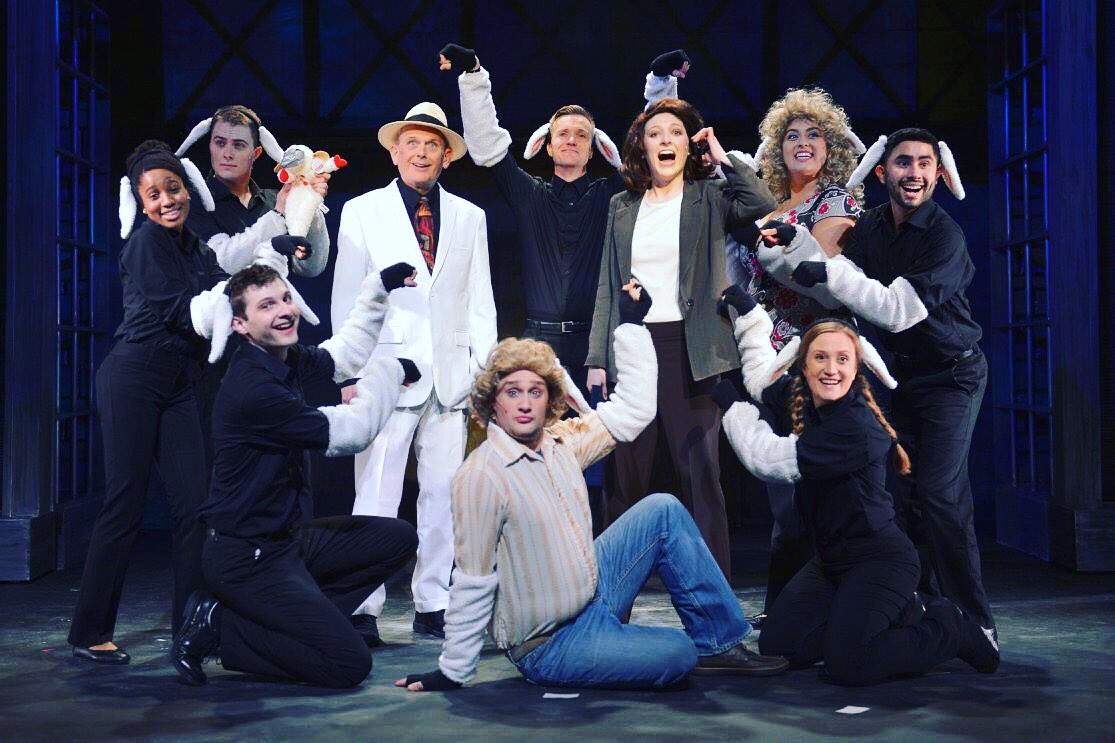 Other bits work less well, especially when the show resorts to a routine raunchiness that feels not just uninspired but out-of-place — after all, Lambs isn't Showgirls. (On the other hand, Bill's blunt drag aria "I'd Fuck Me" works because it simply amplifies what the rather trans-phobic movie was too "tasteful" to do more than imply.) But there are so many ideas packed into the intermissionless 90-minute runtime, most of them funny, that an occasional misfired joke barely speed-bumps the high-spirited proceedings.
Though Jodie Foster's earnest naturalism has never made her seem an easy target for imitation (let alone mockery), Norland locates mannerisms you didn't even realize the actress had until you see them magnified x1000. Watson is commandingly ridiculous as Buffalo Bill, one part here that lends itself verrrrry readily to parodic caricature. The multicast support ensemble has a lot of bright moments, not least as a chorus whose individual members each express distinct personalities. (Kevin Singer is a standout.) The one disappointment is Hayes, who looks strikingly right as Lecter. Unfortunately, he trades Hopkins' eerie stillness for a merely blasé air that too often feels like he's giving the part a half-energy rehearsal walkthrough. 
Likely to go from good to great as the cast settles in (for one thing, it takes a lot of hard work to make a short Fosse spoof look easy), Silence! The Musical is already very good fun. What it doesn't do for chianti and fava beans, it most definitely does for Silly String. Sorry, you'll have to visit the Victoria to find out just how. 
Silence! The Musical continues through March 18. Victoria Theatre, SF, $35-55. www.silencethemusical.com