ONSTAGE When Eva Malloy (Julia McNeal) muses "It's a lifelong journey, isn't it, shaking off a Catholic childhood?" a knowing chuckle ripples through the audience. Yet as the play unfolds, we witness the deep pain that flippant quip attempts to gloss over.
The remark comes in Eden, the first of three plays by playwright Barbara Hammond's "The Eva Trilogy," now in its world premier at the Magic Theatre (through November 12). All three plays are performed in succession in each performance. Though stylistically quite distinct, together they tell one comprehensive story.
The first play is essentially an early morning monologue delivered with wit and sass by a disheveled Eva. She's been up all night and is waiting for the hospice worker, "the way the Israelites looked up for manna from heaven." Through her stream-of-consciousness ramblings, we learn that she has been in Paris for the last twenty years "on a journey out of the moral universe and into the unknown." Her sister has called her back to this drab coastal Dublin suburb to help care for her mother who is in the final, debilitating stages of Parkinson's.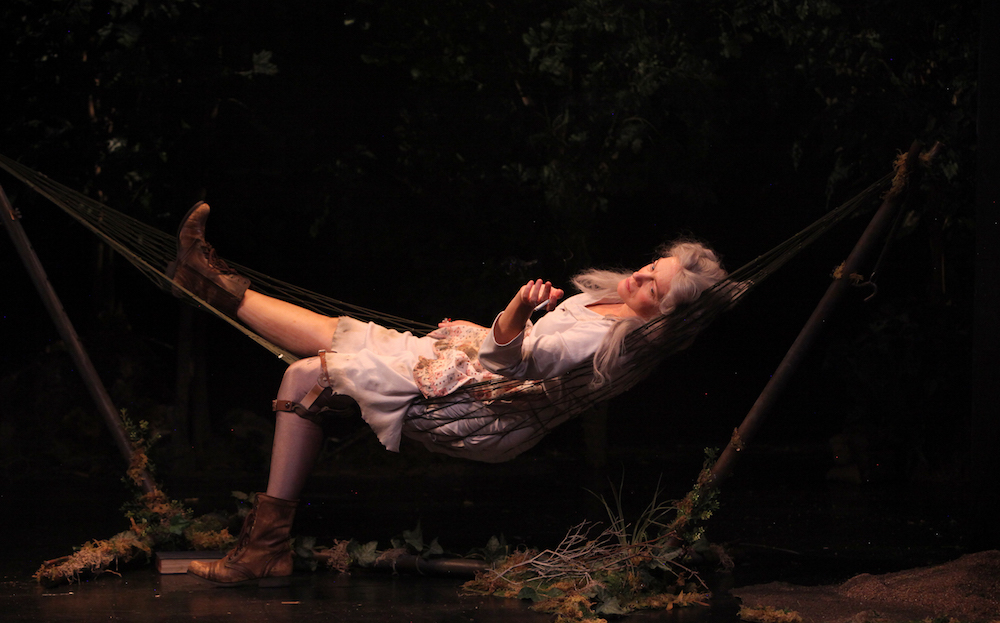 Hammond's lyrical writing in Eva's voice is reminiscent of James Joyce's for Leopold Bloom, as he wandered the streets of Dublin describing seemingly random characters and events. With equal parts wry humor and rueful reflection, Eva ruminates on her rule-bound Catholic childhood, her (almost) carefree life in Paris, and her dismay at her mother's incapacitating illness. She ponders the best way to ease her mother's pain, a mother who never much nurtured her. McNeal is versatile and charismatic, and we are drawn into Eva's story even though her nonstop narrative goes off on tangents and we too begin to wonder whether the tardy hospice worker will ever show up.
In fact, we don't meet any other characters until the second play, Enter the Roar. There, the hospice worker appears, along with Eva's sister and brother-in-law and the family priest. Their formal statements about Eva's action are addressed to an unseen tribunal of some kind, perhaps an inquest or a criminal trial, and occasionally to the media. They ponder whether Eva's actions towards her mother constituted an act of kindness or a two-commandment-breaking sin.
Particularly compelling are Amy Nowak as Roisin and Rod Gnapp as Eamon, playing two seemingly simple characters who raise questions of great complexity. Roisin's official title is "hospice helper," though she hates that appellation because it makes her sound "like a volunteer when it's a real job." She would have been a nurse but she "never did well at Bio." Still, she adds, "All the families call me a nurse. I like that." Roisin has seen many people at the end of life, including a great poet. "You'd think he would have known. But I don't think he did. I don't think he had a clue."
Eamon is the bland but compassionate civil servant who married Eva's sister Teresa (Lisa Ann Porter) even though she had a daughter out of wedlock. In a low-key manner, he pleads for mercy., reminding them all that Eva's mother had been bed-ridden for a year, "severely depressed, trouble with breathing, with the swallowing, can't even turn her body an inch on her own. An inch."
More sure of himself is Father O'Leary (Justin Gillman) who has no doubts that Eva has committed many sins, one more grand than all the rest, and should be duly punished. His rigid, unforgiving view of right and wrong is laid bare: There may be no more scathing critique of the Irish Catholic moral code since Joyce described Stephen Daedelus's brutal school days in Portrait of the Artist.
At intervals during the statements, there was a blast of taped sounds – a cacophony of traffic noise, news reports, repetitions of the characters' words. The intrusion was distracting and did not seem to serve a dramatic purpose. We can hear the roar of the play's title without it.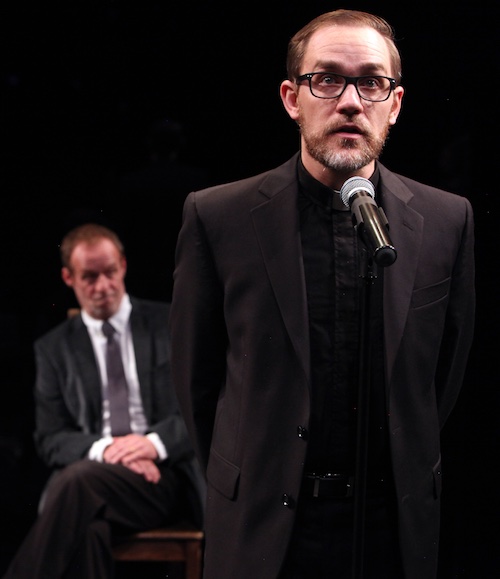 In the final play, No Coast Road, set 30 years later in Corsica, an aging, one-legged Eva — still just as bawdy and biting — meets her match when a young American hiker (Caleb Cabrera) stumbles upon her hidden campsite. In a series of brief scenes, their teasing encounter evolves into a tender understanding when she realizes he too has sorrows brought on by his own mother.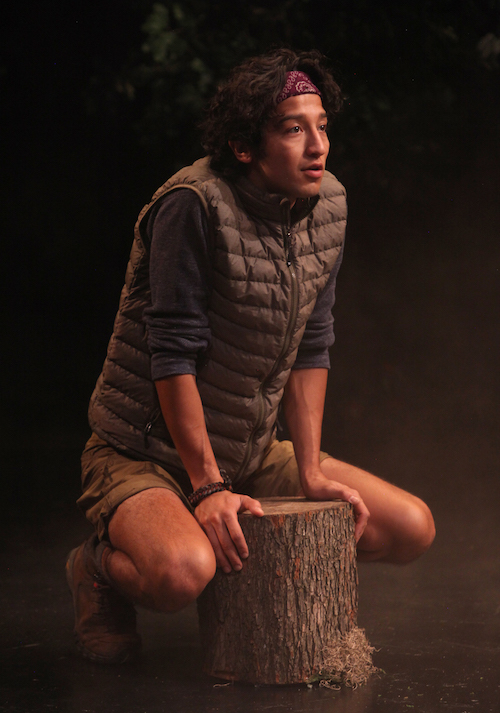 The settings by Hana Kim go from sparse to lush. In Eden, Eva sits alone on a brick stoop against a foggy grey-white backdrop, with wisps of mist blowing in from the sea. The second play, Enter the Roar, includes a few more props – chairs, a bank of official microphones, a mirrored back wall that forces the characters to reflect on themselves – but is still minimalist. But the final play, No Coast Road, is set in a dense forest in Corsica, lit by fireflies and twinkling stars. A free but solitary Eva inhabits the rudimentary campground. The verdant cluster of trees seems to come alive as it shimmers in the wind and is filled with shadows at night. Through skillful use of light, the illuminated image of a Nymph (the graceful, expressive Megan Trout) races across the leaves, or lies in repose in the treetops, reflecting Eva's inner thoughts and dreams.
Magic's artistic director Loretta Greco selected this ambitious project to close the theater's 50th season, and she directed all three plays. It is a bold choice, but Greco's capacious worldview and her compassion for her prickly, headstrong main character — and the others, who are more complex than they first appear — make wrestling with life's most difficult issues a powerful experience.
"THE EVA TRILOGY"
Through November 12
Magic Theater, SF.
Tickets and more info here.
Use code EVA20 for 20% off ticket price!