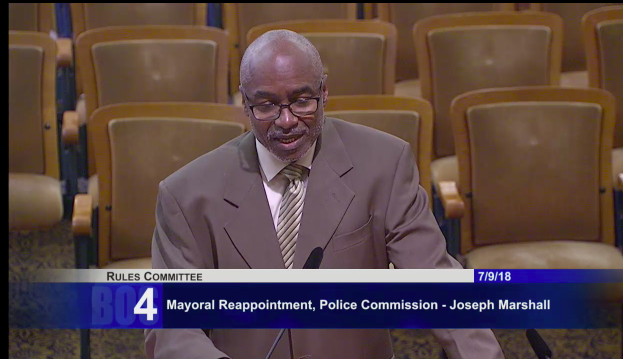 The Board of Supes decided today to reject outgoing Mayor Mark Farrell's move to renominate Joe Marshall to the Police Commission. Since Farrell's previous candidate, Sonia Melara, has withdrawn, that means incoming Mayor London Breed will, in one of her first key policy moves, be able to appoint two commissioners to the seven-member panel.
Marshall, who has won national attention for his work with the Omega Boys Club, was originally named to the commission by then-Mayor Gavin Newsom, and has been on the panel for 14 years.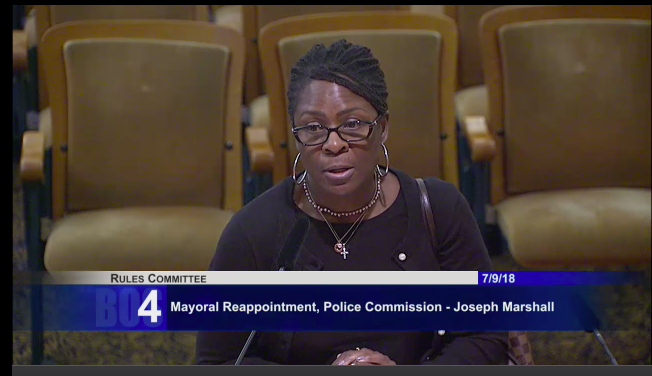 Critics say, however, that Marshall has been slow to push for discipline of rogue cops and too close to the Police Officers Association. Demarris Evans, a lawyer with the Public Defenders Office and chair of the Racial Justice Committee, testified at the Rules Committee Monday that the POA helps fund Marshall's group.
Under questioning from Sup. Norman Yee, Marshall acknowledged that the POA has given money to the Omega Boys Club.
Then, under questioning from Board President Malia Cohen, Marshall acknowledged (if somewhat reluctantly) that he had voted in favor of allowing the SF police to use carotid choke holds, which can be deadly, and that he twice voted in favor of equipping cops with Tasers.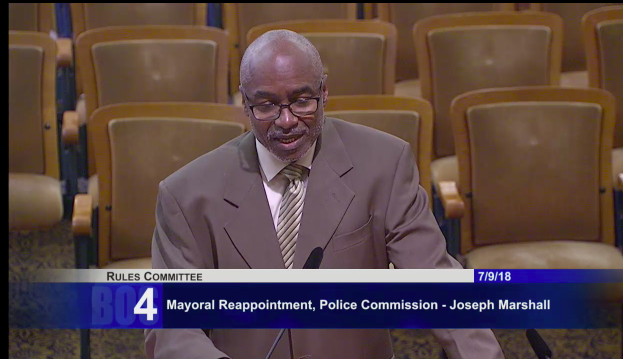 Before the board meeting today, Joe Eskenasi at Mission Local sent out a text blast saying that "with Mayor-elect Breed pushing for a re-nomination of Joe Marshal … we have learned that Sup. Norman Yee has acquiesced. That means either Katy Tang of Jeff Sheehy – in his last meeting – would have to buck Breed for Marshall to be denied. This is possible, but not probable."
And indeed, Breed – in her last meeting – voted to re-appoint Marshall.
But she clearly wasn't pushing the issues. She was joined only by Sups. Ahsha Safai and Catherine Stefani. Every other supervisor supported a motion by Sup. Sandra Lee Fewer to reject the nomination.
With an 8-3 vote against her position, Breed seems unlikely to put Marshall forward yet again. And the supes have made it very clear that they want rapid, dramatic change in the Police Department – and that they don't want commissioners who are close to or even sympathetic to the POA.
That's what Breed will face when she starts looking for candidates for one of the city's most important commissions.