ART LOOKS The video and dance performance coming to the Asian Art Museum, Planet Celadon: Our Receiver Is Operating, features scuba gestures, air traffic signals, Busby Berkeley-style dancers with vases on their heads, and a tap dancer wearing flippers.
Artist Genevieve Quick, who created Planet Celadon, says she was looking at a Korean moon jar in the museum's collection—fashioned in the jade green, transparent celadon pottery style—when she started wondering where its planet was.
"I was looking around and everything was made of celadon, and I thought maybe it's Planet Celadon," she said. "Celadon migrated all over Asia, so there's Japanese celadon and Korean celadon and Chinese celadon, so it can sort of stand in for being Asian American."
Quick, who got her MFA at the San Francisco Art Institute and has done residencies at the de Young Museum, MacDowell, Djerassi, and Yaddo, also found inspiration for this piece in Carl Sagan's The Golden Record, which he made for the 1977 Voyager mission as a way to communicate about life on earth. It included images as well as the sounds of wind, surf, thunder and bird and whale songs, as well as greetings in more than 50 ancient and modern languages.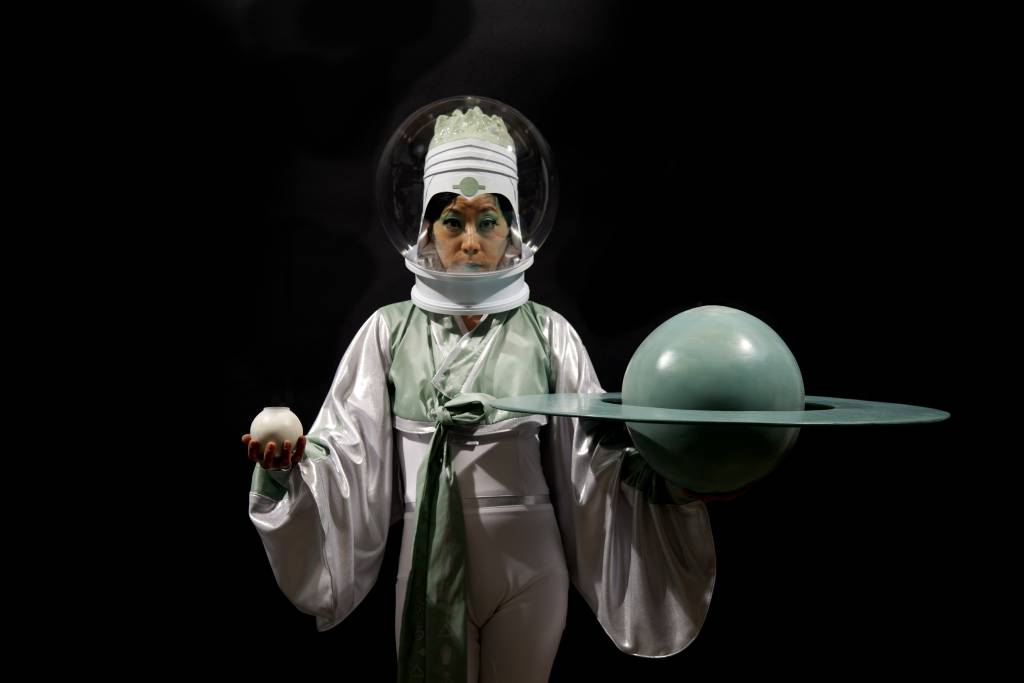 Busby Berkeley, another inspiration for this performance, was known for his over-the-top dance numbers (Quick calls them "amped-up gender play," in pieces such as Carmen Miranda's "Lady in the Tutti-Frutti Hat") 
Planet Celadon has a science fiction narrative about communicating with a distant place and culture. Quick has always loved the genre. 
"I love the way it fuses historical records with futuristic speculations," she said. "Like how in Star Wars when Hans Solo and R2D2 are at this sort of outcast bar with Chewbacca, and their costumes look like they might be Mongolian or Egyptian, and there are these historical references built in."
For this performance, Quick created a character, the Asianaut, to communicate between earth and Planet Celadon.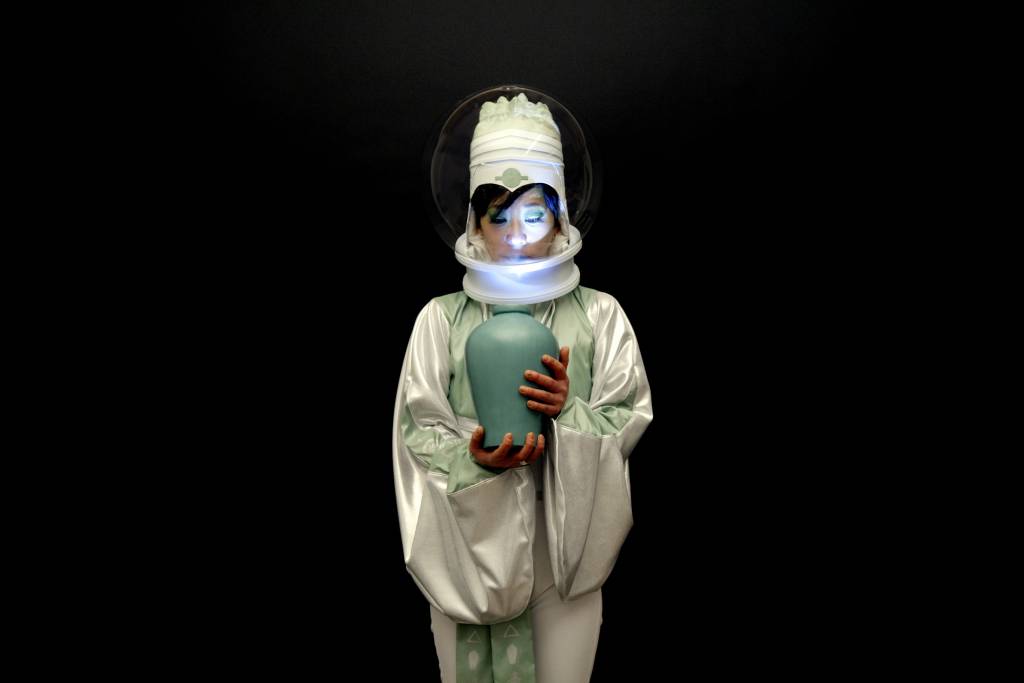 "Part of the project is about dislocation," she said. "Being an Asian American growing up in the United States, there's this push and pull, and you feel displaced in a way. I wanted to take the  challenges of communicating across cultures and extend that to the challenges of communicating intergalactically."
Quick spoke about the upcoming performance in her Bayview studio, with the costume for the Asianaut (a futuristic version of the traditional Korean hanbok) hanging nearby, along with a couple of the white scuba diver costumes. At one point, she got up from her stool to demonstrate the air controller motions and the scuba gestures that will be incorporated into the dance. 
Quick, an interdisciplinary artist who does sculpture, video, photography, and drawing, has used dance before in her work. But this is the first time she has hired a choreographer: Liz Tenuto. And Quick is learning to tap dance for the 30-minute performance. There will also be six dancers with vases tied onto their heads. 
"The dancers have sort of drag mannerisms with full green faces and bright red lips and vases on their heads," she said. "They're sort of Asian women and sort of aliens and vases—they're all three things at the same time."
PLANET CELADON: OUR RECEIVER IS OPERATING
Sept. 6, 8, and 9
Asian Art Museum, San Francisco
Tickets and more info here