ONSTAGE For her masters' thesis in Asian American Studies at San Francisco State University, Aureen Almario wrote about the stories of undocumented people. Telling those stories through the play Chasing Papeles, which she co-directs with her sister, Andrea Alamario, feels much truer.
"Theater is intimate and powerful and you're all in the same space. It has a different impact as opposed to a book sitting in a library," she said. "I feel like I didn't tell it the way I wanted to. It's not my language. The theater language is the way I speak best."
Aureen is the artistic director of Bindlestiff Studio, the Filipinx-focused Bay Area theater company which is putting on Chasing Papeles. Aureen and her sister as well as their mom, Rose, have been involved with Bindlestiff for a while, and while she thinks there are definite challenges to running a community theater without a ton of money, there are advantages as well.  
"It's a very DIY type of environment, and we get to do the content we want," she said. "There's a certain freedom to that. We do music shows and punk shows and do a lot of cultivating new artists' works."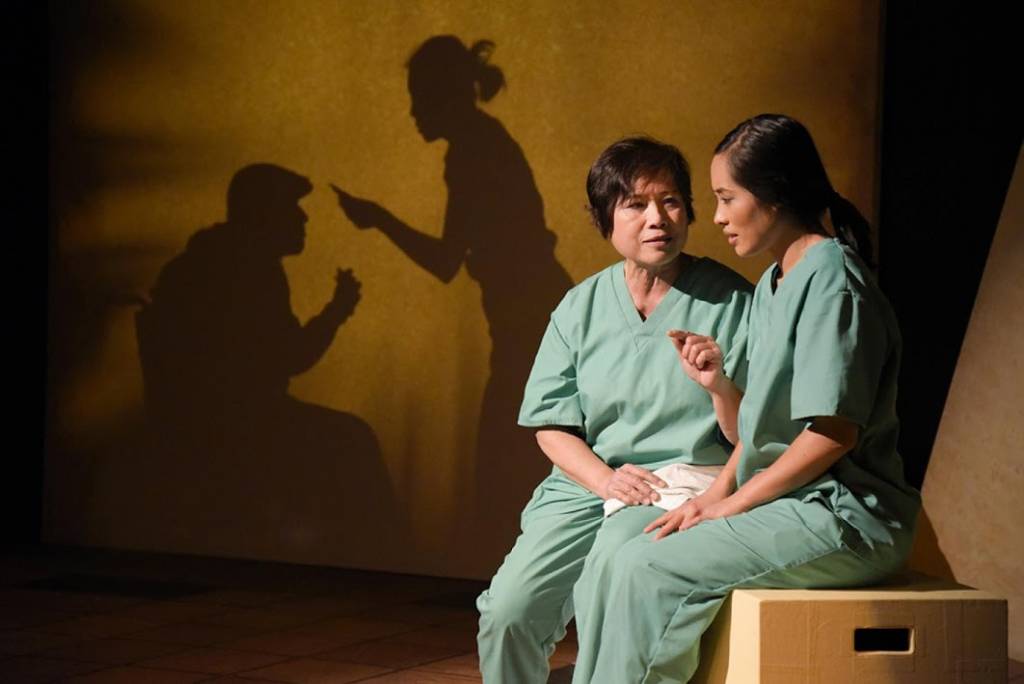 Andrea wrote Chasing Papeles for her masters' thesis in theater at University of California, Berkeley, and Aureen played a lead role in it when it was produced in 2016.The play is set in a senior care home in the SoMa neighborhood where Bindlestiff is located. Aureen says recent news about home care workers in the Bay Area who were trafficked and exploited were part of the inspiration for the play.
"There are so many layers and so many different experiences immigrants have," she said. "It's not just one story that's being told, and some perspectives are still missing. There's still a lot we don't know."
Andrea came here from the Philippines in 1991 and got into theater after taking a class at Chabot College. She wrote a short play based on stories she heard from Filipina caregivers, and she incorporated some of those stories into this play as well. She says theater was an outlet for her and her sister and mom.
"It was a way to have a voice in the US when we felt very silent," she says. "My theater is influenced and shaped by my undocumented life."
Andrea works as a dental hygienist and has started a nonprofit, the Magic Toothbrush, which uses theater to teach about oral health in the schools. Like her sister, Andrea thinks theater can have a real impact. 
"I feel like with the characters in a play, there's a more human touch," she said. "When you watch a performance, you get invested in the characters, and see the relationships. It's different than just hearing a lecture or something." 
Andrea looks forward to putting on Chasing Papeles at Bindlestiff. She has made some changes to the play since it was first performed at Berkeley. 
"The most exciting thing is we wrote new music for the last song, and I think that created the missing link. Now that final song is a hopeful ending that added a nice touch to this very sad story," she said. "There's a lot more movement—I had a lot of help to create my vision. Sometimes there are things you can't say in words and through movement and music, it hits the spot."
CHASING PAPELES
November 1-17
Bindlestiff Studio, San Francisco,
Tickets and more info here