Jessica Ho conceded today and Gordon Mar declared victory in the only sup race that was still up in the air, making clear that Mayor London Breed will face a strong progressive majority on the board next year.
"We did what many said couldn't be done. Against a million dollars, and the against the odds, we won for working people, and for an independent voice in District 4," Mar said as the latest results showed him continuing to gain ground on Ho.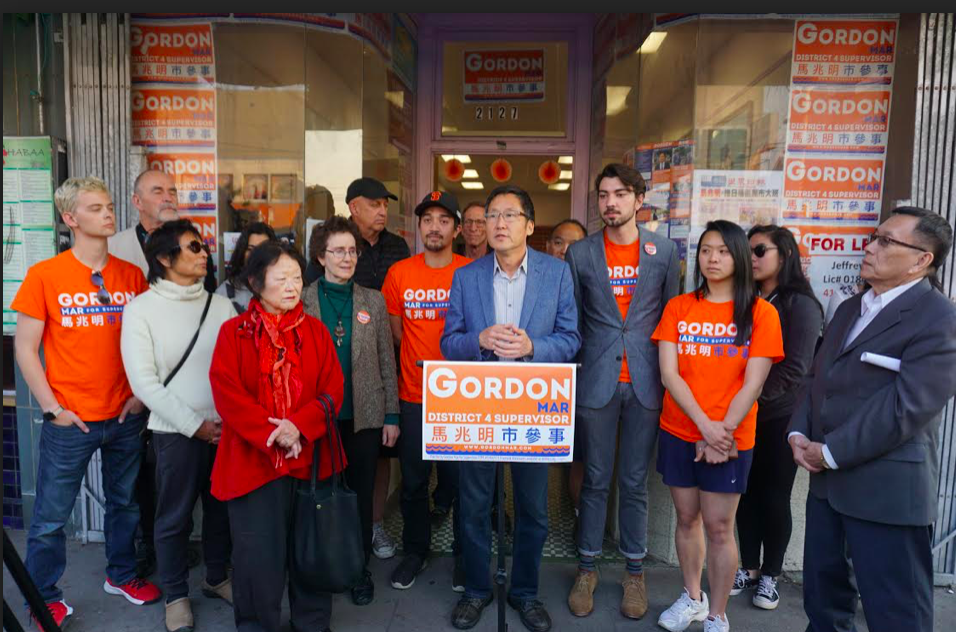 The results of the Nov. 6 election mean that seven of the 11 board members will be part of the progressive camp – and two of the new members defeated candidates strongly backed by the mayor.
That puts Shamann Walton is the position of potentially being the eighth vote to override a mayoral veto if Mayor Breed tries to block legislation that the progressives approve.
Joe Fitz at the Examiner says Breed "lost the election big time."
It's a fascinating development for our mayor, whose own election was won in a squeak against Supervisor Jane Kim and former State Senator Mark Leno. When you win that narrowly, you don't carry the public mandate to pursue your political priorities carte blanche — you've gotta sweat for every ounce of goodwill from The City.

And you've got to be careful.

Breed could have stayed neutral in key races. Hell, she could have stayed neutral on the homeless tax, but that's not how she decided to play it. Breed is an all-in kind of person, for better or for worse. This time she went all in, and lost.

Come January, the now progressive-led Board of Supervisors will be stacked with politicians who not only oppose her ideologically but whom she opposed in real-world terms.
More:
Political consultant Jim Ross, who ran Gavin Newsom's first mayoral run, explained the disconnect as a narrative problem. Breed won her election largely on her inspirational story, but without a clear message for The City's future, he said. I saw this a lot myself when talking to San Franciscans who love London — they often told me they loved that she pulled herself out of poverty and blossomed into a strong woman leader, but could hardly name a single policy London ever wrote, or passed, that they liked.

"That's the problem with getting elected on your story," Ross said, "there's no rationale behind your governance."
The Prop. C total is now heading above 60 percent – but it's not likely to reach 67, which would make it immune to legal challenge. (The courts have ruled that tax measures put on the ballot by signatures don't need two-thirds majority, but that's being challenged – and the challenge could take a year or two.)
Joe:
"Historically, the only (ballot) measures to make it over the two-thirds threshold are the ones with all of the powerful people in San Francisco behind them," Friedenbach said.

She added, "If London had backed it, we could have won" that threshold.

But she didn't.

London, I want you to hear this: Every soul sleeping on the concrete between now and the end of Prop. C's legal challenge?

Their lives are on you.
State Sen. Scott Wiener and Assemblymember David Chiu also opposed Prop. C. Wiener issued a statement today:
San Francisco voters have spoken by passing Prop C. While I did not support Prop C, Prop C is now the law, and I respect that result. I want Prop C to succeed, and I will work to ensure it can be implemented effectively in order to accomplish our shared goal of reducing and ultimately ending homelessness in San Francisco. I know that Mayor Breed will work with stakeholders to ensure city funds are well-spent. While San Franciscans were divided on Prop C, we all want to make life better for our homeless neighbors and to improve the unacceptable conditions on our streets. 
Which is remarkable: Wiener, Chiu, and Breed were among those who made the argument that Prop. C had "no accountability" and that the funds would not be "well spent."
I have not heard from Chiu.
But the overall results suggest that, despite massive big-money campaigns by the power structure, San Francisco voters are far more progressive than the person in Room 200 and two of the three people who represent us in Sacramento.