Kerensa DeMars first saw flamenco dance in 1995. The next year, she went to Spain with "high school- level Spanish," intending to stay for six months. She did. Then she went back and lived in Spain for eight years, training intensively.
DeMars, who was a professional dancer with Fat Chance Belly Dance when she first saw flamenco, loved the rhythm and the singing.
"In flamenco, women can be 100 percent expressive of every emotion without having to apologize," she said. "You can be furious, but you can also be eloquent."
Now DeMars, artistic director of the San Francisco Flamenco Dance Company, is choreographing and dancing in Volver. The show, at Brava Theater on January 20, brings together contemporary poets Leonard Cohen, Federico García Lorca, and Violeta Parra with flamenco and Middle Eastern traditions.
DeMars is not alone in her interest of combining traditional flamenco with contemporary flourish. In 2018, 25 year old singer-songwriter Rosalía expanded flamenco's reach far beyond her native Spain with her album El Mal Querer. The LP got five Latin Grammy nominations and two wins for its single "Malamente". 
Like Rosalía, DeMars takes a traditional flamenco education as the basis for her work, having studied at the Amor de Dios flamenco school in Madrid.
She found one of her teachers in a less traditional way. "I was in a café and this guy said, 'Oh, you're American, I love rock 'n' roll — let's talk," she said. "He said, my friend works at a café and his brother is a flamenco teacher. I thought, 'Yeah, right.'"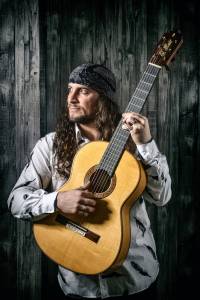 The friend's brother turned out to be a respected teacher with a deep knowledge of flamenco, and DeMars studied with him for years.
With her background in belly dancing, DeMars was always interested in the Moorish roots of flamenco. In Spain, she performed with fusion band Radio Tarife and worked with Amir-John Haddad, who will be performing in Volver. DeMars, who has performed at Madrid's Teatro Calderón, Barcelona's Tivoli Theate, and London's Royal Festival Hall, is looking forward to being onstage with him again as well as Ali Paris, who sings and plays an Arabic ganun harp. Paris has performed with a number of musicians, including Paco de Lucia, Alicia Keyesm and Quincy Jones.
"Amir and I have a great artistic communication," DeMars said. "He's the only guitarist I know who can play the oud really well. Ali Paris is Moroccan and Palestinian. He came to the States to go to Berklee College of Music. His sensibility for flamenco is really great, and the two together will be really dynamic."
DeMars felt including contemporary poetry in Volver made sense. She has a lot of admiration for the 20th century flamenco poetry of Spain's Felix Grande, particularly for his lyrics about nature and the troubles of ordinary people. "He wrote a lot about the state of affairs in the Gypsy community," DeMars said.
This single night show will be a unique collaboration, she continued. "There are going to be people from all over the world performing — from Syria, and the US, and Palestine, and France, and Spain. It's a pretty broad cultural brushstroke being painted. It's a contemporary perspective on a traditional art form."
She hopes the dance is able to communicate something important to modern-day audiences. "I've been noticing that the time flamenco started really cooking was similar to now; cultural upheaval, people migrating, and xenophobia," DeMars said. "Some of those being persecuted were also being protected and sheltered. Gypsy communities would help their Moorish and Sephardic neighbors. There are elements of social protest in the lyrics in flamenco."
VOLVER
Sun/20, 7pm, $28
Brava Theatre, SF 
More info here.