We've been fans of Tamara Palmer for more than a minute. At SF Weekly, the Outer Sunset writer logged over 1,000 articles on the shifting Bay Area food scene, and she's also been an avid SF Eater contributor.
But times change, and house cats go rogue. Recently, Palmer founded her own food publication, which runs the same streets and alleys with the added bonus of lush, appetizing imagery. Welcome to California Eating, currently fundraising for its second issue raffishly entitled "Electric Boogaloo".  
To serve her voracious new readers, the intrepid Palmer has traversed the length of the state, plumbing it for well-seasoned food content. Recent California Eating topics have included the return of Sexual Chocolate to SoCal, Juanita MORE!'s brunch burgers, how Humphrey Slocombe celebrated its 10th anniversary with a new Venice location, and the exact time that one must fidget while their mail-order Porto's cheese rolls cool. 
48 Hill's Marke B. caught up with Palmer via email to ask about where, exactly, she will be taking this edible enterprise — and what she makes of this current Bay Area food journalism moment. For those keen to listen to tidings of incredible edibles please note; there is a podcast. 
48 HILLS What was the inspiration behind California Eating? Were there other zines and publications you took inspiration from? 
TAMARA PALMER I've always been enamored with zines and independent magazines, and the latter is where I got my professional writing start at the end of college. After writing for food blogs for 10 years and ghostwriting a local chef's cookbook, I found myself wanting to experiment with self-publishing on a small scale as an escape from the more mainstream work that I do.
Editorially, I don't think I drew inspiration from any other publication, but I absolutely did when it came to the visual presentation. I learned how to design from scratch and I looked at a lot of magazines that I love for tips. I love the simple spareness of how New York Magazine lays out stories, and the risk-taking of '80s/'90s UK-style magazine The Face, which I hear is possibly going to make a comeback. But once I finished the first issue, it felt to me like I also channeled some vibes from URB, the defunct hip-hop and electronic music magazine where I worked in the '90s.
48 HILLS Doing a zine in the age of Instafood is bold — but do you think the era of social media food reviewing is retreating into the past? 
TAMARA PALMER Maybe it's the way I've set up my feeds, but I haven't seen too much of a social media slowdown, and I continue to see new food businesses catering to the Instafood era, down to the design of their physical spaces (i.e., endless neon art). But I have felt a resurgence of interest in people wanting to consume print food media, especially after we've lost old-school classics like Gourmet and new-school darlings like Lucky Peach. A sprouting of new micro-publishers such as myself are striving for quality over quantity.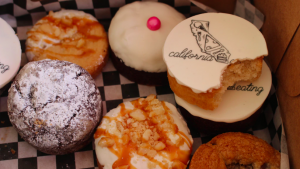 48 HILLS What's your overall take on the SF food writing scene? There seems to be a lot of change happening with longtime food critic Michael Bauer retiring from the Chronicle, but also — like you said — indie hopes like Lucky Peach are fading. Are we diversifying or moving on at all? 
TAMARA PALMER The new San Francisco Chronicle restaurant critic [Soleil Ho] is a woman of color and the local food community seems very excited to welcome a new voice and perspective after more than three decades of a singular opinion. The newspaper has definitely listened to what people would like to see and this moment feels positive.
Bauer hasn't retired, by the way; he just left the Chronicle. He's now [occasionally] publishing food reviews for Will Hearst's Alta Magazine.
I think San Francisco could use some more diverse voices and less predictable coverage in general — I'd love to see more people pushing past just what they receive as press releases in their inboxes and really search for the stories that are out there and not being circulated by publicists. Even though there's no shortage of food to cover, SF is a tough food writing market and I salute all of my wonderful colleagues in the city who have survived the ride.
48 HILLS What are you planning for the next issue?
TAMARA PALMER My aim is to continue to cover food and people from all over the state and collaborate on interesting products, but I've definitely got quite a lot of Bay Area coverage planned for Issue 2: Electric Boogaloo so far!
People who order the second issue or pick up a 2019 quarterly subscription will receive the California Eating x Charles Chocolates collaborative candy bar, which we are working on now for release in late March/April. Charles Chocolates was the first big food story I ever wrote (for SFW in 2006) and we've been good friends ever since, so this collaboration is extra special to me and I'll cover the creative process in the issue.
I'm currently collaborating with three chefs so they can create unique recipes for Issue 2 — the first completed one is with Ranjan Dey, who has owned New Delhi restaurant in SF for 30 years and is a fountain of amazing international stories. He hosted a PBS documentary series called My India and has cooked for many dignitaries. For California Eating, he shared his secret recipe for his comfort food snack he makes at home late at night, a Golden State spin on a street food he grew up with in Calcutta.
Luis Villavelazquez of Les Elements, a culinary consultant, City College professor and really my favorite pastry magician in San Francisco, is developing some new recipe takes on Chinese dragon beard candy, a lost older generational art we're hoping to revive in a new way.
I'll also have a salad recipe from chef Dario Barbone, who teaches at 18 Reasons and spearheads MUTEK SF's culinary collaborations — we sourced it from the Ferry Plaza Farmer's Market and he served it at the premiere issue launch party at BiteUnite.
I'm also working on a companion podcast, which will be posted monthly on JasonCharles.net. The first episode debuts on Friday, Jan 11 featuring an interview with Juanita More, Kickstarter tips, and a cooking segment with Ranjan Dey's Issue 2 recipe.
Read California Eating and donate to its Kickstarter for Issue 2: Electric Boogaloo here.