Going to the last night of business at Divas on March 30 was like stepping into a time machine. Divas—the only transgender bar in San Francisco, and one of only a few in the country—was an exciting and thriving bar 13 years ago, in 2006, when I moved to San Francisco from the suburbs after getting divorced from a straight relationship. It was a place where trans folks and their friends and admirers met up. It holds a special place in my heart because there I, along with many other girls new to the trans scene, was able to explore this subculture and so many previously unexplored sides of myself.
Unfortunately, Divas has now closed its doors after 31 years due to lack of business, and the owner is selling the building. Business had been in significant decline in the last 5+ years to the point where even Fridays and Saturdays were typically quiet. The same fate has befallen many other alternative clubs, due to changes that the online meetup culture and the tech industry has brought to the city. But on Sat March 30, 2019, the three floors of Divas, each with a bar and plenty of mirrors, was packed as they had their final night of business. I expected to see a lot of old friends, and do a lot of reminiscing, which we did. But what I didn't expect was how much I would viscerally be reminded how great Divas once was, and how much San Francisco has changed in 13 years.
Divas was a place where worlds met. Where a lot of chance encounters fueled not only a great different kind of fun, but also life changing events and relationships. I loved exploring the culture when I was first getting started out, meeting old and new friends there. Over the years it was such a pleasure to run into new girls who were there for their first time and excited to do the same. I loved being shocked at how smoking hot these trans-girls were. I loved bringing my Ukrainian friends there, and blowing their minds with something they hadn't seen before. And every weekend night there would also typically be folks from other communities there as well—drag queens, lesbians, gay men, biker folks, leather folks, the Sisters, and even a reverend who would help people in need.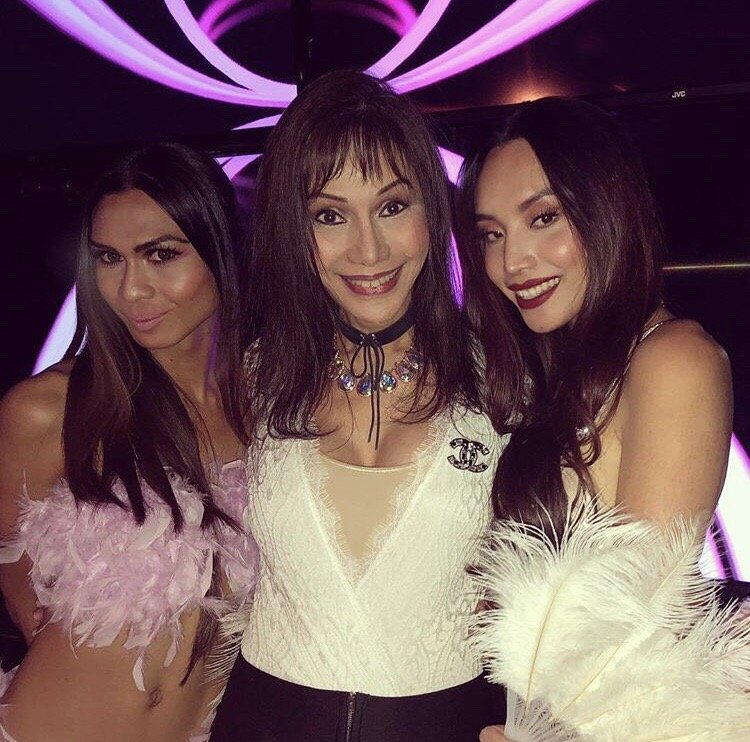 What a pleasure to be able to become part of such a diverse and friendly community, where "different" was the norm, and people were so open in sharing some of the deepest part of their lives. I never felt so welcome in my life, in stark contrast to the stiff norms in the suburbs and the corporate world. It took me several years to realize, I'm fabulous just the way I am, thank you. And there were always visitors from all over the world, mostly straight, who were curious and courageous enough to see this world in the flesh. The real world is nothing like you see online or in the movies. And each one of us regulars had the opportunity to be essentially an ambassador, sharing this world and mindset with others.
But today, if you want to discover the trans world in San Francisco, you're going to have to try A LOT harder, and you won't really have an opportunity to do so if you're just visiting. Sure, you can try to meet some people online. That's a horrible way to meet people, however: You don't know what you're going to get, and you can meet one, maybe two people a night. There is no community, no "town square," no longer lots of chance encounters.
The Internet has been great at connecting people all over the world who have similar interests, especially people who don't live in a city like San Francisco. But it has destroyed the culture of certain cities such as ours by dispersing the community to the point where there is no longer a critical mass to sustain such necessary meeting places. All that's becoming left is mainstream bars for 25–35-year-olds. No online technology has the ability to replicate community—that requires people meeting in person. And this loss has significant impact on the health of our society. Some even argue that one of the biggest problems in Washington politics is that Congresspeople no longer eat lunch or breakfast together, something that was very common until the last few decades.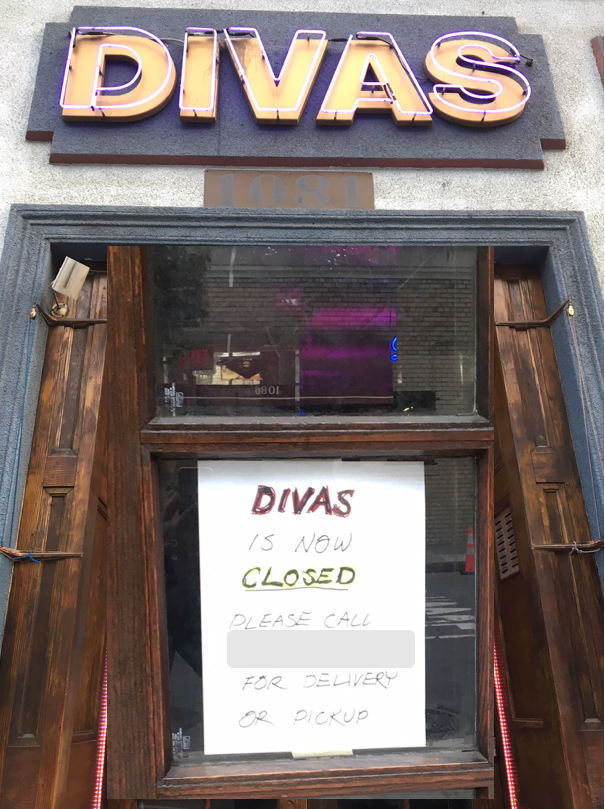 The demise of places like Divas is a sign of the times. Divas regulars have talked about what is happening, where did everybody go? Are they meeting online? Have they been driven out of the city due to the cost? Is it a generational issue as LBGT and Alt lifestyles are more mainstream? Are people working harder to make ends meet and don't have the time? Are people happier this way? Even the guys running the corner market near Divas said their business has dropped by 50% in the last five years because people aren't going out as much…and this is in the heart of San Francisco.
I sit here and think about what we are losing which is most precious. One of the most remarkable aspects of frequenting Divas was that there was a huge diversity of patrons (age, race, socioeconomic, casual girls, working girls, etc.), yet we all shared something in common, we love "misfits." we are curious about or admire trans people for their strength, and we want to hang out with people who just want to be themselves. To me, Divas was an ode to not allowing society to control us and tell us who we are and how we should act. I think so many of us need to be reminded, over and over again, that our most precious relationships and values transcend the demographics-based stereotypes that our advertising and political society has spoonfed us since we were young, in order to sell us stuff and control us.
Another precious part of our life that the online world has taken away from us is the natural joy in meeting people, and instead has left us with a stressful way of trying to have fun. Who wants that—life is stressful enough. Several of the working girls at Divas said that the closing of Divas will actually make their business easier, as guys won't waste their time chit chatting at the bar. Instead people will just meet in somebody's place and get right down to the sex. However, meeting somebody new and immediately jumping into bed is not fun for many people. It's stressful, people often get drugged up in preparation, and it just leaves us feeling empty and ultra-sleazy. Even in my most sleazy and drunk or stoned moods, I still want to chat with somebody and actually get to like then a little bit before getting it on. This may help the working girls, but what does this do to some peoples psyche, self-respect, and its impact on the way we treat family, friends, co-workers, and ourselves?
I was lucky in that I was able to discover this world and become part of it before it was dispersed by the Internet. I'll manage OK. But where the loss is the hardest to stomach, is knowing that the scores of people new to this world may never know how wonderful and magical San Francisco used to be.
This post was originally published, in a slightly different form, on Maria's Medium.