The Board of Supes will hear an appeal Tuesday/9 of a project in SoMa, and the outcome will show how serious the city is about enforcing a 34-year-old law that protects sunshine in the city parks.
The story behind the project is also an indication of how difficult it can be to deal with the bureauracy of City Planning – even if you're a lawyer who knows how the system works.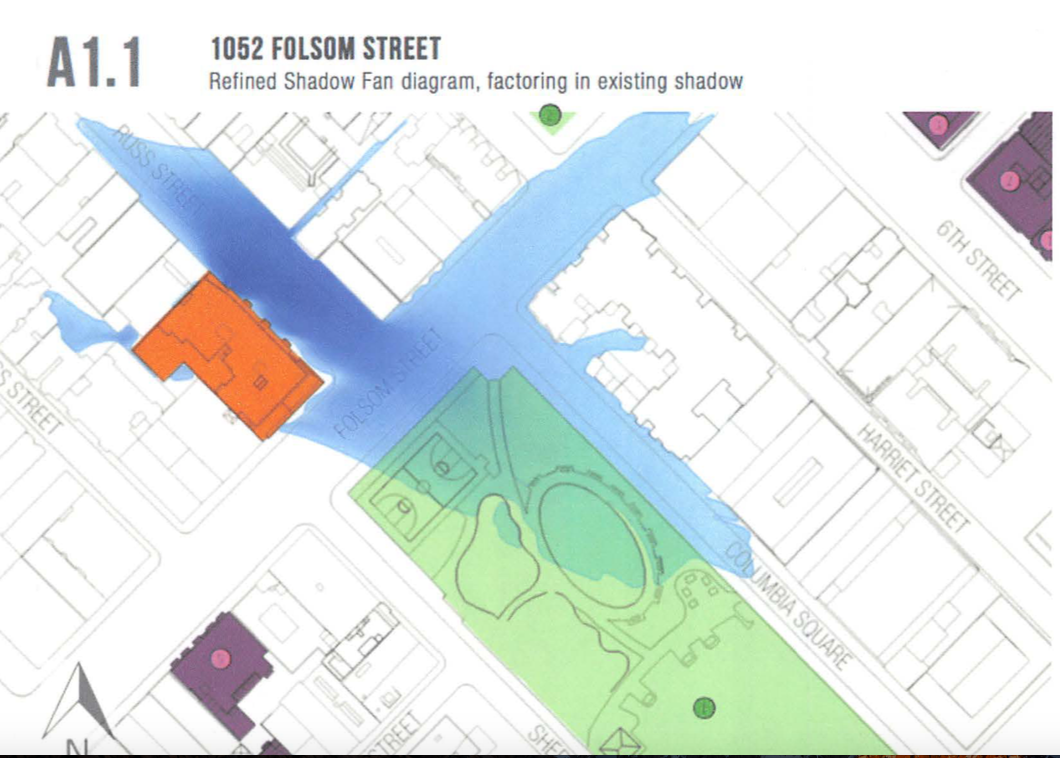 At issue is a project at 1052 Folsom and 190 Russ Street that would demolish three existing buildings and create a new, seven-story building with 63 housing units and some ground-floor retail. The legal minimum – 15 units – would be below-market-rate.
The South of Market Community Action Network, Somcan, is appealing the project arguing that the new building will cast a shadow on one of the few parks in the neighborhood, Victoria Manalo Draves Park.
There's no question that the new building will shadow the park. The only issue is whether that impact is significant.
The Recreation and Parks Commission voted 4-2 to oppose the project on the grounds that the shadows violate Prop. K, a 1984 law that bans any development that would cast shadows on a city park.
But the Planning Commission voted 4-3 to approve the project, with all of the commissioners appointed by the Board of Supes opposed and all of those appointed by the mayor in favor.
The whole thing is a mess. From the appellants letter:
Planning Commission heard and approved Project the afternoon of Thursday, December 20, 2018, following a separate independent hearing by Recreation and Park Commission the morning of December 20, 2018. Attorney for appellant SOMCAN, Sue Hestor, made request for records to Doug Vu, planner at Planning Department to Project December 20, 2018. Separate request was made for CEQA files. A second records request was made to Doug Vu on Friday, December 21, 2018. Vu opened both emails requesting files December 21, 2018. No reply was sent.

On Monday, December 24, 2018, Hestor went to Planning Department to review files/dockets on Project. CEQA files/docket were available and reviewed. Hestor requested that staff call Vu to determine whether they would be available Wednesday, December 26. Planning Department staff could not locate Vu or anyone else on project. While at Department at 12:56pm December 24, 2018 Hestor sent 3rd email to Doug Vu requesting to review files.

An automatic reply was sent that Vu was no longer at Planning Department and sender should contact Richard Sucre if no new planner was identified on Property Information Map. This was first information that he had left December 21,

On December 26, 2018 series of requests for documents with various persons at Planning Department began. First reply was December 31, 2018 when "Records Request Planning Department" stated that they would endeavor to reply by January 10, 2019.

Hestor made repeated unsuccessful attempts to get both project files and final motions of approval from Planning Department.

Planning was unable to locate any paper files/dockets on Project after Vu left the Department.
This is a critical vote for the supes, who only rarely overturn Planning Commission decisions. An earlier version of this project (sponsored by notorious Ellis Act evictor Sergio Iantorno) was rejected because of its shadow impacts. Now the developer has come back with a bigger project, and apparently has the support of the mayor, because all of her planning commissioners (and only her planning commissioners) voted in favor of it.
Victoria Malano Draves Park (named after a Filipino-American Olympic gold medalist from San Francisco) is the only full-service park in the neighborhood. The shadows from this building would, at times, darken a significant part of the open space.
That's a big deal: As then-Sup Jane Kim said when the Rec-Park Commission considered the item, this is often a cold city, and sun means a lot to people in urban parks.
It's also a big deal to the community. As Juliette Languette told the commission:
As young Filipino-Americans we strive to keep a connection between our history and culture and Filipino community here in San Francisco. Victoria Manalo Drave park is a community space that the South of Market Filipino community fully enjoys in peace and sunshine and the park is also a symbol of a Filipino-American's achievement and therefore reflecting the achievement our community. We believe in these developments are allowed to take place, pieces of our culture and Filipino-American community hold dear will begin to disappear.
The hearing begins at 3pm.