Early in the San Francisco Planning Commission meeting today, Commissioner Dennis Richards mentioned the recent Washington Post article – How San Francisco broke America's heart — that has been the talk of the city.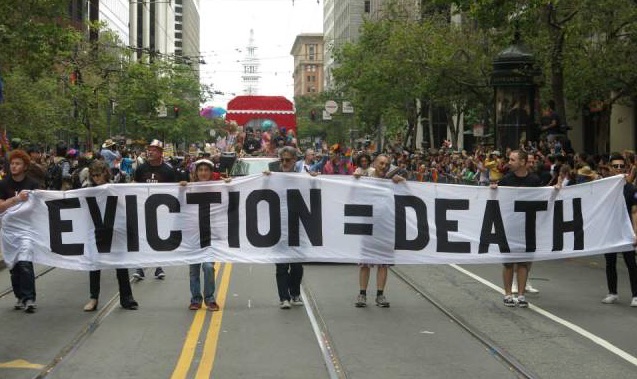 The feature story by Karen Heller talks about all the great people, places, and culture that this city has lost to the tech boom. Richards said everyone should read it. Heller notes:
For decades, this coruscating city of hills, bordered by water on three sides, was a beloved haven for reinvention, a refuge for immigrants, bohemians, artists and outcasts. It was the great American romantic city, the Paris of the West.

No longer. In a time of scarce consensus, everyone agrees that something has rotted in San Francisco.

Conservatives have long loathed it as the axis of liberal politics and political correctness, but now progressives are carping, too. They mourn it for what has been lost, a city that long welcomed everyone and has been altered by an earthquake of wealth.
The earthquake metaphor is a good one – except that in the past, after an earthquake, the city has pulled together to make sure that the most vulnerable are protected – and that a few people aren't trying to take advantage of the situation. (Can you imagine how we would respond to someone selling water bottles for $20 after the city mains went down?)
The opposite has happened in SF. What Heller doesn't say – and I didn't expect her to, since she's a feature writer and not a political reporter – is that the tech boom wasn't the result of the movement of tectonic plates. Nor was it the invisible hand of Adam Smith who created this nightmare.
No: City officials, starting with the late Mayor Ed Lee and including many current politicians who still hold office in the city, intentionally made policies that encouraged the boom – without including anything that could mitigate the impacts.
This happened by choice, by intent. City officials gave tech companies tax breaks to move here. They allowed companies (and cities) on the Peninsula to outsource their housing problems to SF by approving luxury shuttle buses to take workers from local neighborhoods to tech campus that have little transit access.
The supervisors allowed Airbnb to devastate the housing stock. They allowed Uber and Lyft to illegally create massive congestion.
And I have yet to hear one person who voted for those policies say it was a mistake.
The commission continued the contentious issue of housing on Divis and Oak, which means that project will remain a major issue in the D5 supes race.