Truth is reliably stranger than fiction at SF DocFest, whose 18th annual edition takes over the Roxie Theater for eleven days starting May 30, with an opening night Wed/29 at Brava Theater. This is definitely not, nor has it ever been, your standard, stodgy showcase for "worthy" documentaries of the political expose, travelogue or verite peasant-suffering types—though you can indeed find stray titles that can fit those descriptions in its expansive program.
Instead, the San Francisco Documentary Festival's preference for fun and novelty is revealed in that Brava opener, Marie Losier's Cassandro the Exotico!, about the "Liberace of lucha libre." Cassandro a.k.a. Saul Armendariz is a veteran Mexican-American wrestler whose flamboyantly "out" gay persona has transcended caricature to provide both personal and professional empowerment in an otherwise typically macho, homophobic sports milieu. There will be an after-party at The Make Out Room following the screening.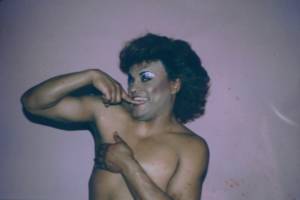 The closing night selection on Thursday June 13 is another dive into pop culture excess: I Want My MTV, Tyler Measom and Patrick Waldrop's lively survey of the channel's hugely influential first few years. Initially dismissed as a "stupid idea" sure to bomb, MTV instead wound up being the biggest thing to happen to music in the 1980s, as music videos changed the very nature of how acts were promoted, packaged, and popularized.
The film covers its scrappy beginnings, when practically any weird clip could get played (before the major labels realized those clips were a new necessity for their artists' survival), through the "racism" controversies (MTV was eventually "desegregated" by Michael Jackson and Yo! MTV Raps), accusations of sexism (gratuitous T&A sold a lot of videos, whether offered by heavy metal babes, Madonna or Heart), and so forth. A corporate acquisition by Viacom in 1985 signaled the beginning of the end for "pure" music television—though it soon heralded the rise of something even bigger, as shows like The Real World and The Osbournes opened up the Pandora's Box of "reality TV."
In between are close to 50 features from around the world, including Aleksei Vakhrushev's "Centerpiece" selection (on Thurs/6) The Book of the Sea, a semi-animated portrait of modern-day Inuit and Chukchi life in the Bering Strait that also illustrates key legends in their traditional (albeit now endangered) culture dependent on whale, seal, and walrus hunting. Other international titles of note include A Growing Thing (South Africa), Anbessa (Ethiopia), The Land of High Mountains (Haiti), When the Storm Fades (Philippines), I Am the People: Venezuela Under Populism, Pariah Dog (India), Spears from All Sides (Ecuador), and more.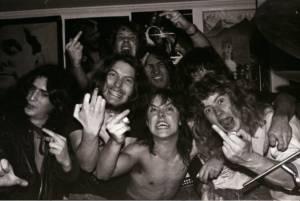 There's plenty that's a lot closer to home, notably Adam Dubin's Murder in the Front Row, which traces the arc of the SF/Bay Area's hugely influential thrash metal scene—not just famous acts like Metallica, Exodus, Possessed and Death Angel, but lesser-remembered bands, as well as long-gone venues like the Mab, Keystone and Ruthie's Inn. A very different local scene is captured in Mat Hames' Waiting for the Punchline, about the SF stand-up comedy world's fabled past and somewhat embattled present. Yet another realm of artistic expression is explored in Sheona McDonald's Candice, whose late subject rose to considerable popularity as "Candida Royalle" in SF's burgeoning late 1970s porn industry. She then took what she'd learned, both good and bad, and started her own successful production company to create "intelligent" adult films that "do not degrade women."
Other locally-focused features include gay adoption story The F Word, Oakland youth counseling study Circles, and Uberland, about the Silicon Valley e-commerce boom and the ridesharing apps that have enormously profited a few while providing a threadbare living for many.
While there's plenty of fun to be had at SF Docfest. there's no lack of political engagement. One likely must-see is Jakob Gottschau's Factory of Lies, which digs into the hidden industry of Russian "troll armies" designed to plant online disinformation in order to sow dissent in the EU as well as the U.S. Hans Pool's Bellingcat: Truth in a Post-Truth World offers a flipside, examining the "open source" journalistic website intent on global whistle-blowing. Jan Haaken's equally timely Our Bodies Our Doctors profiles medical professionals fighting to provide reproductive care in rural areas across the country, in a climate of ever-rising conservative hostility. Chelsea Hernandez's Building the American Dream probes shocking, often dangerous safety lapses in the Texas construction industry. Peter Nelson's The Pollinators looks at one key aspect of the escalating global environmental crisis: The imperiled status of bees who are an irreplaceable part of the grand food chain that is life.
Fear not, however, the news isn't all bad. On the goofy side, there's JR "Bob" Dobbs and the Church of the SubGenius, Sandy K. Boone's look at the satirical "religion" that became an influential hipster magnet in the 1980s. Red Dog finds songwriter Luke Dick wondering about his early childhood, when mom worked at an infamous 1970s strip club. He gets a lot more lurid intel on that interlude from her than he expected, or possibly wanted. Red, White & Wasted showcases Florida's defiantly brain-dead monster truck "mudding" subculture. The Artist & the Pervert chronicles a most unconventional domestic relationship.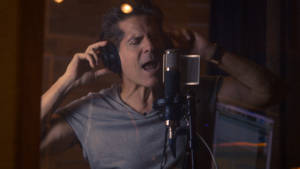 Last but hardly least, Jonathan Sutak's Dons of Disco looks back at "Den Harrow," a supposedly American singer who had several cheesy Eurodisco hits in the late 1980s. Only he wasn't really American (he was Stefano Zandri, a Milanese model), and he couldn't sing—the real vocalist was actual Yank Tom Hooker, who also wrote many of the act's songs. The fascinating conflict of this absurdly entertaining feature lies in the fact that even decades later, the irredeemably vain Zandri still insists HE was the true talent of Den Harrow, saying things like "You don't fall in love with a voice, but with a face."
Plentiful old performance and video clips show him pouting, lip-synching and kinda-sorta dancing, exuding the kitschy "New Wave" magnetism that he claims "would have had the same success all over Europe" even if he'd "just stood there on stage." Uh-huh. All this happened before Milli Vanilli. The defensive Zandri says he's too much of a "gentleman" to name the "hundred [other] singers who couldn't sing" but didn't suffer the slings and arrows suffered by him, let alone Fab Morvan or Rob Pilatus. It's a jaw-dropping portrait, even if in the end you even feel a bit sorry for this professional poser—Hooker appears to have done much better for himself in the long-term, and his derision towards Den Harrow's "face" gets a bit mean-spirited after a while. Nevertheless, if you love a good showbiz trainwreck, Dons of Disco offers world-class mess.
SF DOCFEST
Wed/29-Thu/13
Various times, prices, and SF venues
Tickets and more info here.