The SF Planning Commission will consider Thursday/5 the first steps toward approving a massive new development in Dogpatch, one of the biggest single projects in the city outside of the troubled Lennar redevelopment of Hunters Point.
The commission will be considering a project agreement to allow a developer to rezone and transform 29 acres of land that once was a PG&E power plant at the foot of Potrero Hill, near Pier 70.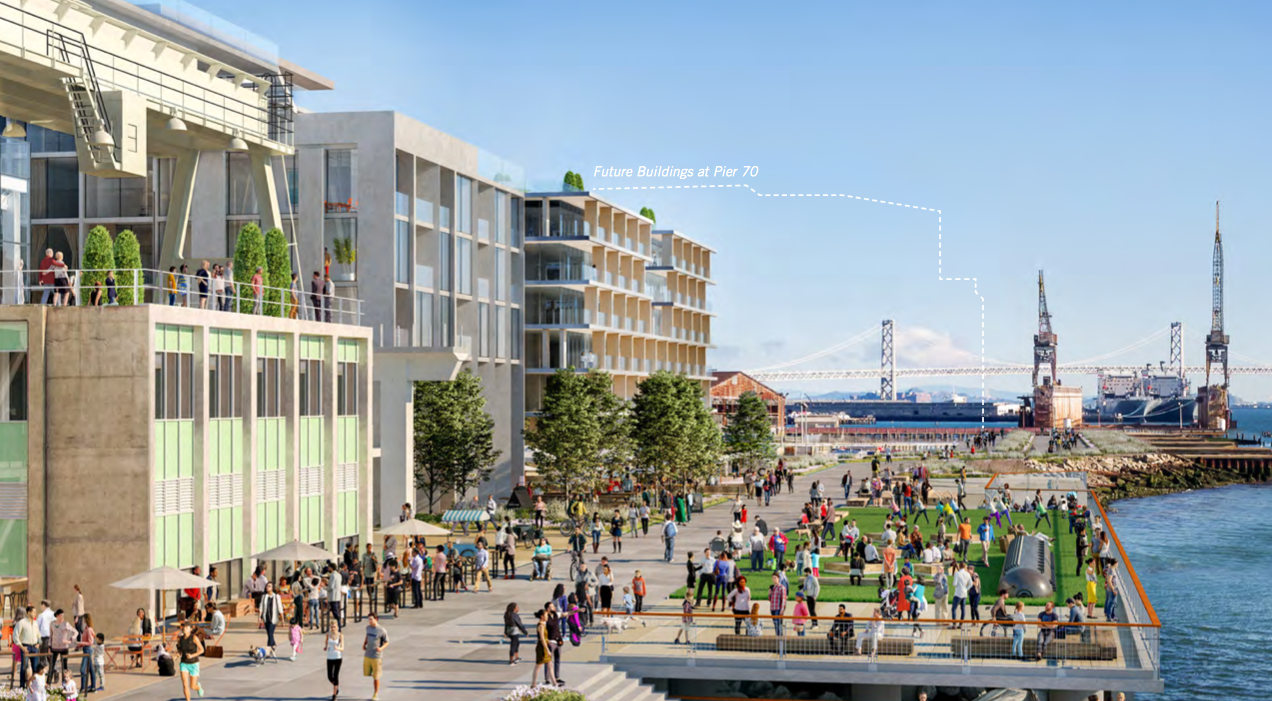 When it's complete, the project would include more than 5 million square feet of housing, hotel, industrial, and retail space, along with almost 7 acres of public parkland, some of it built on city-owned property.
It would completely transform what is now a largely industrial area, which almost certainly would mean existing light-industry in the surrounding area would ultimately be displaced for more lucrative uses.
The Power Plant Project could add more than 5,000 residents, and 250 hotel rooms, to the area, along with 1.5 million square feet of office and research-and-development space, and nearly 100,000 square feet of retail space, attracting somewhere around 6,000 new jobs.
The hotels and light-industrial space would add another couple of hundred jobs – meaning the jobs-housing balance would be out of scale.
There's also at this point limited transit access to the site, which would include 2,600 off-street parking spaces.
The developer has promised to make 30 percent of the housing units affordable.
The site contains both underground and above-ground toxics, and demolishing the existing buildings and creating a new community will require substantial mitigation.
I know that area pretty well. If you add that many new people and jobs without expanding transit pretty radically, Third Street (and the light rail that runs along it) will become impassible.
And that doesn't include the impact of the new Warriors Stadium nearby.
I heard a speaker at last week's Planning Commission meeting say that Moscow has added 80 new underground transit stations in just the past ten years. That's the kind of investment SF is going to need if it wants to accept this level of new growth.
And there is no plan at all to pay for it.
The Board of Supes is back in business this week after an August recess. On the agenda: A move by Sups. Aaron Peskin and Ahsha Safai to require a conditional use hearing and approval for any new employee cafeterias in office buildings. The idea is simple – while areas like mid-Market have an office-space boom, it's not trickling down to the local restaurants because tech-company employees get free food at work. It might be a good idea in general for some of those folks to leave the office every now and then and spend some time in the neighborhood.
The Chamber of Commerce and the real-estate industry opposes the idea, and Peskin and Safai had to trim it back from a ban on the cafeterias to a CU. Interesting to see where, for example, Sup. Vallie Brown, who has extensive support from real estate and is in a heated election campaign, will wind up on this one.
Sup. Gordon Mar wants to make it more attractive for local candidates to use the public-financing system, which includes limits on spending – and he wants to encourage candidates to get more money in smaller donations.
Mar has introduced a measure that would increase substantially the initial grant that candidates would get when they qualify for public financing, and raise from 2:1 to 6:1 the match amount for candidates after their initial grant.
It would also limit contribution matches to $150; now, the city will match up to $500.
The idea is to encourage more candidates to accept the spending limits and encourage more small donations. The measure comes up at the Government Audit and Oversight Committee Thursday/5.