The San Francisco Electronic Music Festival, which took place over four days beginning September 12, describes the force behind itself as an artist-run organization founded in 1999 by a committee of eight Bay Area electro-acoustic music and sound art practitioners. The mission is simple: provide a platform for independent electronic music and A/V artists to pursue the kind of experimental work that might not find a home anywhere else.
While most of the performances took place in the Mission district's vaudeville-era Brava Theater, a one-off show on Thursday night took advantage of the thirty-two channel Envelop space at the Midway in Dogpatch. The audience, seated on the floor in concentric circles, was treated to short audio-only works by three artists, which streamed in from all directions, creating something quite effectively immersive (especially with your eyes closed); a little too intense to be quite akin to ASMR, but certainly engaging some subliminal reflex arc tuned to delicately crafted sound. 
Works by Jim O'Rourke and Italian duo My Cat is an Alien took full advantage of this setup. These built intricately detailed soundscapes so far removed or transformed from your everyday realm of auditory experience that you find yourself playing a kind of blindfolded interpretive game with the sounds—where might they have come from, or what might they mean? It was like trying to guess the ingredients of a meal using only your sense of smell. Another piece, by local legend Amy X. Neuburg, was as much a spoken word performance-protest piece (apparently in dactylic hexameter) as an acoustic manipulation.  In a parallel and more just universe, Neuburg would be as recognizable for her original, vocally layered compositions as Bjork or Kanye West collaborator Caroline Shaw, as she rattled through a series of statements that were at once abstract and confrontational.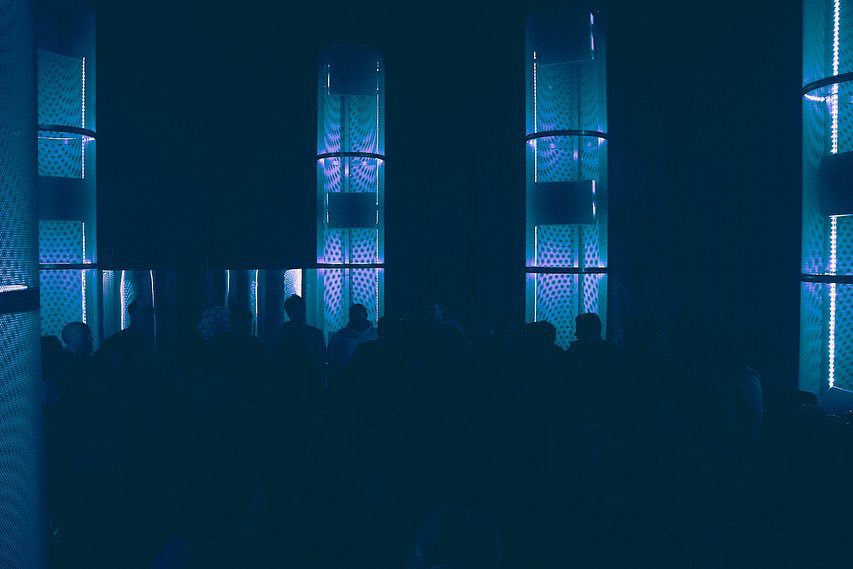 The effect, given the acoustically isotropic nature of the Envelop space, is that of pure sound engaged in some form of high-order communication. Especially given Neuburg's stream of consciousness-style work, you develop the impression of being physically inside some kind of expanded functional brain, situated at the synaptic cleft where idea fragments cohere into something more final, accessing snapshots of the creative process in action.
Back at the Brava, most of the live performers found themselves marooned in the middle of the large, dark stage with perhaps one or two pieces of basic equipment. For the nine performers (three each night), every one of them contributing a fresh take to the subfield they explore, this was all that they needed. Marc Kate, for example, methodically manipulated a single synthesizer as an image melted into view behind him on a black screen, something resembling a kind of sped up map of tropical depressions represented with liquid dyes, or an abstract view of glassblowing performed underwater. 
Following this, Dohee Lee presented the aptly named Ritual, which sounded like a haunting message from the netherworld, some overdue awakening of ancient ancestral rage. With her hands held aloft, she used a kind of distance-based sensor to trigger, loop, and add effects to live recordings of her own voice until it fit into the haunting milieu she had constructed. Some red cabling wound around her dress seemed to mirror the red cables interconnecting her musical equipment, tying her conceptually into the action. An incantation or elegy for the country, for the land, for the now obvious ruination of the most optimistic dreams of our ancestors, a simultaneous warning and mourning, for an American dream that most would agree by now has been definitively deferred… It was captivating.
On Sunday, Svenska Elektriska Operaensemblen (say it three times fast), who we learn, by way of introduction, once finished third in the Tour de France, sold more records than Joe Walsh in 2009, and abdicated the Swedish throne at one point, was even weirder. The auditory component, comprised mainly of looped fragments of the beginnings of sentences, vague and disconnected statements of emotional well-being, was accompanied by a live scrapbooking exercise with creepy Victorian portraiture and what appeared to be polar bear figurines. It was much more engaging than it sounds, the kind of way-out performance art that makes you question the accuracy of your senses and wonder, at times, what the hell is even happening. That's the whole point, you just had to be there.
In contrast, Dana Jessen offered a work of welcome and simple beauty, broadcasting a high-fidelity soundscape during which I was transported to a lush and populous meadow at midnight, enveloped by an orchestra of swamp creatures, as low sounds of her partly improvisational bassoon work, rich with vibrato, suggested whales effortlessly traversing biological zones in deep water.
To close it all, sampling pioneer Carl Stone treated the audience to a send off of carefully articulated walls of sound, unleashing at the very end three compositions in quick succession that possessed all the manic energy of the best kind of Four Tet cut; a fusion of restraint and chaos that could be felt in the entire body as a brief tremor of euphoria.
This is deep sound-geek territory, the organizers even going so far as to modulate the voices of the emcees between acts with echo and reverb at random intervals, to occasionally hilarious effect, foreshadowing the innate acoustic and structural unpredictability of what followed. Overall, the selections were perhaps a bit too narrowly siloed in the experimental realm to make the proceedings truly representative of the current local electronic scene. But for the domain it covers (and uncovers), the festival finds its strength in doubling down on the avant-garde.