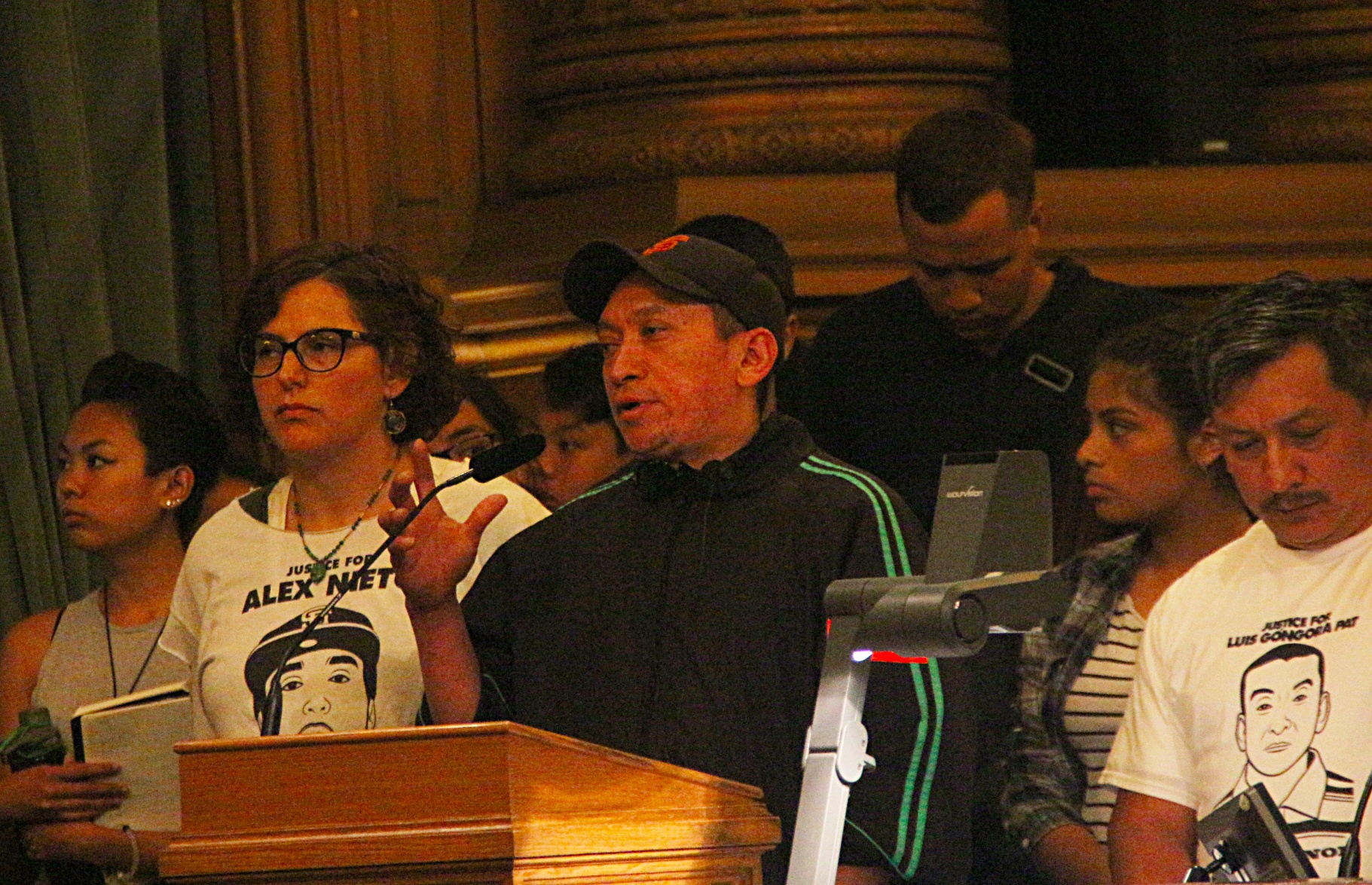 Last week, the San Francisco Medical Examiner's Office  released the autopsy report of Luis Demetrio Gongora Pat, a 45-year-old Yucatec Mayan man who was fatally shot by  San Francisco Police Department officers Sgt. Nate Steger and Officer Michael Mellone on April 8, 2016. 
The report documents the six bullets, allegedly shot within 30 seconds of arriving at the scene, according to video, that ultimately killed Gongora, documents his previous encounters with the law, and includes an in depth summary of his health at time of death. Since the release of the report the family has come forward to dismiss what they call biased and untrue statements in the autopsy report. 
The Report: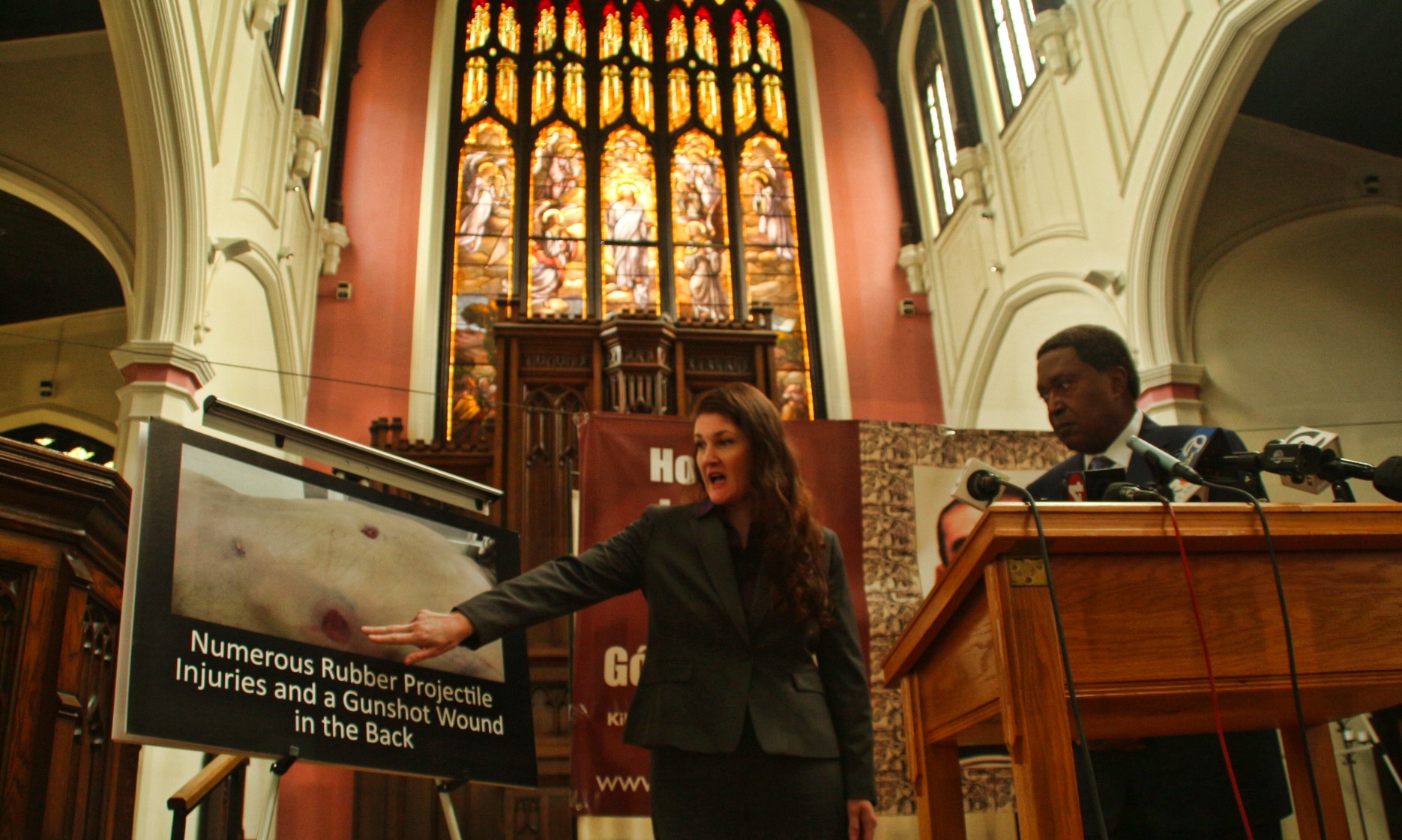 According to the autopsy, the gunshot wound to the head is "downward" facing. In a press conference held in June, Gongora's family attorneys from the John Burris's law office made several disclosures as they filed a claim in the federal court against the city alleging excessive force, violation of civil rights and intentional wrongful death.
One of the disclosures was the downward trajectory of the bullet, now confirmed by the Medical Examiner's Office.
According to attorney Adante Pointe, the bullet's trajectory suggests that Mr. Gongora was down on the ground at the time of the shooting:
If you slow down the clip (CCTV footage of the shooting) (…)you focus on when the officers come back in the frame you would notice that the officer who initially had the shotgun transitioned to his 40 caliber gun is pointing downward and there are actually three shots that this video shows of him aiming and pointing his gun downwards which indicates and proves to us that Mr. Gongora was actually down on the ground when this officer decided to pump three more bullets into his body.
The autopsy also included a number of interactions Gongora had with police in California over the past six years. The most recent in 2015 saw Gongora arrested for stopping traffic by lying down in the street in San Francisco.
The report also notes that there were trace amounts of drugs in his system.
None of that is relevant to this case and there's no clear reason why an autopsy report would include that information except to malign his reputation:
 "The small amount of drugs detected in his body does not change the fact that he was shot by officers who immediately escalated the violence against Luis and shot him six times within seconds after arriving on the scene." said Laura Guzmán a member of the Justice & Honor for Luís Góngora Pat Coalition and expert on homelessness health and policy issues in response to the report. According to an official NHTSA report, the amount of drugs in Luis's system can only be considered recreational
The shooting: 
The shooting earlier this year sparked protests across the city. Multiple eye witness accounts said Gongora didn't present a threat to the police.
The SFPD officers' statement alleges that Gongora lunged at them with a knife and refused to put the knife down when asked.
Shortly after the shooting a video was released from the neighboring building which shows police exit their cars and fire shots at Gongora within 20 seconds of exiting the police car:
The shooting of Luis Gongora sparked a 17-day hunger strike outside the Mission Police Station calling on Police Chief Greg Suhr to step down, holding him accountable for increased police brutality in the city. The group became known as the Frisco Five.
Suhr eventually stepped down from his position after yet another killing. Jessica Williams (nee Nelson) died at the hands of a police gun, days after the hunger strikers ended their strike following 18 days of not eating solid foods.
Local organizers have requested the Mexican foreign mission in the United States to make the case of justice for Gongora to the Department of Justice in the United States of America and the authorities of San Francisco demanding an independent federal investigation and criminal charges against the Sgt Nate Steger and Officer Michael Mellone, the police officers who shot Gongora.
Family and community organizers with Justice for Luis Góngora will be hosting a series of events starting Friday [details of the events are republished below]:
Event #1: Friday Oct. 7th, 10am. Press conference on the 6 Month Anniversary of Luis's Murder by SFPD
WHAT: Family of Luis Demetrio Góngora Pat —a Mayan indigenous father, husband,brother, son, uncle—, refute the biased autopsy report released by the San Francisco Medical Examiner on the six month anniversary of his murder by SFPD officers. They also plan a march to celebrate his life.
WHEN: Oct. 7th, 2016 @ 10a.m.
WHERE: The Luis Góngora Pat Community Altar on Shotwell Street (east side), near 19th Street in the Mission District
IMPORTANT NOTE: Afterwards, we will join the Justice 4 Mario Woods Coalition @ NOON at 850 Bryant Street in a clamor to D.A. Gascón to press charges against killer cops. More information here:https://www.facebook.com/events/153890998400464/
Event #2: Friday Oct. 7th 6pm. Unveiling:"Traditional Mayan Altar in Honor of Luis Góngora Pat, killed by SFPD on April 7, 2016" SOMARTS Annual Day of the Dead Altar Exhibit
WHAT: The family of Luis and the Justice & Honor 4 Luis Góngora Pat Coalition are raising a traditional Mayan altar with an educational element about Luis's killing by SFPD as part of the SOMArts Annual Day of the Dead Exhibit, which theme this year is "A Promise Not To Forget."
WHEN: Unveiling of altars is Oct. 7th @SOMARTS 6-9pm.
Exhibit will stay up until Nov. 5th, 2016
WHERE: SOMArts Cultural Center, 934 Brannan Street, San Francisco, CA
HOW: Purchase tickets for the unveiling of the altars event on October 7th here: https://www.eventbrite.com/e/a-promise-not-to-forget-dia-de-los-muertos-2016-exhibition-unveiling-tickets-27613362310 or come during gallery hours throughout the month for free! Tuesday–Friday 12–7pm, Saturday 11am–5pm & Sunday 11am–3pm  More information at somarts.org/promise
IMPORTANT NOTE: The family of O'Shaine Evans will be celebrating his 2nd Angelversary of being killed by SFPD at 8pm on October 7th, 2016 at the site of his community altar and memorial on Jack London Alley. More information here:https://www.facebook.com/events/1173071472750102/
Event #3: Sunday October 9th, 2016 11am-4pm. Help make A Community Quilt in Honor of Luis Góngora Pat!
WHAT: A community quilt making event in honor of Luis Góngora Pat. The family of Luis in San Francisco and our coalition in collaboration with our community allies at Praxis, Paseo Artístico and Alley Cat Bookstore invite you to help make a quilt in honor of Luis.
The finished quilt will be taken to his hometown of Teabo, Yucatán and delivered on November 2nd Day of the Dead to his wife, parents, and children.
This is a family friendly and community event!
WHEN: Sunday October 9th, 2016 11am-4pm.
WHERE: Alley Cat Bookstore (backroom), 3036 24th St, San Francisco, CA 94110
HOW: Just show up and if you want to make donations contact Praxis (415-800-6601)
Correction: An earlier version of the piece incorrectly said that

Jessice Williams was killed hours after hunger strikers ended strike.

We regret the error.