I met local fashion label Korrupt's Henry Miyoshi and his business-and-life partner John McArdle at a bastion of old school Lower Haight spirit, Cafe International, a couple months ago. We were all reeling from whatever bad news had hit the wires that day, but some hot tea on the back patio and talk about fashion—particularly Miyoshi's incredible story of how he became a designer and built the Korrupt label— was the perfect tonic on a late October afternoon.
Korrupt's aesthetic has been pretty ubiquitous since it launched 13 years ago—the designs, mostly seen on t-shirts, bring a mix of punk attitude and post-apocalyptic glamour, an edgy mashup combining metal, Soviet propaganda, and other typography with etymological, anatomical, and historical imagery. It's something you would wear while scavenging a Mad Max landscape on the way to a basement rock show.
"I grew up in Bangkok. My imagery really stems from collecting beetles there," Miyoshi told me. "Their iridescence and shape fascinated me. I would tear up stickers and put little pieces on each beetle, and watch them move around like glowing tanks." It was an early example of the collage method that Miyoshi would embrace later with Korrupt.
Miyoshi left Bangkok when he was seven—he had what he calls a "rough upbringing" and landed first in Hawaii, and then, after high school, found himself homeless and couch-surfing in Los Angeles. This was in the '90s, and LA was experiencing an underground punk renaissance. Miyoshi was captivated first by the scene, attending tons of shows, and then by the show posters and flyers themselves, with their jumble of imagery and fonts pinched from other sources and then crudely pasted and photocopied, taped to light poles or wheatpasted on walls.
——-
KORRUPT "ENDTIMES" shot at Wasteland Artists' Colony, Alameda | photography Christopher Knox | creative direction John McArdle | crew: Jeremy Stewart, Tandy Kyne, Eric Paulsen, Steph Stokes, and Karen Hanzawa | hair & makeup: Lisa Zomer and Anthony Christopher | accessories/jewelry: Fatal Jewelry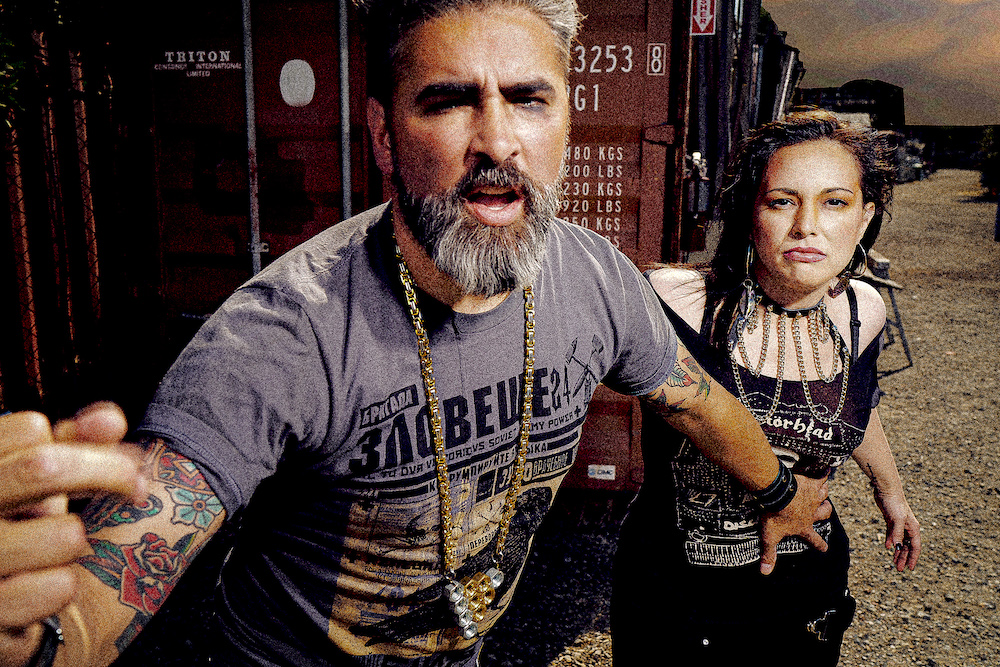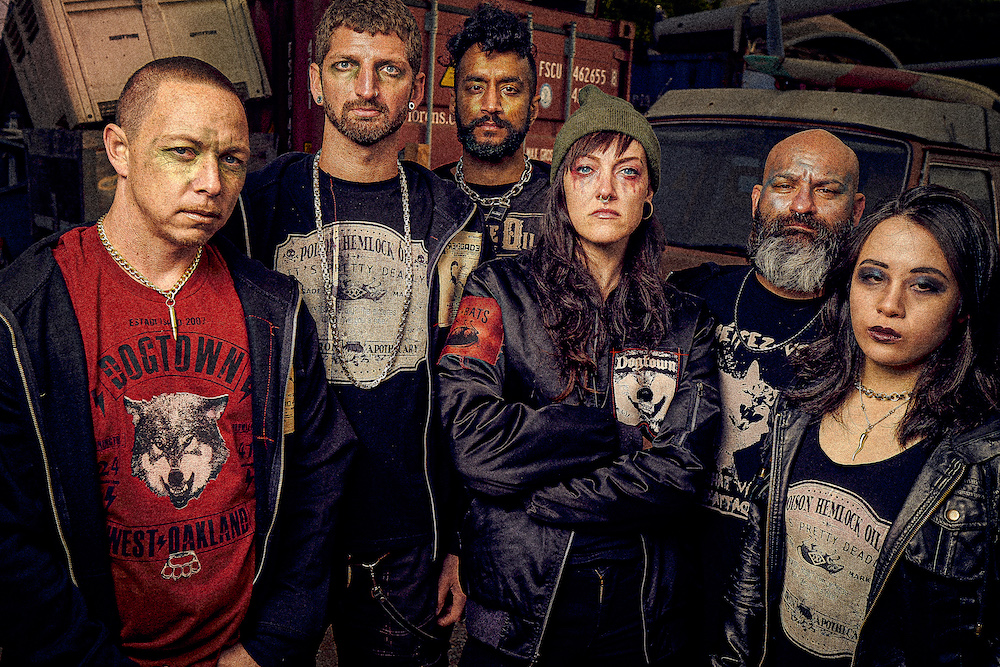 ——-
"I found a real home in the LA punk scene, and thought, I can make these posters, but better," Miyoshi laughed. "The anarchy and freedom of being able to take images from anything and mix them together really connected with me." He would painstakingly cut out pictures and letters and paste them together to make posters and flyers, adding screenprinted details to the mix, which foretold Korrupt's mixed-media style.
Miyoshi carried that aesthetic with him when he moved to San Francisco—he still looks like someone you'd see in a mosh pit, although his slicked-back hair is perfectly placed and his jean and boots are impeccably fitted. By this time he was fully committed to making it as an artist, but like all artists moving here, he needed a 9-to-5.
That took the form of designing window displays, first at Urban Outfitters, and then at Saks Fifth Avenue. It was at Saks that he was exposed to haute couture designers. He had a revelation: "I just thought it was incredible, coming form the punk world, that a designer like Vivienne Westwood could put a safety pin on something and charge $700! I saw so many designers selling things like that, Alexander McQueen and others taking this gritty, gross, punk look and upscaling it for the luxury market."
Bitten hard by the fashion bug, Miyoshi started applying his deconstructive/reconstructive methods to old blazers and other items, ripping off the shoulders, stenciling across them, adding zippers. "I loved the idea of creating not just clothing but wearable art," he said. "A total, unique piece unto itself. It echoed my experience living out of a suitcase, when you had very few items of clothing, and you had to make each one of them count."
——-
KORRUPT "LUX PUNK" photography: Joe Chavarria | creative direction: John McArdle | crew: Karen Hanzawa | hair & makeup: Raven & Rose, Roxy Cotten-Candy, and Anthony Christopher | accessories/jewelry: Yoly Jewelry/Bobbie's Boutique | shot at: Huntington Hotel, San Francisco, CA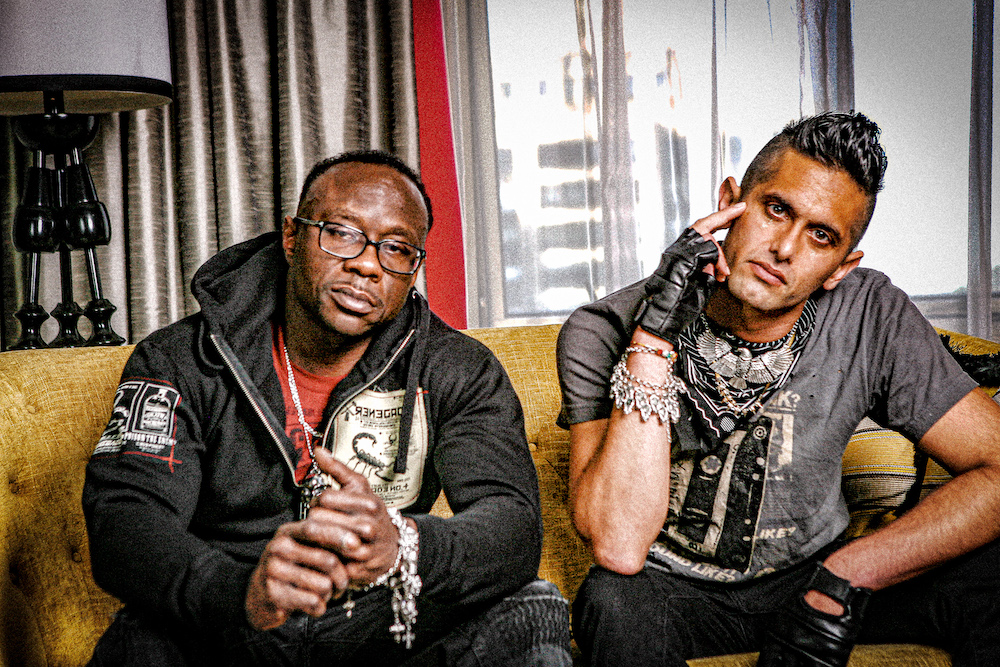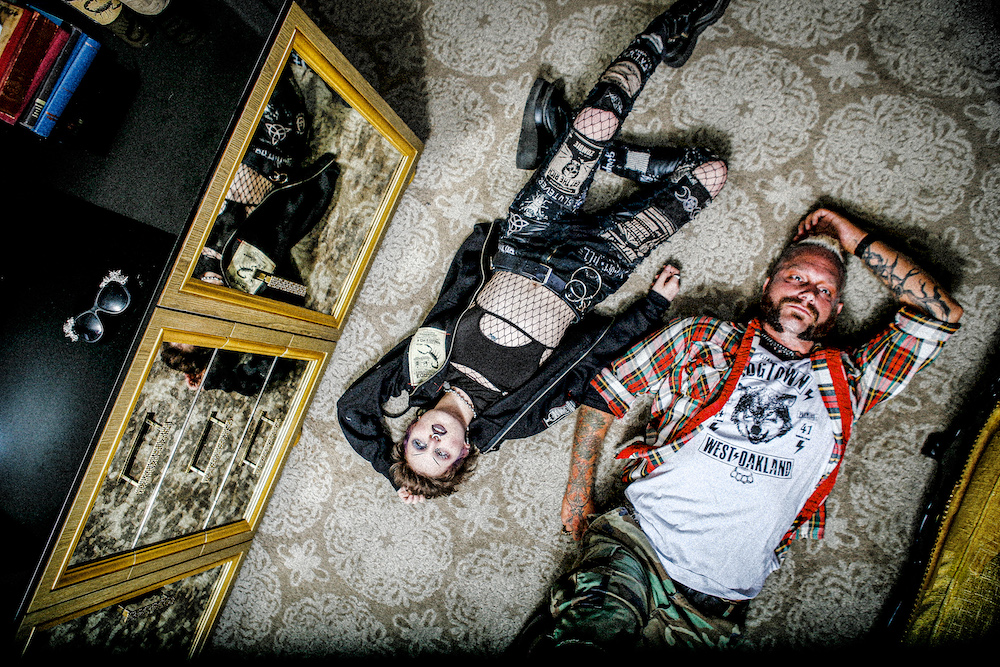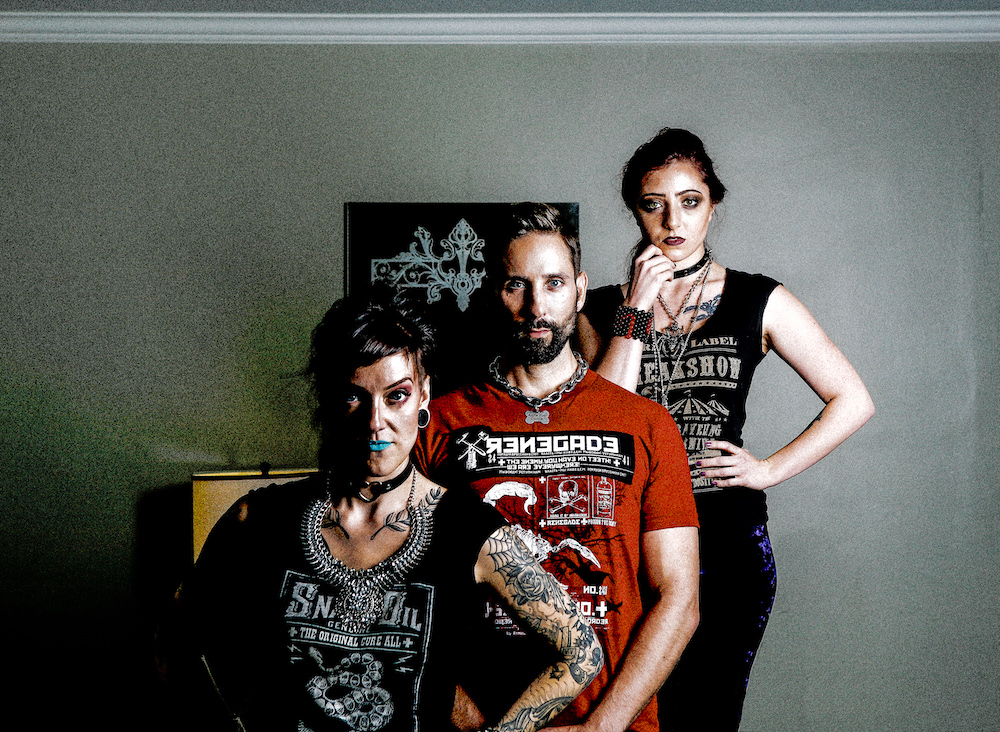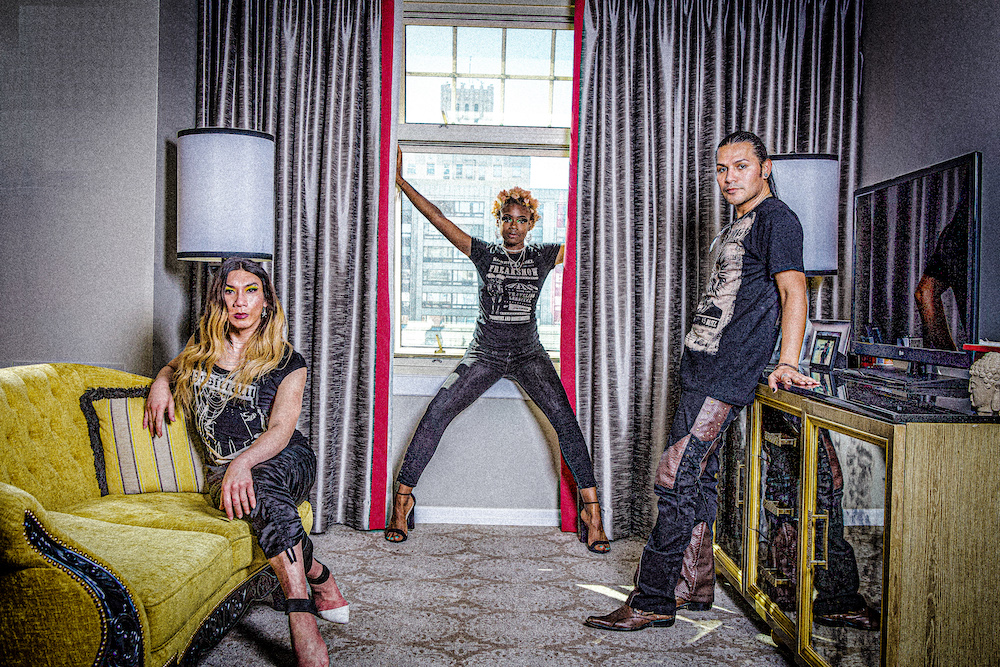 ——
A quick study, he learned about the history of the High Gay Art of Fashion the traditional way: "An older queen I worked with taught me all about the designers and terminology. He was a character who could be quite abrasive, but he took a shine to me and recognized what i wanted to do. He suggested the name Korrupt for my brand."
Miyoshi built a little business selling custom pieces to friends. He was getting increasingly disgusted with the ethics of overpricing items that were meant to be rebellious and took inspiration for street artists. With that in mind, he finally set off on his own with the Korrupt label in 2007. McArdle came on to help him manage his business and marketing.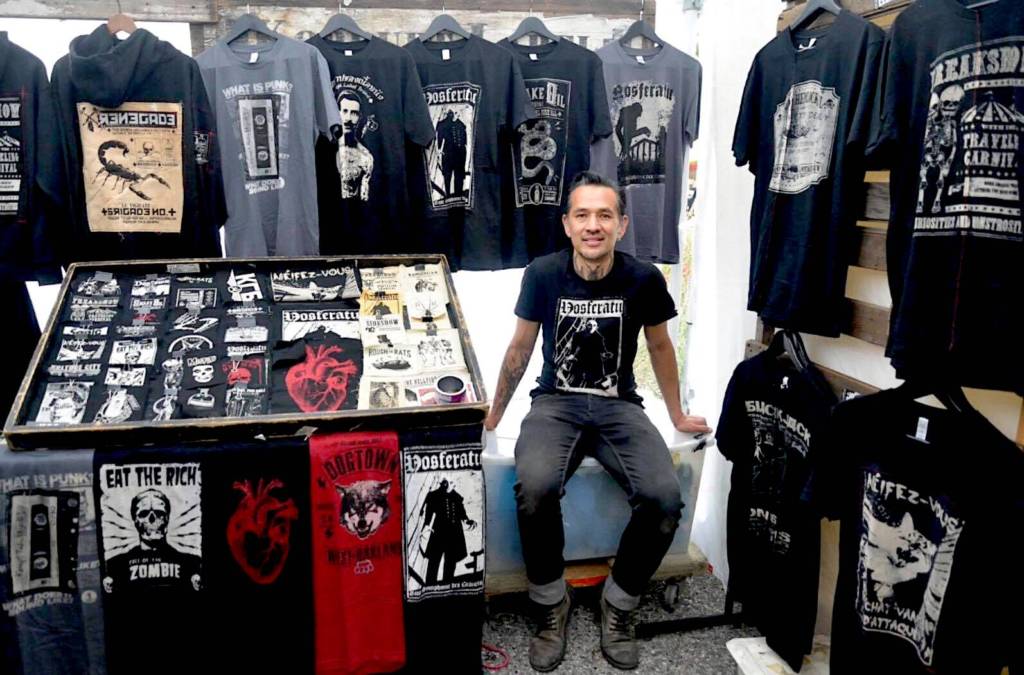 Nowadays, business on Korrupt's website is booming, and while Miyoshi eschews runway shows, he does set up booths at popular street fairs like Folsom and Haight. On his latest t-shirts, slogans and imperatives are juxtaposed with skeletons, insects, old horror movies, and traditional rebel imagery. He pays historic homage to neighborhoods like Oakland's rapidly gentrifying Dogtown, and isn't afraid to get political in some of his designs—his penchant for Soviet imagery, Russian text, and other provocative imagery has come in handy during the Trump regime.
"We have some pretty interesting conversations in the booth sometimes with people of different views," Miyoshi said.
He finds that his "sense of the macabre" and taboo-challenging disposition is comforting in these discomfiting times, which helps him "design from the heart"—even when those designs are literally of a classic anatomical heart. Although his work is mostly screen-printed, many Korrupt pieces have hand-finished touches like sewn-on patches, safety pins and buttons, appliqués, strategic holes, or contrasted stitching. They're also all still mostly designed by hand, with Henry drawing, cutting, pasting, resizing, and collaging before printing.
"I probably should learn to do more on the computer, it would save us so much time," Henry laughed. "But I can't shake that DIY pleasure in making something by hand, born from spending hours over a copier at Kinko's until I get everything just right."
You can fine Henry's designs on the Korrupt Label site.