In January, 2019, a woman called Muni's customer service to complain about what she described as her daughter's alarming interaction with a fare inspector. "She was going to pay with cash and the POP [officer] physically [grabbed] her by the arm and took her off the bus at Union and Columbus," a complaint filed by the customer states.
"The [officer] [started] going through her purse and pulling all the content on the floor looking for her I.D. She was shaken, then POP officer threatened her by calling the police, she was very scared."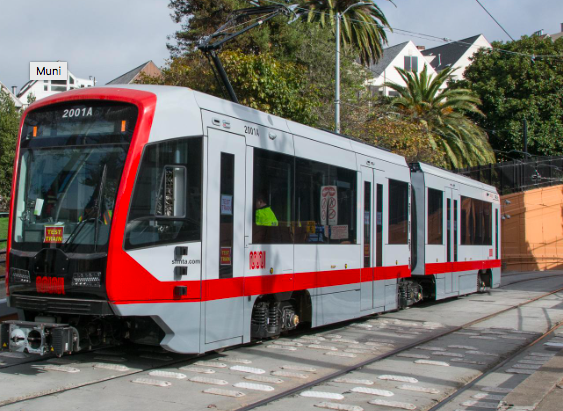 This was not an isolated incident. Over the past three years, records obtained under the San Francisco Sunshine Ordinance show, more than 241 complaints have been filed against fare inspectors — and half of them charge racial or sexual discrimination or harassment.
The complaints charge gender discrimination, profanity, discrimination against people with disabilities, transphobic language, and stolen personal items. In almost half of the complaints, patrons claimed emotional and in some, physical harassment.
In at least 16 of 90 discriminatory complaints, riders reported inspectors seizing personal belongings such as wallets, Clipper cards, and most often, identification cards.
This is most likely a tiny sample of the problem. According to the customer service training program at First Financial, only 4 percent of American consumers who are treated badly by institutions take time to file complaints. By that standard, there could be 6,000 unreported incidents from December 2016 to early April 2019.
The fare inspector program began in 1999 as a way to halt SFMTA's financial losses from fare evaders. According to the Chronicle, the program brings in around $2.5 million a year in citation payments.
But an analysis of inspectors' salaries and benefits from Transparent California shows an average pay rate of $113,251, so with 50 inspectors, the program costs $5.6 million – twice what it yields in revenue.
And according to the Examiner, fare inspectors are pressured to issue tickets to meet what amount to quotas.
Of course, the threat of a ticket is supposed to encourage riders to pay – although according to Hoodline, the inspectors tend to limit their work to areas pretty close to their own headquarters.
Page two of the SFMTA fare inspector training manual lists the words "respect," "inclusivity," and "integrity" as core values of the proof of payment unit. But the list of complaints is alarming.
In December 2016, a patron filed a complaint alleging an inspector called them a racial slur after being targeted by a white inspector. "I choose to keep my name anonymous, because I am frankly embarrassed and truly disappointed in the actions and behavior of this officer and do not feel comfortable sharing my name," the patron wrote in the report.
"Being a black man, I felt targeted for no other reason than race," he added.
In another complaint from October 2018, a rider detailed an incident in which an officer voiced transphobic language toward the patron's family member during a bus inspection on the outbound 27 Bryant.
In some complaints, riders claim their personal belongings were taken from them or rummaged through. People with disabilities describe being harassed or yelled at by inspectors. In some cases, patrons claim inspectors physically pulled them out of their seat or off the bus.
In an incident from February 2019, a mother complained she was carrying her baby as an inspector placed their hands on her body and pushed her toward the sidewalk.
The agency has redacted around 20 pages of its fare inspector training manual from the public, keeping its policies and motives hidden from those outside of the organization. Whitney Smith, a Muni union shop steward, said it could be because of changes being made to the program.
"There's changes being made to our department almost every day," Smith said.
According to the SFMTA's public record online portal, the agency cites personnel, medical, and legal files as means to redact public information.
When a rider decides to file a complaint against an inspector, they are directed to a feedback form and drop-down menu of seven forms of complaints. Of the seven, the label "Discourteous/ Insensitive/ Inappropriate Conduct" accounts for almost half of the complaints. Others include "Criminal Activity" and service-related tags.
While most of the cases' resolution information is redacted from the complaints, the words "No Merit/Dropped" appear in several forms. Smith explained these cases were investigated and the rider was found at fault. Several dropped cases involve claims of severe discrimination.
A complaint from February 2018 alleges an inspector targeted a man who was Black on the 22-Fillmore bus route. "Was only African American man on bus and, no one else was humiliated like this," the form reads.
The case was dropped within two days with a no merit code.
The same day, a rider claimed inspectors targeted people with disabilities. "They rudely [asked] ONLY [DISABLED] riders to take out their cards and ID. [Elderly] man was asked rudely and [asked] for more ID," the report reads. "People with transfers or regular clippers cards were NOT discriminated against. Please STOP harassing disabled…"
Several complaints from riders involve inspectors allegedly stealing identification cards. In a February 2019 incident, a rider was ticketed and said they had their California state ID confiscated. In March 2019, a patron wrote that an inspector threatened to write her a ticket and took her ID. She wrote, "I need my identification back, it is not fair for her to take my documents without my consent."
During the hazardous wildfires of November 2018, a rider called in a complaint claiming an inspector harassed a person who appeared to be homeless. "I had offered to pay her fare. The officers then took the lady off the bus and the lady was screaming please don't kill me," the form reads. "I was trying to help the lady out and the officer threatened to have me arrested for trying to help this homeless woman out. The air quality is bad and I can understand why people are trying to ride the Muni."
According to the agency's training manual, proof of payment inspectors do not have the authority to arrest people.
In March 2019, a rider called in a complaint against an inspector who forced them off the bus as they were paying the fare. The patron was on the phone with their sister who was recently admitted to a hospital. They were on their way to meet her. After the experience, the patron wrote they could hear the inspectors laughing. "These people make you feel dehumanized," the rider wrote.
Most disciplinary actions for inspectors begin with just a warning. "It's progressive discipline, it all depends on the situation and circumstance. Some situations are more severe than others," Smith said.
When asked for an example, Smith said, "A fare inspector just got a written warning for their behavior and how they talked to a patron, which was inappropriate, it was disrespectful. And when you're on the job, you have to remain professional and be courteous to the patron. And this particular fare inspector wasn't courteous and they got disciplined, they got a written warning."
"You're not going to get terminated off the bat unless it's severe," she added.
According to Smith, severe actions would be in the realm of physically touching a patron or taking money from a patron instead of citing them.
A March 2017 complaint described a patron warning an aggressive inspector of their intent to report him, only to hear "So what, nothing is going to happen," in reply. Several forms detail incidents in which inspectors threaten to have the patron arrested by San Francisco police officers.
In March 2019, a complaint alleges, an inspector took a rider's bank card from their hands and refused to give it back. When the patron said they would call the police, the inspector said "good maybe they will arrest you." Later, the patron said the inspector "came back and threw my ID at me and said go ahead and call the police and get yourself arrested."
The Examiner reported in January 2019 that Dolores Blanding, an "ombudsperson" appointed by Mayor Breed to investigate the transportation agency, found several cases of unresolved misconduct by SFMTA employees.
"A number of MTA employees and managers described bullying and verbally abusive behavior as being tolerated in the workplace," Blanding wrote in the report. "It has been described as a culture of silence."
Muni's top official, John Haley, retired in October 2018 after several women came forward to claim sexual harassment against Haley. The retirement came one month after his assistant sued the agency because of Haley's harassment, according to the Examiner.
We made numerous attempts to get a comment from Muni regarding our findings, but the agency did not respond.
Muni union president Roger Marenco sees the transit issues coming from SFMTA's lack of oversight and contentious environment. "At the moment, Muni is in a state of debacle. It is in a downward trajectory, unfortunately," Marcenco.
Marenco said he believes Muni's board members possess too much power with little consequence. "It is a culture of complete autonomy and there's no scrutiny over them when it comes time to make decisions," Marenco said. "There's no accountability."
The safety of Muni patrons is also a major concern of Marenco. "Things continue occurring in the exact same manner, pertaining to health and safety and nothing is being done about it," he said. "These issues are not being addressed. Issues pertaining to safety with the general public are not being addressed in an adequate manner."