With her shock of hair and electric violin, Laurie Anderson is an instantly recognized avatar of '80s cool, although of course her pioneering electronics-based music, performance, and staging continue to have enormous influence. And she, like others in her circle of avant-garde NYC pioneers with broad appeal (John Cale, David Byrne, Meredith Monk), definitely lets no grass glow under her feet.
On Fri/24, she warmly took the stage at SFJAZZ in a colorful patchwork robe that immediately summoned vintage chic, accompanied by Albanian-born cellist Rubin Kodheli. While Anderson's trademark head-mic was missing and she used only a few lighting effects, a couple tablets and pedals, and (occasionally) a projection screen, the two performers conjured a mesmerizing evening, weaving hypnotic, melodious lines on their strings and a keyboard as Anderson reminded us of her giant strengths: She's probably our best storyteller, and damn funny to boot. The audience—artsy, jittery, diverse—was in the palm of her hand.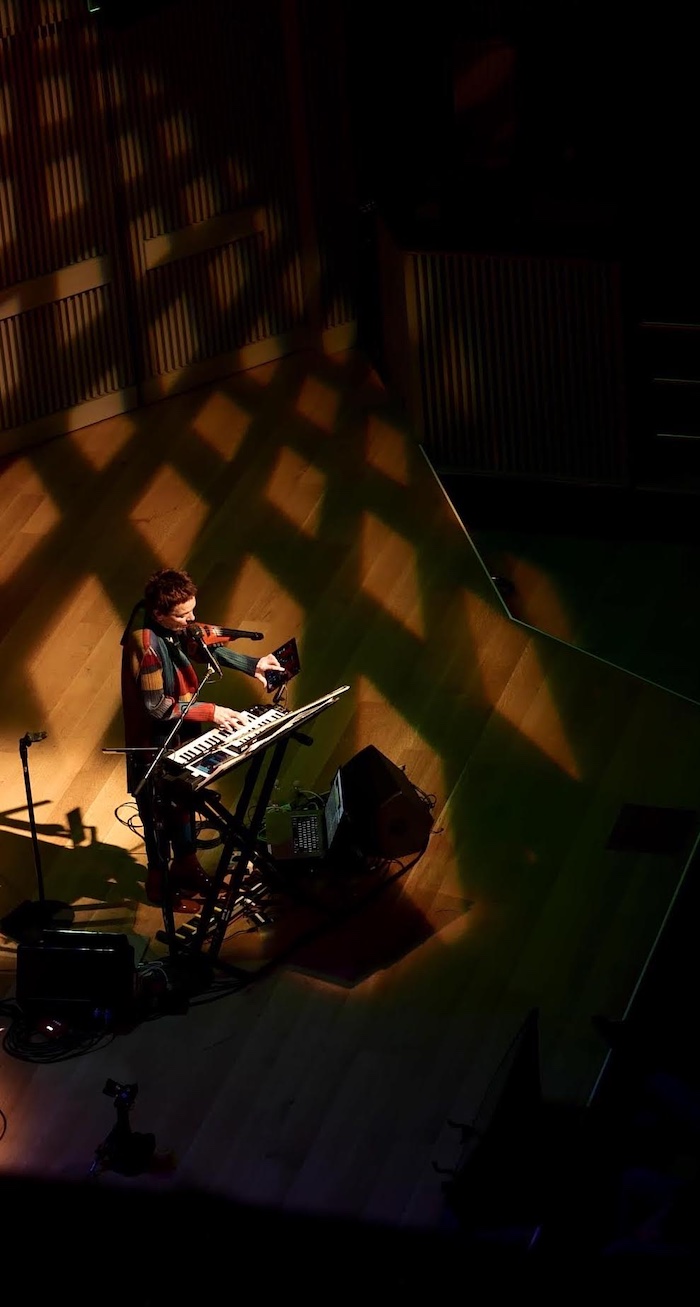 The evening was part of a four-night residency, and Anderson didn't phone anything in—although you can imagine even this being exhilarating. She leaned on her more improvisatory side for four different programs featuring four different lineups, concluding with a solo show that premiered snippets of her new book. On Friday, first she talked us through a marvelous dream-story before taking us through the virtual reality world called "Chalkroom" she designed with artist Hsin-Chien Huang—an environment of ever-morphing words that involves, at one point, a donkey on the moon. "For some reason I have to keep reminding people new to the game that there are, in fact, no donkeys on the moon," she deadpanned with that classic, irresistible little side-eye.
The loose, shaggy-dog show took a turn in the middle, snapping into an extended guided meditation. Anderson told us she met Kodheli at an impromptu jam session based on the Tibetan Book of the Dead. "Someone was playing the most interesting bits, and I finally asked, Who are you" she quipped. Then they dipped for about 25 minutes into that eternal instruction manual for suspension in the bardo—the state right after death—full of colored lights, Buddhist deities and spirits, and rhythmic cadences.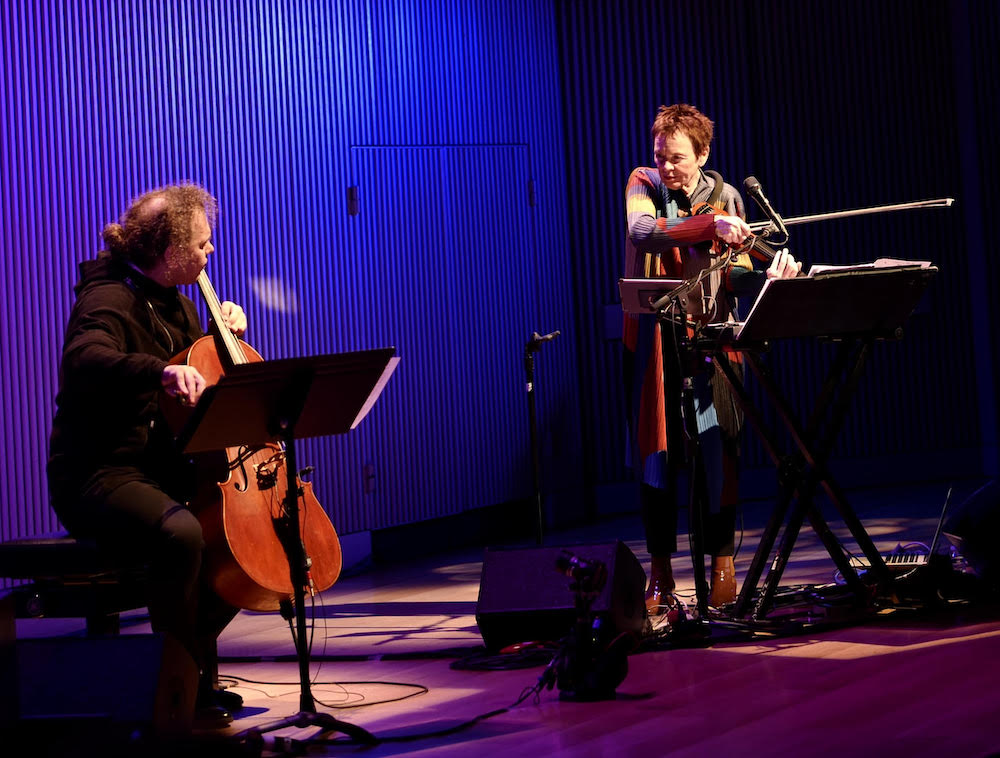 It was entrancing—and emotionally affecting, if you recall that Anderson's husband, Lou Reed, died in 2013 "looking at trees and doing the famous 21 form of tai chi with just his musician hands moving through the air." When she flipped on that special "O Superman" voice effect for a moment during one incantation, a shiver of nostalgia hit. (I did wish I had grabbed a bigger toke on the way in for all this.) "She's an electro-shaman now" someone said in German on the way out. Add that to Anderson's genius repertoire.
*****
A different kind of nostalgia took hold when Gina LaDivina dazzled on the Oasis stage on Sun/26 with her solo show "An Evening with Gina LaDivina." A legend after several decades of performing in drag venues—the term "drag" just doesn't seem quite appropriate for Gina—it was an absolute joy to relax into several numbers by her and guests Dulce De Leche (in fine voice singing live) and Katya Smirnoff-Skye (doing her hilarious Russian countess schtick before launching, inexplicably, into a well-executed Alanis Morissette medley).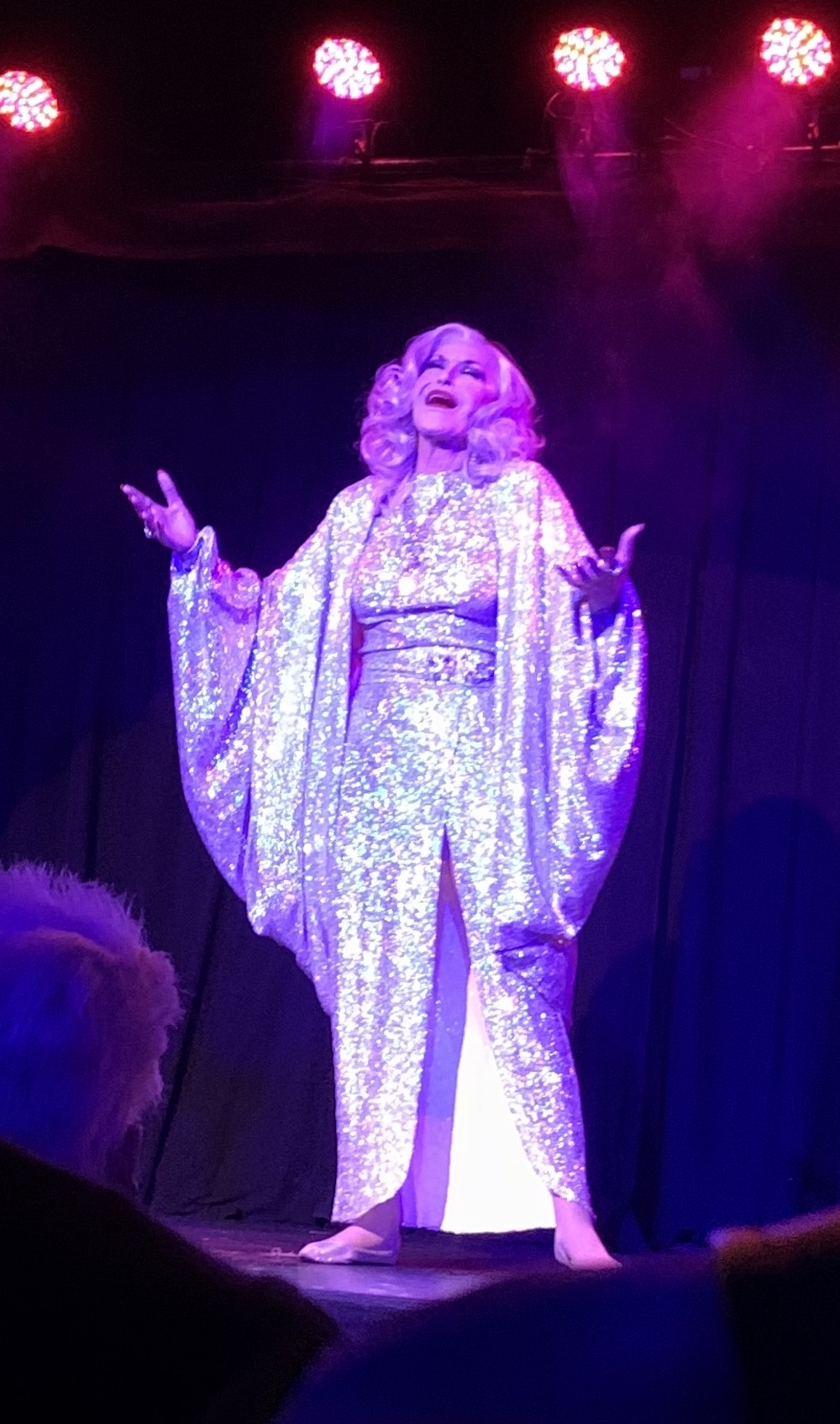 From her impeccably styled blonde locks to her overwhelming preference for Shirley Bassey, LaDivina is a brassy stage presence whose "it" factor wraps you up in glamour and transports you to an enchanted world. While the crowd was full of familiar gay-club faces and fabulous eccentrics from a different age, I was obsessed with watching the reactions of two younger people in the front row. LaDivina's is a classic act, so far removed from our RuPaul moment that it could reside on another, more sequined planet. (In fact, her presence is so strong that her occasional flirty, Mae West-like patter seemed a bit out of place—I'd love to know more about the woman herself.)
But through the sheer power and precision of her vivid lip-sync performance—including big numbers like a Bassey cover of Pink's "Get the Party Started" and, appealingly, a Disney number and the theme from Goldfinger—they were soon hopping out of their seats to tip her. Talk about royalty: At one point Gina just perched on the side of the stage and the entire crowd lined up to give her money. All that was missing was a throne (although several incredible shimmering outfits confirmed her status as a queen).
She deserves to be showered in silver and gold, and I hope she returns to Oasis, or another theater. This is a fast-disappearing art, and to have LaDivina float before us on a stage of her own was a privilege.