For the last few years, the Chinese Culture Center (CCC), has been working to democratize how art is experienced, says curator Hoi Leung. The Center opened a gallery in Chinatown called 41 Ross, started to project art onto buildings, and displays temporary exhibits on the bridge between the gallery and Portsmouth Square. 
"Chinatown is like a museum, but instead of looking at objects in the museum, it's stories and people and history," she said. 
That's one reason that Leung feels Christine Wong Yap's project Art, Culture, and Belonging in Chinatown is so important—it tells the stories of people in the community and the history of Chinatown.
"During COVID and Black Lives Matter, Christine as an artist has been really responsive to issues at hand," Leung said. "With the stigmas around Chinatown and the virus itself, we're thinking about how to bring the notions of belonging into the conversation."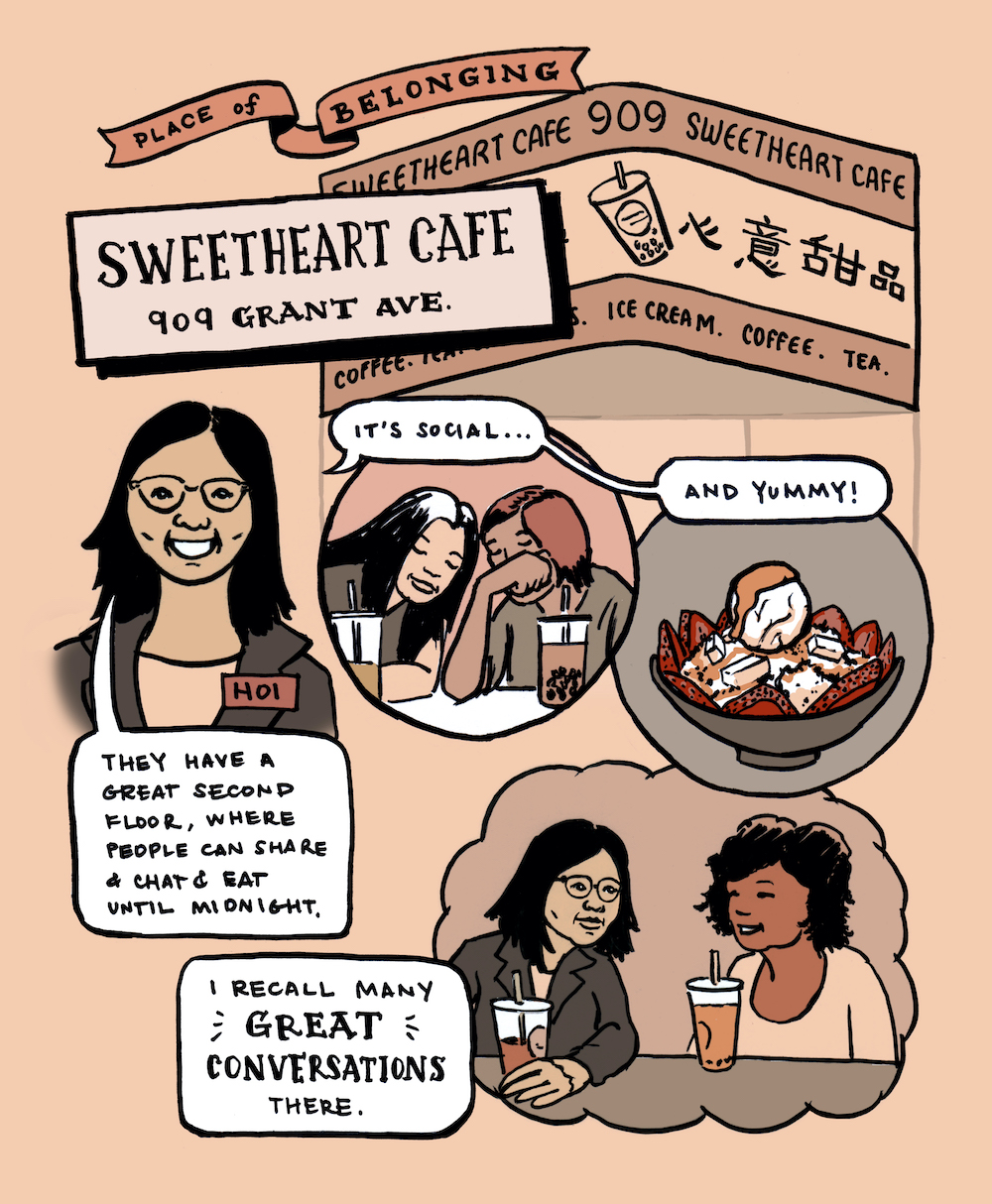 Wong Yap partnered with CCC to ask people various questions about how they feel connected to Chinatown, in part to counter xenophobic narratives, Wong Yap says. Some of the things she is asking people to respond to include a poll on if they prefer milk tea or fruit tea, and Chinatown's Grant Street or Stockton Street.
Other activities include sharing a photo of a written message about your relationship to Chinatown, making a video telling about a memory in the neighborhood, or marking a map of Chinatown with places that are special to you and why.
(As she explains on her website about the project, in a past piece about egg custard tarts and memories of a beloved grandmother she prompted participants with "Maybe you feel a connection to your culture when you enjoy a BBQ pork noodle soup, drink boba tea, or snack on green tea flavored Pocky. Perhaps the sound of lion dancing brings back memories of your childhood apartment. Do you express yourself through ink paintings, anime, or Dance Dance Revolution? Do you bond with friends by reminiscing about Cantonese operas, discussing pop stars, or learning about traditional medicine?)
The project was meant to open at 41 Ross in May, but due to COVID-19, it has instead been on CCC's Instagram stories.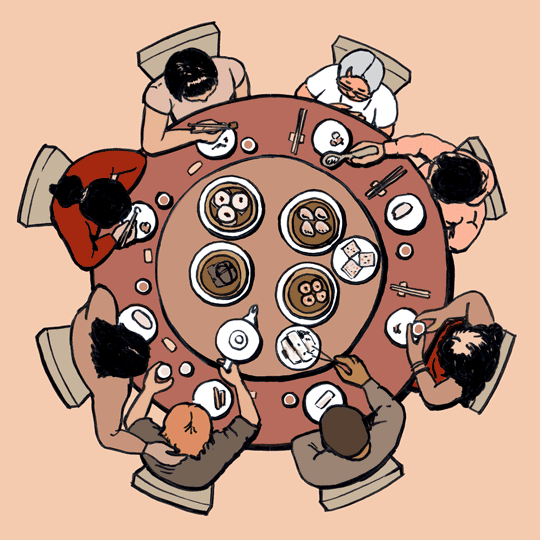 Wong Yap, who now lives in Queens, spent years in the Bay Area, where she attended the California College of Arts, getting her BFA and MFA. She started exploring belonging after the 2016 election, when she felt many people were being told they didn't belong here. 
She launched a project at the Sanitary Tortilla Factory in Albuquerque, New Mexico, asking people where they felt a sense of belonging, and then an expanded version at the Othering & Belonging Institute at UC Berkeley when she had a residency there. 
Not too surprisingly, with this project a lot of respondents said they feel connected through food and drink—remembering certain places they would go with family and friends and drink green tea and eat egg tarts or pork noodles.  "People love to eat and drink," Wong Yap said. "They talk about it being a way to connect with family and celebrate."
Through this project, Wong Yip was invited to participate in 100 Days Action, consisting of a group of activists and artists creating art in storefronts for essential workers. Her piece, Hopes for Chinatown, is now in the storefront of Dragon Seed Bridal and Photo near Chinatown's Portsmouth Square.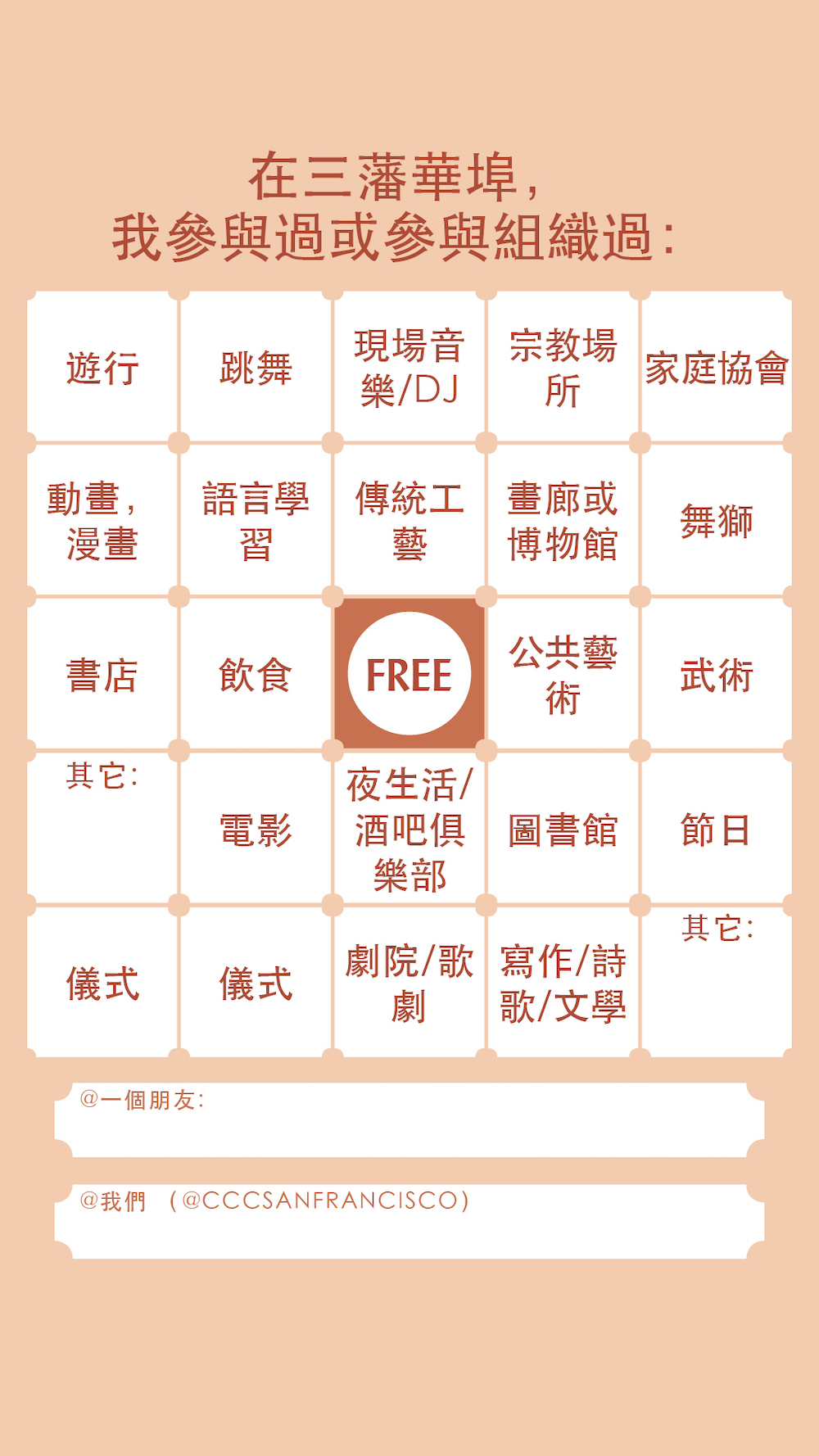 Leung says the messages are about less discrimination and more understanding—as well as feeling safe in the community, which is essential to a sense of belonging, Leung says.  
"I always frame it that I think San Francisco's Chinatown has one of the best infrastructures with exemplary direct services organizations," she said. "Then we need art to bring in nourishment for your soul, so you can be your truest self. You can't do that unless you feel safe."  
The curator and the artist hope that the exhibit will be in a gallery in the fall. Wong Yap is also working on a comic of the stories she has gathered. In spite of the limitations imposed by COVID-19, she is glad to be working on the project and that her work hangs in an iconic spot. 
"It's been very rewarding to me to be able to be in service to the community at this time, when we're socially distant and going through economic struggles," she said. "Doing this project with 100 Days of Action and having Hopes for Chinatown near Portsmouth Square, which is a super popular place is part of the reward."
HOPES FOR CHINATOWN
Public Art for the Art for Essential Workers initiative
735 Clay, SF.
ART, CULTURE AND BELONGING
CCC's Instagram stories