On Monday afternoon, more than 100 high-school aged youth marched through Shattuck Avenue and Adeline Street in Berkeley, parading behind a truck blasting "Fuck Tha Police" by N.W.A and chanting "No justice, no peace. Defund the police!" as they travelled from Bushrod Park in North Oakland to the Berkeley police station, where they staged a sit-in that lasted into the night.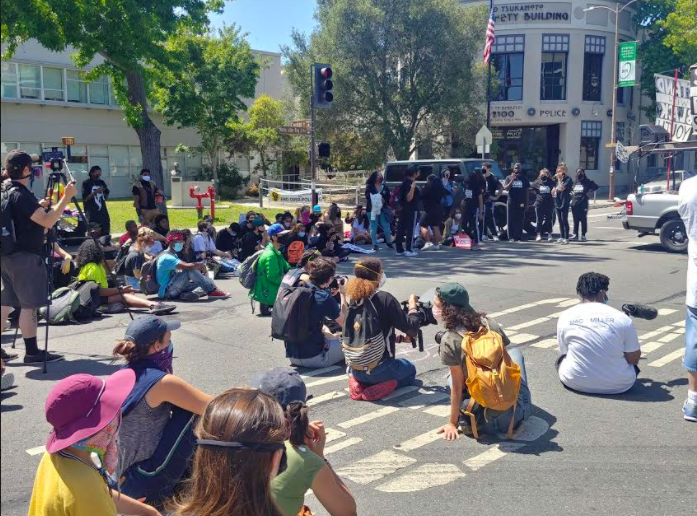 The march and sit-in were organized by Youth Protect the Bay, a group led by young Black women focused on advocacy for the Black community in the Bay Area. Organizers said that it is imperative for youth to try and advance political change in their neighborhoods because they will inherit the issues that communities face today as they come of age.
"We're going to be the ones around later, the adults are not going to be here. We need to be heard regardless of how old we are and where we are from. It's important that we take action," said Dinah Cobb, an organizer from Youth Protect the Bay and a student at Oakland Technical High School.
Protesters demanded that the city reduce the $72 million police budget and shift and the surplus funds to community resources.
Berkeley has already diverted some funding from police, with the City Council approving a $9M police budget cut as a part of the 2021 city budget on June 30. That budget also earmarks funding for fire prevention, police call and response data analysis, housing retention, homelessness solutions and African American Holistic Resource Center planning and design. Although organizers from Youth Protect the Bay acknowledged the move as progress, organizers said more should be cut and reinvested in other public services, especially schools.
"It's a step in the right direction, but more money needs to be taken out. It's going into homelessness services and stuff, but we need to put more into teachers and schools, a lot of schools don't have resources and have old textbooks that are falling apart," said Cobb.
Youth Protect the Bay also brought attention to the Berkeley City Council member Rigel Robinson's initiative to remove police from traffic enforcement by creating the Berkeley Department of Transportation, saying that it does not go far enough.
Called "BerkDOT: Reimagining Transportation for a Racially Just Future," the measure attempts to prevent racial profiling of Black drivers by police, which can lead to violent encounters during traffic stops, by using unarmed agents enforce local traffic laws. The measure is included in a proposed budget which allocates $200,000 to support the "Reimaginig Public Safety" plan.
In addition to traffic stops, Cobb said that that police presence should be removed from responses to homelessness and from Bay Area school districts.
"It stressed me out when I would walk to get lunch and they're just like, there. It's just not okay," said Cobb. Oakland Unified School District has eliminated their police department, but other Bay Area cities have yet to follow.
To help reduce police presence around public health issues, organizers also urged protesters to support a resolution introduced by District 2 Councilmember Cheryl Davila, which will be voted on during the July 14 City Council meeting. The resolution calls for non-emergency calls normally handled by police, such as addressing homelessness, mental health, and domestic violence, to be handled by specialized staff with appropriate training, similar to the CAHOOTS program in Eugene, Or. Currently, between 35 and 40 percent  of calls to Berkeley police are related to mental health, according to Berkeley's police chief. Most notably, however, the resolution calls for the BPD budget to be reduced by at least 50 percent, with those funds invested in youth/community programs, housing and homeless services, and public health services, among others.
"[50 percent] is what the community has been asking for, around the country," said Davila.
Because the City Council passed the 2021 police budget last week, the next city police budget where they could explore funding reduction would be for the budget for fiscal year 2022, although Davila said that reductions for UC Berkeley's police force come November may fall under the resolution.
To help the resolution pass, Youth Protect the Bay urged protesters to send emails to Berkeley City Council Members who vote on the resolution Tuesday evening. An email template is available on the Youth Protect the Bay Instagram page.
"Bombard the fuck out of Berkeley [City Council] with those messages… We're gonna make it get passed," said one of the organizers.