Four months into the COVID crisis (with no end in sight yet), many film festivals and organizations have had time to come up with alternatives to completely canceling their planned programs. This week brings three scaled-down, primarily online-only such events from the SF Jewish Film Festival, SFFILM and Pacific Film Archive. While you will no doubt miss the community experience of seeing them at a public big-screen venue, the JFF's Cinegogue Summer Days, SFFILM's Hong Kong Cinema and PFA's Romanian Cinema retrospective offer sizable home-viewing consolation prizes for the shutdown's prevention of regular theatrical presentations.
The four-day Cinegogue schedule July 16-19 may represent a considerable reduction from the Jewish Film Fest's usual full month of shows traversing the Greater Bay Area. But it's still a substantial bill of fare that will keep you busy for a long weekend, with nine features (most accompanied by filmmaker Q&A's) as well as several special events. Among the latter are self-explanatory "Unruly Women: Jewish Female Characters on TV," a discussion with Pulitzer-winning New Yorker writer Emily Nussbaum, and a "very special bake" with Tiffany Schlain of online cooking/talk show #ZoomChallahBakes.
Two simultaneous opening nights are the only off-line events, taking place at that unlikeliest of beneficiaries from the epidemic: The drive-in. Concord's West Wind Theater will kick things off this Thursday with Abby Ginzberg's Truth to Power: Barbara Lee Speaks For Me, about the veteran California Congresswoman's long career of progressive activism inside and beyond the official corridors of government power. At the same time, San Jose's West Wind Capitol will play Oren Jacoby's On Broadway, an overview of the prodigious role Jewish talent has played in our nation's fabled leading showcase for commercial theater.
Other documentaries to be shown (some available throughout the Cinegogue's timespan) include portraits of semi-retiring SF Symphony music director Michael Tilson Thomas (Where Now Is), African-American rabbinical student and antiviolence crusader Tamer Manasseh (They Ain't Ready For Me), and two filmmakers' confrontations with their own complex family histories (Irmi, Love & Stuff).  Narrative features encompass Emma Seligman's racy US comedy Shiva Baby, and Barnabas Torth's Hungarian drama Those Who Remained, about the poignant bond just after WW2 between a Bucharest doctor and a teenage girl who each lost their entire families in the Holocaust.
Then there's the century-old Broken Barriers, the first American screen adaptation of a Sholom Aleichem story—this one expanding on plot piece later familiar from Fiddler on the Roof, in which the dairyman Tevye (here named Tobias) is dismayed by his eldest daughter's falling in love with a Russian gentile. Long thought lost until recently, and a charming find despite some histrionic heavy-lifting, its restored print will be accompanied by a newly commissioned score by Sascha Jacobsen. For info on the full program, tickets, etc., go to jfi.org/summerdays.
—-
SFFILM's annual showcase for recent Hong Kong Cinema will also feature live-streamed filmmaker Q&A's for each of the four features in 2020's online-only edition. By the time you read this, the first (Crisel Consunji's Still Human) will have already happened on Sun/12, but three remain. Wed/22 brings Ray Yeung's Suk Suk aka Twilight's Kiss, which also just played Frameline's online festival. In it, in which two closeted Hong Hong men (Ben Yuen, Tai-Bo)—one divorced, one still married, both with grown children—try to find space amidst their familial and other obligations to love one another after meeting in their 60s. It's a fine drama that situates its characters at a generational, political, and private crossroads without preachiness or contrivance.
Likewise admirably low-key is Wong Chun's 2016 Mad World (Wed/29), in which an institutional bed shortage forces a bipolar ex-stockbroker (Shawn Yue) back into "the world," as well as his estranged working class father's (Eric Tsang) cramped flat. Moving back and forth in time (the younger protagonist's mother also had serious psychological issues), Florence Chan's screenplay offers a graceful treatment of mental illness and societal prejudices against it. Considerably more lightweight in dealing with disability issues is Chun Wong's Lion Rock (Wed/Aug. 5), whose climber protagonist refuses to give up when a motorcycle accident leaves his legs paralyzed—indeed, he insists on training to conquer a famous peak, even if in his wheelchair. It's based on a true story, though the often broad seriocomic treatment makes things play out rather formulaically. Click here for tickets and further info.
—-
Culled from a larger touring retrospective of twelve features spanning the length of Romania's post-Iron Curtain screen renaissance to date, the Pacific Film Archive has four films in its Romanian Cinema "Streaming Spotlight," all available as of Mon/13. The late Lucian Pintilie's 2003 final feature Niki and Flo provides a suitable capstone to a career that began amidst the Eastern European New Wave of the 1960s, slowing down greatly during the grimmest later Ceausescu-regime years before rebounding with 1992's celebrated The Oak. His swan song is a deceptively casual drama in which a mild-mannered former Army colonel's sense of losing control—over his family, his social status, his country—gets exacerbated by an in-law whose bullying domination is so automatic he probably doesn't even realize he's doing it. Submerging political commentary into domestic personalities, it's an ultimately disturbing portrait of how history's relentless march leaves whole lives discarded in its wake.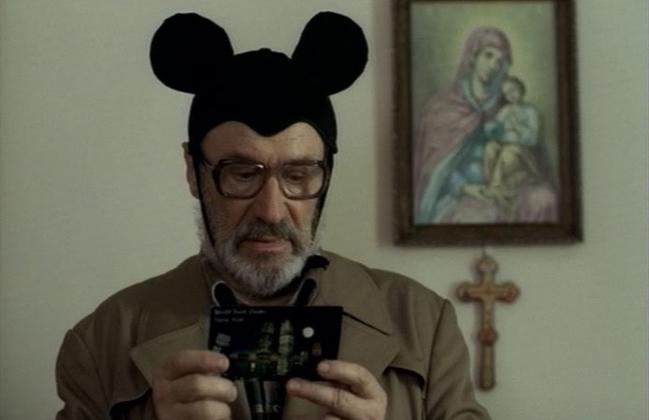 A fascinating nonfiction is Alexandru Solomon's 2004 The Great Communist Bank Robbery. So unprecedented was the titular crime in 1959 that when masked, armed assailants stole a cool million in transit, the National Bank vehicle wasn't even locked, or guarded. When the apparent thieves were finally identified (albeit not before many innocents had been brutally "interrogated"), they were made to portray their own deeds in a film that same year literally called Reenactment. What that official version of events carefully excluded, however, was the fact that the soon-to-be-executed "gangsters" were all current or past high-ranking Party members. They were also all Jewish—and thus prey to the anti-Semitic policies of not-yet-ebbing Stalinism. Thus they had a particular political purpose in risking all, though that reason was erased from public awareness.
The other films in the PFA series, unavailable for preview at presstime, are Radu Muntean's 2006 The Paper Will Be Blue, a quasi-verite look at the totalitarian regime's chaotic final hours from the viewpoint of a paramilitary policeman who decides to join the revolutionists; and 2001's Stuff and Dough, a Jarmusch-influenced road movie made by Cristi Puiu before his international breakthrough with blackly comedic The Death of Mr. Lazarescu. More info here.