I've known Daniel Ben-Horin for many years – as  journalist, as the head of Media Alliance way back in the days when I was a young reporter, and as something of a nonprofit tech entrepreneur.
I had no idea he could write a novel.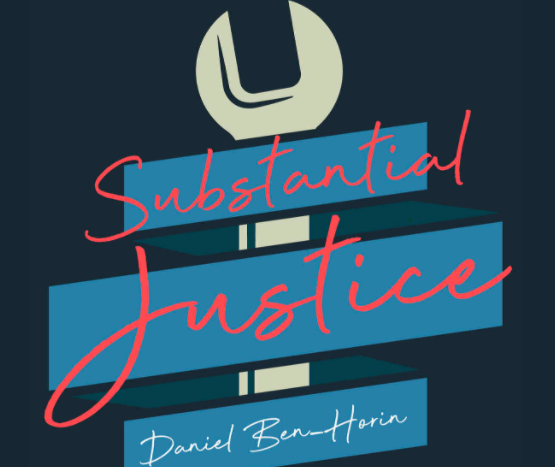 But he did, and it's called Substantial Justice, and it's based in 1985 San Francisco (and my neighborhood, Bernal Heights) as well as the Great Green North, where they were growing lots of weed in the midst of lots of craziness, and it's just … a lot of fun.
Every work of fiction doesn't have to be profound or contain some grand truths or historical analysis, and this one doesn't. The history is mostly accurate, but not entirely, as befits a novel.
And as I read it, I thought: Who cares? This is an engaging story of two weird protagonists, and a lot of other weird characters, at a time when the city and its northern neighbors were full of both.
Our hero is a car mechanic named Spider, who runs the New People's Garage on Cortland and loves the suspension on Citroens. (I am not a Citroen fan, but I am a fan of upstart hippie car-repair places in the 1980s, since that's how I paid my rent before I got a job in journalism.)
Spider was in love once with Siobhan, who left him to go to New York and become a lawyer, and is now back after ten years to file, she hopes, a class-action suit against a lumber company in Northern California that is poisoning its workers.
Spider hopes that after a decade in New York, she hasn't become so sexually sophisticated that he will be outclassed. No worries; they take up where they left off.
But along the way, Spider's friend Yosh, who has a left-wing radio show in the Great Green, is murdered, and maybe it's about weed and maybe it's about crazy white supremacists who have some sort of religious compound in Nevada, and there's a biker gang somewhere in the picture.
And Siobhan has a boyfriend in New York who is part of the early, early days of the Internet when there were dial-in bulletin-board-systems like the WELL, and early online stalking and harassment, and he's trying to ruin her digital reputation, and Spider goes to New York but not really because he doesn't like it, and this whole tangle winds up back in California.
Where one biker gang attacks Spider, and a leader in another realizes that it was a terrible mistake (since they both served in Vietnam), and decides to deal with it, and the Secret Service gets involved because of the white supremacists and their guns ….
And all of this wraps up in a lovely, kind sort of way.
It was a time and a place, and Ben-Horin does it justice with an eminently readable novel that at times made me laugh but mostly made me feel as if I was along for an amusingly nostalgic ride.
Some books leave you feeling as if the characters are almost your fictional family, and when it ends, you think: Wow, that was nice. Sorry to see them go.
I read it in a hammock with a couple of beers, which was about right. Give it a try.
Substantial Justice, Rare Bird, $26. Please buy it from an independent bookseller. Here is one option. Here's an online read. I order from these folks.