When artist Christo Oropeza was asked to create a painting for a storefront as part of Art for Essential Workers (a program by local artist collective 100 Days of Action), he first considered his hard-working friends from Burton High School, now in medical fields. But then he thought about his father, who has worked for Sunset Scavenger (now Recology) waste management services since 1968.
Oropeza, who also works at the San Francisco Museum of Modern Art in the Department of Public Engagement, painted his father on his route, which he does from 1am to about 10 am, going along Golden Gate Park, including the through USF Parnassus campus.
"I just thought about our level of consumption in the city and how bad it would be if people like him don't run their circuit," Oropeza said. "It's a way to honor not just him, but the painting to me represented what I love to do."
Oropeza's work shines a light on less visible aspects of labor in our life. He's painted things at SFMOMA like an empty chair where security guards seldom get to sit down, and a vacuum like the janitors use. (Oropeza says one of the janitors recognized his vacuum and asked to take a picture with his friend in front of the painting.)
Alicia Escott, one of the 100 Days Action members, says they have been printing out digital files and wheatpasting them up around the city themselves, in order to minimize risk for the artists. This also allows them to work in different mediums, she says, including photography.
So they were able to include a photo by Jamil Hellu of two gloved hands holding a sign in front of an American flag as part of the series. Hellu did some work with the art collective when they formed right after the 2016 election.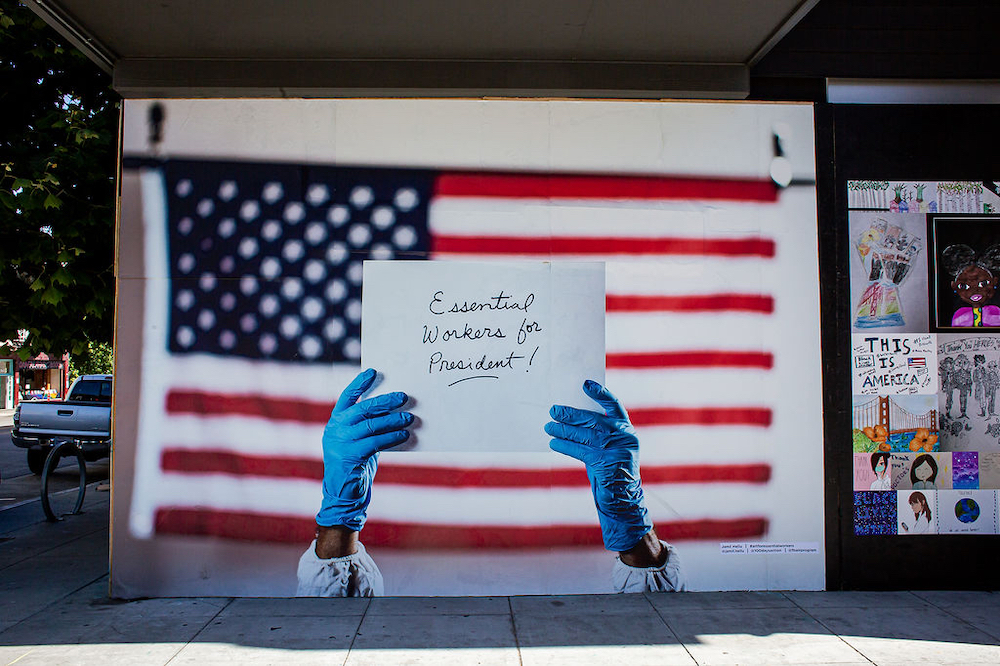 They asked him to create some work for this project, asking him to think about something uplifting for the community. Hellu knew he wanted some saying or slogan that would make people think. His husband suggested "Essential workers for president," and that's what Hellu went with. 
"I thought a lot about that sentence and how to manifest it visually," he said. "We put an American flag behind it, and I wore gloves like health workers wear."
Another organizer from 100 Days Action, Jeremiah Barber, says one of the things that has distinguished this project from the explosion of art going up in the streets with the pandemic (including  Art For Civil Discourse's #PaintTheVoid project, Restore 49, and individual artists' efforts) is the focus on essential workers.
They started at the beginning of the lockdown with an emphasis on solidarity with the people who still needed to go out to work every day, Barber said. But once the protests started at the end of May after police officers murdered George Floyd, that changed.
Jessica Shaefer, with Facebook's Public Programs + Partnerships, which is funding the project, says it's important to be conscious of what's going on and to adapt.
"The project has evolved to artists responding to racial justice," she said, giving the example of a work by Angela Hennessy using a quote from Audre Lorde, "Revolution is not a one time event."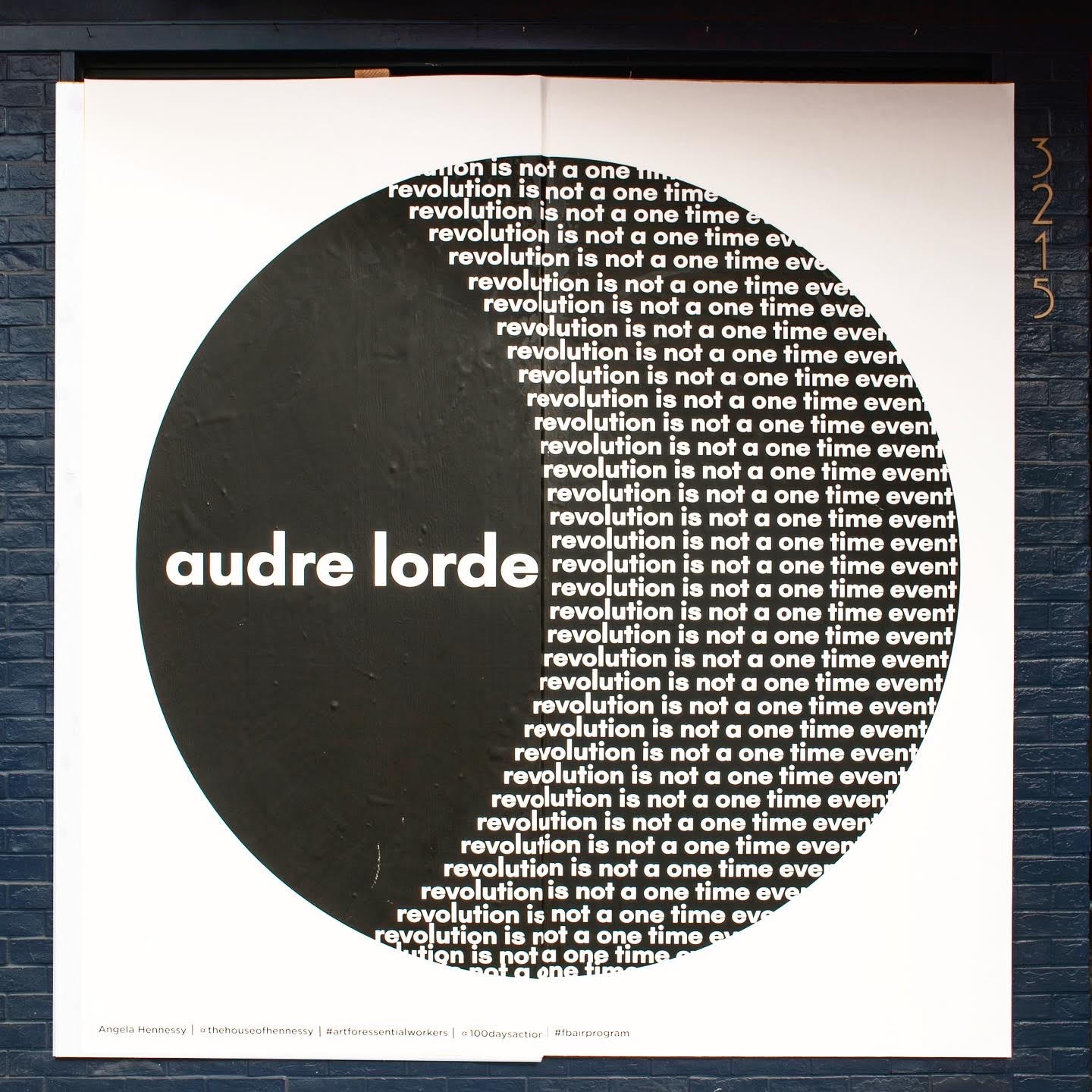 Shafer says the project has been so successful it will be expanded to Seattle and Austin.
The SF project itself started in the Mission and has since expanded to North Beach and Chinatown, with work like Christine Wong Yap's Hopes for Chinatown, on a bridal storefront across from Portsmouth Square.
The most difficult part, Barber says, is to find homes for the temporary artworks, and they are still looking to place a couple more. 
Escott says that at a time when there is so much trauma, 100 Days of Action wanted to support artists as well as sending out messages of hope and strength to an exhausted city.
"So many artists had shows canceled, and we wanted to get them financial support," she said. "We're not going to go back to gallery and museum spaces any time soon, so we wanted to create an open air museum."
Oropeza was glad his parents got to see his work featuring his dad—on Father's Day, no less.
"It's reinforced my vigor for bringing things that are unseen into the seen," he said. "100 Day Action is trying to share that out and it's so simple. It reaches out to people like my parents who never stepped foot in SFMOMA until I had a mural there."
For a full list of Art For Essential Workers pieces on view in San Francisco, click here.