Another late-appearing big-money front group has shown up in San Francisco with mailers attacking three tax measure on the November ballot, including a measure that has the support of the mayor and pretty much everyone else at City Hall.
The group is called "Fed Up SF," and it hasn't filed any documents with the city's Ethics Commission.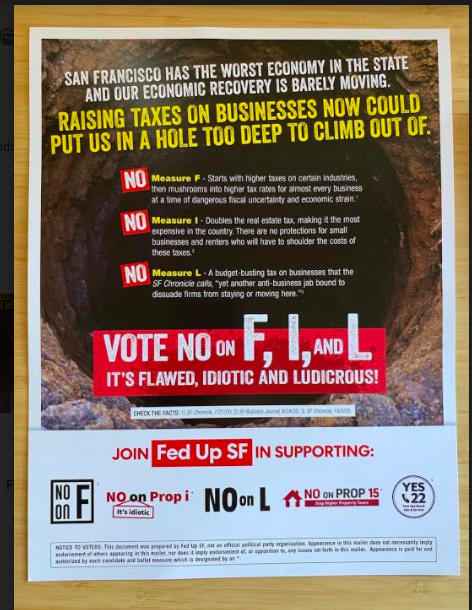 Instead, it filed as a Slate Mailer Organization with the Secretary of State, a tactic some groups have used in the past to make it harder for people to figure out the funding source.
But the documents make it very clear: All of the roughly $200,000 the group has raised and spent as of yesterday came from the San Francisco Chamber of Commerce and Neighbors for a Better San Francisco, which is funded in part by big GOP donors.
The new mailer not only attacks the three local tax measures, it supports Prop. 22, the Uber and Lyft measure that would overturn state law and allow the companies to keep treating their workers as independent contractors.
There is so far no money from those companies in the filings, but given that they have put up more than $180 million to pass Prop. 22, it's likely we'll see some of it flowing to Fed Up SF.
The three measures they are attacking are Propositions F, I and L. Prop. F is a change in the way the city assesses business taxes that is pretty mild and has almost unanimous support at City Hall. The mayor and the supes came to an agreement on a way to shift taxes from payroll to gross receipts and make the burden more fair; under the existing system, tech companies pay lower taxes than, say, retail or restaurants.
And tech companies are the only ones doing well in this pandemic.
So the idea that Prop. F will hurt local business is a bit of a stretch; a lot of local businesses would do better under the new rules.
It's not a surprise that the Chamber and the GOP donors hate Prop. I, which would force the likes of Donald Trump to pay higher taxes if he sells his share of the Bank of America Building, and Prop. L, which would raise taxes on companies that pay their CEOs more than 100 times what they pay their employees.
But it's clear that the polling shows San Franciscans supporting these measures, so the big-business and GOP money has to come in at the last minute, through yet another front group, to fund these attacks.